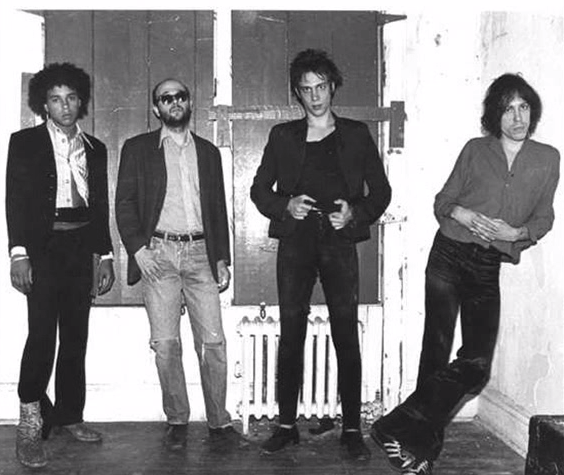 What enters your mind first when you hear the words "New York punk"?
The bar at Max's Kansas City? The bathroom at CBGB? A 1-2-3-4 count-off? Johnny Ramone's hair? Odds are it won't have anything to do with independent record labels. Only a handful of true indies existed in New York at the height of '70s punk, and most of them—like the Robert Mapplethorpe-financed imprint Mer, which released Patti Smith's first single, or Private Stock, which originally issued Blondie's debut—were short-lived outliers whose lasting impact is debatable. But there was one exception, at least in the lasting impact department: Ork.
From Television, to Richard Hell, to The Feelies, Ork Records' releases are an embarrassment of riches of influential early punk.
An immigrant from the West, sometime Andy Warhol associate and bookstore owner Terry Ork (born William Terry Collins in Tulsa, Okla.) started the label that bore his name in 1975 to put out a 45 by the band he'd just started to manage, Television. The company stumbled through five years, dogged by money trouble and sunk by unworkable business plans. However, the list of artists associated with it remains astounding. Besides Television, whose epic "Little Johnny Jewel" would be reason enough to celebrate Ork's existence for the ages, there was Richard Hell and the Voidoids, Alex Chilton, the Feelies, the dB's, Cheetah Chrome…even fabled critic Lester Bangs moonlighting as a rock frontman.
Now, to mark the 40th anniversary of Ork's formation, Numero Group has compiled a boxed set, Ork Records: New York, York, containing all 28 tracks the label released, another 21 it helped put in motion, and a gorgeous 62-page book that tells the full story of Ork and his colleagues. To listen to this music, look at these pictures and read these words is to feel present at, if not the birth, then at least the very early infancy, of both the American indie label and indie rock as we know it.
[youtube https://www.youtube.com/watch?v=7HXwDlrnQZQ&w=560&h=315]
Among the many people without whom this set could never have been created is singer, songwriter, multi-instrumentalist, and producer Chris Stamey.
Besides playing on several cuts—including Alex Chilton's "Bangkok," his own "The Summer Sun," and the first two songs officially credited to the dB's, the fêted power pop band he co-founded in 1978—he also recently helped remix some key recordings for the box. One of them, the original version of the dB's' "(I Thought) You Wanted to Know," features its composer, Television's Richard Lloyd, on vocals. It turns out that this song was supposed to be Lloyd's solo debut on Ork, until the folks at Elektra reminded him that he was contractually bound to them and couldn't just go off and make recordings for another label without permission. "We were kids, we didn't know about contracts," Stamey says with a chuckle on the phone from his home in North Carolina. "We thought that even though Television was signed as a band, we could do a Richard Lloyd solo single, but in hindsight that seems ridiculous."
Because Stamey loved the song and didn't want to waste it, he recut it with his own vocals and released it as a single on his own Car label. That version is glorious, but the "new" one has its virtues too: longer than the Stamey-sung recording, it features (not surprisingly) extra guitar heroics from Lloyd and some strange spoken-word interpolations. "Richard's saying, 'The mice are coming, the mice are coming!' at the end," Stamey explains, sort of. "We had a blast on those sessions. I was so glad to mix that after all this time."
'The history of record making is full of crazy characters, people who aren't musicians but get it before other people do. They see something, their brains get lit up and they go on a mission.'
In addition to the remixes, Stamey helped negotiate the purchase of rights to tapes and other material that had belonged to Ork's initial label partner Charles Ball, who died in 2012. He also attempted, unsuccessfully, to get his hands on some tape reels that were believed to be at Trod Nossel Studios in Wallingford, Conn. Back in the '70s, Ork had gotten a cheap deal on session time there, but that agreement eventually fell through due to non-payment of past bills and the studio impounded all the label's tapes.
"Trod Nossel seemed to have some affiliation with Scientology," Stamey reports, "and though I'm not qualified to say anything about Scientology, they definitely had a different mindset than Terry and Charles had. Only a few weeks before Alex Chilton died [in 2010], I was getting calls from the people there saying essentially, 'Why don't you just give us some large amount of money and we'll give you the tapes back?' A few days after Alex died, [R.E.M. bassist] Mike Mills said, 'Look, I'll write a check, let's get those tapes.' I called the studio immediately and the tapes had disappeared."
Among the tracks still missing: Stamey's version of "Ruby Tuesday," originally recorded for Sun Blotted Out from the Sky, a mooted collection of Rolling Stones covers by various Ork artists that, had it seen release, would have been not only the label's first LP but also an early forerunner of what we now call the tribute album.
Stamey, a native North Carolinian, had first crossed paths with Ork at CBGB on a visit to New York in 1976. Already a Television fan, he was excited when Ork expressed interest in his band at the time, Sneakers. Soon Stamey would become a full-time NYC resident and, at Ork's behest, part of Alex Chilton's backing band, the Cossacks. "Terry may have asked me because he thought I had some musical chops," he says. "A lot of people in that scene had ideas but few of them could play well. For me, it was a little bit 'the one-eyed man is king,' because I did actually know the names of the notes on the guitar. I don't mean to sound conceited, but I was coming out of music school, writing serialist academic music, and it was shocking at first how untutored everyone was."
"When I think of Ork Records, I think of two very different things," Stamey adds. "It was punk jazz versus punk rock. What Television and Alex's band and the Feelies were doing had no connection with the people who were still using crayons. Those bands rehearsed all the time, whereas some of the others were … I mean, Lester Bangs was not a workaholic. Although I remember him fondly."
In general, the most significant and enjoyable tracks on Ork Records: New York, New York are by the people on the punk jazz side, the people who could play. But it's still a thrill to hear the folks on the other side too (and that includes the long-gone Bangs, who at least pulled in some ringers like Robert Quine and Jay Dee Daugherty for his rambling "Let It Blurt").
Terry Ork, who died of colon cancer in 2004, was great with ideas but not so much on follow-through. He never managed to put out a full-length album. He never got the major-label backing he so desperately wanted, and needed. Most of his grandest schemes, like the Stones tribute, never came close to fruition. And yet his legacy, as preserved on this splendid set, is substantial and well worth cheering.
"I think of Terry, and of Charles, the same way now as I did then," Stamey says. "The history of record making is full of crazy characters, people who aren't musicians but get it before other people do. They see something, their brains get lit up and they go on a mission. In some ways, [Sun Records'] Sam Phillips or [Atlantic Records'] Ahmet Ertegun is not that different from someone like Terry or Charles. They were great characters, true believers, and I miss them both."
[youtube https://www.youtube.com/watch?v=7Nml0v-GlHw&w=420&h=315]