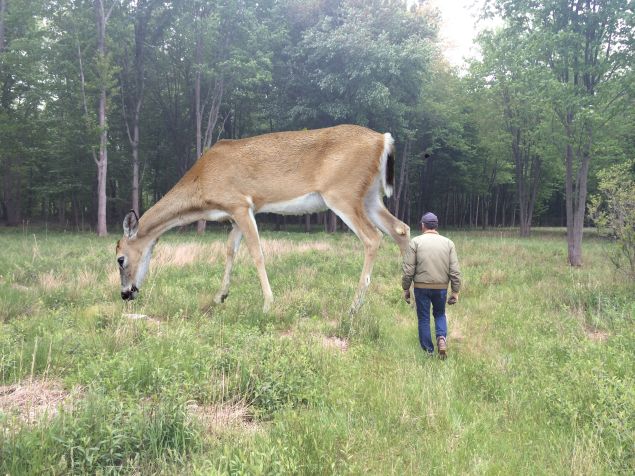 For Art Basel Miami Beach fairgoers who are looking for something a little different beyond the booths, look no further than Miami's Collins Park, between 21st and 22nd Street near the Convention Center. From December 2 through February 1, 2016 the green space will be transformed into a massive sculpture park filled with large-scale installations, kinetic artworks and an array of performances.
While the art may be outside, the exhibition is yet another special section of the fair: the Public sector, which is produced in conjunction with Miami's Bass Museum.
For the third year, the fair's Public sector is curated by Nicholas Baume, director and chief curator of the Public Art Fund. Mr. Baume has brought together artists from 11 countries to create 27 site-specific artworks and installations for the outdoor show. This year's theme, "Metaforms," refers to the various ways the artworks on display put a twist on familiar forms and imagery.
More than a handful of big name artists will on view, including Olaf Breuning, Katharina Grosse, Tomás Saraceno, Robert Wilson, Sterling Ruby and Rirkrit Tiravanija. About half the artworks are existing and the other half are brand new, created for the show. Expect to see new works by Tony Tasset, Hank Willis Thomas, Francisco Ugarte, Matt Johnson, Sylvie Fleury, Jacob Kassay, and Sam Falls, to name a few.
Many artworks encourage interaction, such as Mr. Falls' Healing Pavilion, a seating area made from gemstones with healing properties like amethyst, orange calcite, jasper, lapis lazuli and rose quartz. (For visitors suffering from "fairtigue" this may be the place to go). Others, move freely, like James Capper's Mountaineer Prototype, a kinetic sculpture that walks on four legs.
The sculptures will be on view well after the art fairs close, but on the exhibition's opening night on December 2 a series live performance works will light up the park. Revered performance artist Pope.L has prepared a version of his iconic "crawl" performance, this time featuring four men who will skate through the park laying on skateboards before crawling to a stage to sing America The Beautiful. Meanwhile, artist Ryan Gander will recreate a 2015 Performa commission curated by Mark Beasley for the November biennial, titled Ernest Hawker. For the work, a performer playing a "dandy hobo" will enlist audience members for a set of scripted conversations.
"The fair can be super exhausting. When you're inside the Convention Center all day, you just want to get outside and enjoy beautiful Miami weather," Mr. Baume told the Observer.
The exhibition in Collins Park, he says, has become a place for visitors take a break from the fair floor, and engage with art on a different scale—at a different pace. "I think it's become something people reward themselves with," he explained.
Below, the full list of participating artists, public artworks and opening night performances.
2015 Public artworks:
Olaf Breuning, I Can Not Take It Anymore, 2015, Metro Pictures
James Capper, Mountaineer Prototype, 2015, Paul Kasmin Gallery
Tony Cragg, Mixed Feelings, 2012, Marian Goodman Gallery
Melvin Edwards, Ukpo.Edo, 1993/1996, Alexander Gray Associates, Stephen Friedman Gallery
Sam Falls, Untitled (Healing pavilion…), 2015, Galerie Eva Presenhuber
Sylvie Fleury, Eternity Now, 2015, Bass Museum of Art
Katharina Grosse, Untitled, 2012, Galerie König, Galerie nächst St. Stephan Rosemarie Schwarzwälder
Matt Johnson, Twisted Jersey Barrier, 2015, 303 Gallery, Blum & Poe
Jacob Kassay, Untitled, 2012-2015, 303 Gallery
Kris Martin, Altar, 2014, Sies + Höke
Rubén Ortiz Torres, Collector's Backyard Boogie, 2015, OMR
Athena Papadopoulos, Two Serious(ly) (young) Women, (Hubba Hubba Trouba and Ouchy Waa Waa Mama'), 2015, Supportico Lopez
Ishmael Randall-Weeks, Paraíso, 2015, Revolver Galería
Sterling Ruby, Big Yellow Mama, 2013, and Lips, 2014, Gagosian Gallery
Michael Sailstorfer, Voilà (Dubai) 1, 2011, and Voilà (Dubai) 3, 2011, Galerie König
Tomás Saraceno, One Module Cloud with Interior Net, 2015, Tanya Bonakdar Gallery
Tony Tasset, Deer, 2015, Kavi Gupta
Rirkrit Tiravanija, untitled 2015 (don't shoot the messenger), 2015, Gavin Brown's enterprise
Francisco Ugarte, Sunlight I, 2015, Arredondo Arozarena
Timm Ulrichs, Von null bis unendlich (from here to eternity), 1986, Wentrup
Marianne Vitale, Ace of Spades, 2015, Contemporary Fine Arts
Ursula von Rydingsvard, Bent Lace, 2014, Galerie Lelong
Hank Willis Thomas, Ernest and Ruth, 2015, Jack Shainman Gallery
Robert Wilson, Einstein Chair, from Einstein on the Beach, 1976 (produced 2002), Paula Cooper Gallery
Yan Xing, L'amour l'après-midi, 2015, Galerie Urs Meile
Xiao Yu, Elevation No.2, 2013, Beijing Art Now Gallery
Public opening night performances:
Xavier Cha, supreme ultimate exercise, 2015, 47 Canal
Ryan Gander, Ernest Hawker, 2015, Lisson Gallery (A Performa Commission curated by Mark Beasley for Performa 15)
Pope.L, The Beautiful, 2015, Mitchell-Innes & Nash
Yan Xing, L'amour l'après-midi, 2015, Galerie Urs Meile