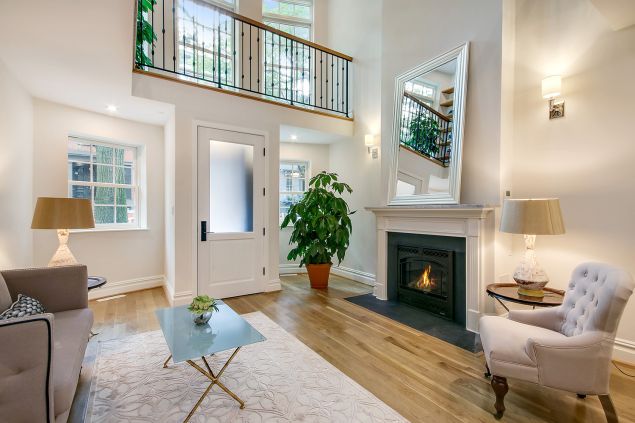 Walking on State Street on an uncommonly warm autumn day, the Observer reached a row of neo-Georgian style townhomes. "It was finished about five months ago," said Corcoran broker Leslie Marshall as we walked into the single-family home at number 351. "This was a parking lot," she added.
The building's current appearance, however, does much to dispel the less-than-glamorous history of the lot it sits upon. The living room on the first floor, complete with a gas fireplace, leads into an open kitchen, which Ms. Marshall made sure to point out has two sinks, and a backyard.
"The elevator runs from the finished basement up to the penthouse floor," Ms. Marshall said, though we chose to take the stairs in order to get the full impact of the next floor's 20-foot ceilings. It could be "whatever you want—a den, a library," Ms. Marshall speculated as we walked to the front, which looks out onto State Street from what we think could be a lovely reading nook. "This is a nice sort of gallery," she said.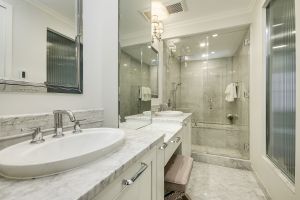 The master suite takes up the third floor, with a gray marble double-sink (of course) bathroom that includes a tub-within-shower. Up a floor are two additional bedrooms and two baths, one of them en-suite.
The top "penthouse floor," as it was repeatedly called, "sort of a lounge, or a den," consists of a large wooden table and a wet bar, with front and back terraces. "People who buy houses like this tend to do green fences," like lattice, Ms. Marshall assured us.
The home, currently listed for $3.995 million, is "great for people who don't have it in them to do the renovation," Ms. Marshall said, noting that the basement in particular attracts "people with kids…it's great for a playroom: it's contained, safe, they can't get anywhere." To underscore her point, a child's art easel with a half-finished drawing is already set up.