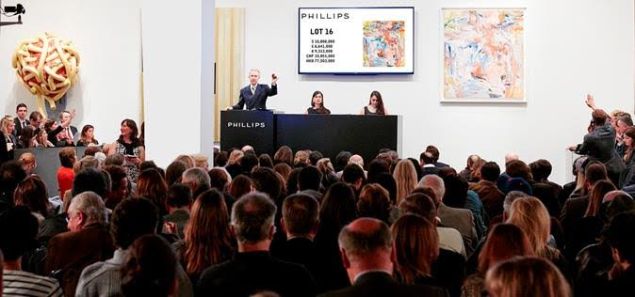 The little brother of the art auction world, Phillips Auctions, did its best to hold its own in its 20th Century and Contemporary sale, held last night on the unconventional evening (Sunday). But the results were not entirely convincing.
The 82 percent sold auction saw many pieces sell at or below their low estimates, echoing the tepid tone of other auctions last week. A total of $66.8 million sold including buyer's premium ($56.5 million at hammer).
One prominent collector in attendance who did not want to be identified told the Observer, "this was a very weak sale."
Edward Dolman, chairman and CEO of Phillips since last year, who has brought over many former Christie's colleagues in his pursuits of the Big Two houses, characterized the evening differently, calling the sales "a 30 percent progression over last year," but stating, carefully, that buyers were exhibiting "discretion."
The stars of the evening were a $1.79 million Joan Mitchell, Untitled, which ticked in right between the low and high estimates, a $4.48 million Le Corbusier painting, Femme rouge et pelote verte, selling at a record for the artist at auction though at the low estimate, and a $11.2 million de Kooning, Untitled XVIII, which also sold at the low estimate. (All prices include the buyer's premium).
"We were very pleased with the bidding," Mr. Dolman said at the post-sale presser. "There was strong European interest; we didn't see any buyer fatigue." He did call the bidding "very selective," in a somewhat masterful semantic twist.
While the sale will surely keep the lights on at Phillips, it does not particularly boost the house's status—and at a time when Phillips is pushing hard to wedge its way into Sotheby's and Christie's territory.
Part of the anemic sales may have been due to the fact that while the sale included prominent names like Warhol, Damien Hirst, Joan Miro, Alexander Calder, John Chamberlain and Roy Lichtenstein, the works on offer were far from these artists' most known work. The Hirsts, Rhodanine and Beautiful, Dangerous, Electrified, Bad Temper Painting, both hammered for less than $400,000 and the Warhol, Julian Schnabel, did not sell.
It was auctioneer Hugues Joffre's first New York sale.
"I tried to keep things speedy, so you could all have dinner afterwards," he told reporters. He also apologized for his pronunciation of Wade Guyton's name (he said it "Gooten"). "I know how to say it," he insisted. "So you just chose not to?" a reporter asked. He laughed. Mr. Guyton's Untitled sold for $2 million, at low estimate.
Phillips had other accomplishments to focus on, however, since a Sunday watch sale in Geneva netted the highest price for a watch sold ever, at $7.3 million, they claim. So don't discount the little brother just yet.