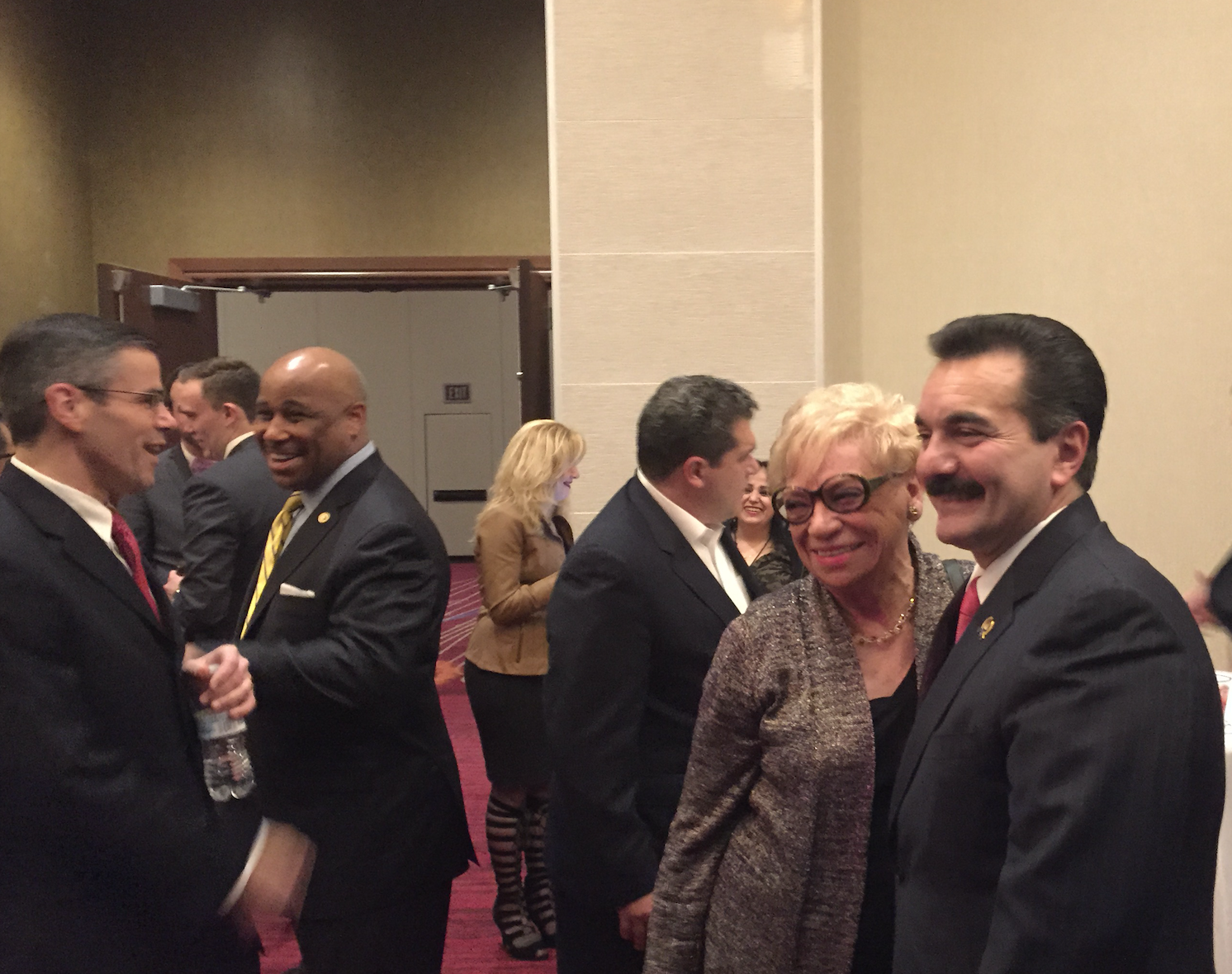 ATLANTIC CITY – As supporters and well-wishers crowded around him at Harrah's Wednesday night, Assembly Speaker Vince Prieto (D-32) told PolitickerNJ that one of his first priorities for the coming legislative session is to push for the constitutional amendment that would guarantee a place for new casinos in North Jersey.
"This is something I'm working on, potentially putting casinos in the north in play," said Prieto. "We're in Atlantic City here today and I actually talked about it," he said, referring to the former gaming capitol's decline and the role he would like to see districts like his own play in boosting state gaming and tourism profits.
"It went from a $5.2 billion industry to 2.5. Still very nice, very important to the region, but you know what? Without other revenues in the north— I come from an area where we have almost 10,000 hotel rooms, that people stay there to visit New York.
"They never went to Atlantic City. They didn't even go to Yonkers or Bethlehem. If you put something there, that's a whole other universe of revenue that you're going to get."
Prieto's focus on the new casinos may have accounted for the dearth of South Jersey delegates on display at Wednesday's reception, where Assembly Majority Leader Lou Greenwald was the sole prominent Democrat from below the Raritan. Jersey City Mayor Steve Fulop, Bergen County Democratic chairman Lou Stellato, Valerie Huttle (D-37), Raj Mukherji (D-33) and Shavonda Sumter (D-35) were all in attendance.
Asked whether there is any tension between the southern and northern delegations, Prieto said that he hoped that the Sweeney-lead contingent of South Jersey Democrats would remain willing to compromise.
"We don't want a depression in this region," he said. "The casinos are in the north, they just happen to be on the other side across the border," Prieto said of competition from Pennsylvania and New York.
Prieto said that the new, stronger majority in the Assembly would enable the legislature to act on the state's most pressing economic issues with less pushback from other side of the aisle.
"I'd love to do Transportation Trust Fund. We want to be able to do it in lame duck, I don't know if it's going to be possible because obviously the governor is running for president and all that," he said. "I want to be able to do a constitutional amendment to constitutionally dedicate any future revenues, so if it gets on the ballot next year, so people know we're serious."
Lamenting the number of Republicans he said have backed off from bipartisan compromise because of perceived pressure from Christie, Prieto said that on the casino issue and the proposed gas tax hike for the Trust Fund, legislators from all parties and regions will have to bend.
"Great legislation doesn't get anywhere. Somebody loves it, somebody hates it. Good legislation, everyone can live with. So I always strive for good," he said, laughing.