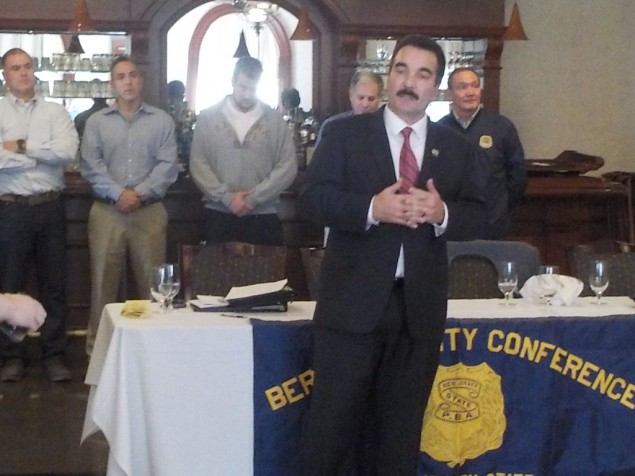 PARAMUS – At an event sponsored by the Bergen County PBA, Assembly Speaker Vincent Prieto spoke about his vision for the future of the New Jersey Assembly. Prieto's goal is to increase the Democratic majority in the assembly, making the branch of the legislature 'veto-proof."
Today's event focused on the Bergen PBA conference's endorsement of incumbent Assemblymen Joe Lagana and Tim Eustace in LD38, two Democrats. According to Prieto, having like-minded individuals like Eustace and Lagana in the legislature will ensure that issues like pensions—which heavily impact police officers—are not cut.
"I need lawmakers like Assemblyman Tim Eustace and Joe Lagana to work with," Prieto said during his remarks. "I want to maintain a majority but I am working on a veto-proof majority."
Prieto's statements come at a particularly relevant time following the recent Senate veto override of a gun safety bill that Senate President Sweeney called "common sense." Democratic leaders are hoping to override the veto after Election Day but six Republican votes are needed to make that happen. If Prieto gets his way today, less votes might be needed to override Governor Chris Christie's veto.
Prieto isn't the only one making a final push to ensure that votes are cast in his party's favor. For the past few days, Assembly Minority Leader Jon Bramnick has been working in competitive districts LD1, LD2 and LD11 to try and ensure that Republicans do not lose seats.
The event—which was held at Biagio's—was also attended by former Ambassador Phil Murphy as he continues to prep his run for governor, state Sen. Paul Sarlo and County Executive Jim Tedesco. The Democrats running for Paramus Council, Holly Tedesco-Santos and Pat Verile, were also there and also endorsed by the PBA.