Blue is one of the owner's preferred colors," architect Rohit Misra told the Observer as we stepped into the foyer of a 1,725-square-foot condo in the Essex House, at 160 Central Park South. "In a few areas, we were given that direction: 'something blue.' "
This request manifested perhaps most prominently in the giant slab of marble decorating the wall across from the entryway, which Mr. Misra informed us was "blue macauba. It's from Brazil—the smaller samples we had just didn't do it justice."
"We knew you'd come in and the view was off to the right. The whole idea was to create this movement that would draw you to the park views," Mr. Misra added, strolling toward the living room windows, which look out onto a canopy of trees.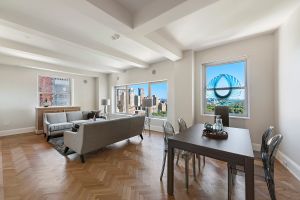 The view is also visible from one bedroom by way of automatic sliding doors that open into the living room, though this particular mechanism was sadly out of order the day the Observer visited.
The apartment, listed for $6.8 million, is the result of two-unit combination, plus additional hallway space that the owner was given special permission to carve out, according to Mr. Misra. The unique configuration has the kitchen, which is on the other side of the blue macauba-adorned wall, in the middle of the apartment. "It's quite honestly where it is because of the plumbing," Mr. Misra conceded.
"The nice thing about this home is that basically all of the bedrooms are master suite size, and all of the bathrooms are en suite," Warburg broker Samantha Frith opined as we peered into the two other bedrooms—with park views—on the opposite side of the apartment.
"Where you see the Carrara marble in the bath, that was all mirror. Whoever lived here before liked everything white and mirrors everywhere," Mr. Misra said. "We kept mirrors where we thought it was warranted." Perhaps the new owner will have the same reaction to a particular accent color.