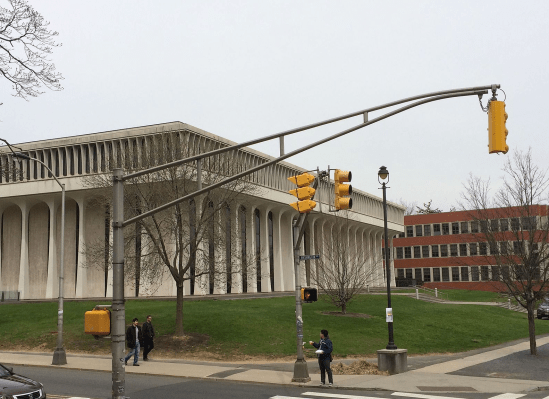 As Princeton University's board of trustees continues to devise a compromise on appeals from students and faculty for its Woodrow Wilson School of Public and International Affairs to be renamed because of the 28th president's record as a segregationist, some alumni are coming out against protestors' demands as the controversy generates more and more support from the national Black Lives Matter movement.
Michael Aron, NJTV's éminence grise and a graduate of the Wilson School, joined those who have called Wilson's views on race a well-known blemish on the record of an otherwise celebrated progressive reformer and said the renaming effort "goes too far."
"I don't know how Woodrow Wilson looks to a young African American college student today, but I know from my perspective you don't take people's names off of buildings or schools unless they've disgraced themselves," said Aron. "And I don't think Woodrow Wilson disgraced himself."
"He may have said some controversial things on the subject of race, but he was a reflection of his times. Lincoln said some controversial things about African Americans in his day. Jefferson was a slave-owner. I believe Washington was a slaveholder," he said.
People's Organization for Progress Chairman Larry Hamm said last week that he joined fellow alumnus Cornell West in condemning Wilson as an "unrepentant racist," pointing to Wilson's tacit support for members of his cabinet stripping black public workers of their positions in the Jim Crow South.
Hamm, who was a prominent activist in the push for Princeton to divest in South Africa's apartheid regime in the 1970s, added that he and other alumni would "make sure that there is no retaliation" against student protestors from the administration.
Alumnus and former Chatham Mayor Bailey Bower said that he didn't see why Wilson should be made the exception at an institution that he said continues to honor Confederate soldiers and loyalists with on-campus monuments. Bower caused a stir during Supreme Court Justice Sam Alito's confirmation hearings by defending his membership in the anti-affirmative action group Concerned Alumni of Princeton.
"I just am fed up with these people who have no skin in the game except the fact that they're living on largesse, and they do nothing but raise hell," said Bower. "They have no experience, they don't know what they're talking about, they're making a fuss, they get publicity.
"I think the young people should be heard, I think their questions should be taken into consideration and we should go from there. But if the administration buckles under this, they'll make a bad mistake.
"Some people would like to delete any reference to the holocaust. Do we do that? Absolutely not," he added. "Get the hell out of the school if you don't like what's there."
Asked whether he would support more widespread recognition of Wilson's positions on race as part of a compromise between the administration, the board and the current crop of student activists, Bower said he would rather the school commemorate the protests themselves.
"It exists in the library, doesn't it?" he asked of Wilson's voting record.