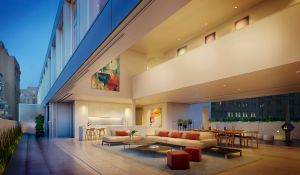 As has been widely noted, we live in the age of the New York super-tower—a forest of quarter-mile-high glass and steel assemblages sprouting out of the Midtown bedrock.
These buildings are doing quite well for themselves. This week, for instance, real estate firm CityRealty announced that Extell's 1,000-plus feet-tall One57 development has become the city's most expensive building, overtaking previous champion 15 Central Park West. Down the block at Macklowe Properties' 432 Park Avenue, which tops out at just less than 1,400 feet, a six-bedroom penthouse recently went for $81 million.
But even with their panoramic views and private dining rooms and eight-figure price tags, can these mega-high-rises truly be considered the height of luxury? Commonly pushing 100 or more units, might these buildings not seem to a certain kind of buyer perhaps just a bit, well, crowded?
"Hell is other people," wrote French philosopher Jean-Paul Sartre. Not coincidentally, his former building at 42 rue Bonaparte in Paris comprises a mere 14 apartments. Nothing succeeds like excess, particularly where Manhattan real estate is concerned, but when it comes to neighbors, less can be more.
"We represent a lot of high-profile celebrity clients, and a lot of them have a strong preference for smaller buildings," Jeffrey Schleider, CEO of Miron Properties, told the Observer. "Many of them really want the privacy that comes with being in a building of less than 20 units, sometimes a lot less."
High-profile buyers 'don't want to have to make small talk every time they get in the elevator with someone who is starstruck.' 
Such buyers "don't want to have to make small talk every time they get in the elevator with someone who is starstruck," Mr. Schleider said.
This is really a problem in buildings full of multimillionaires and billionaires?
"It's not any different at all," he said. "New Yorkers in general are pretty respectful, but it does become a hassle, and so a lot of our clients like to keep their life private."
Imagine being trapped with a superfan on the 1,300-foot elevator ride up to the penthouse at 432 Park. Better, instead, to settle someplace small, where, even if you do get buttonholed by a fellow resident, the trip is only a few seconds long.
Somewhere, for instance, like the Richard Meier-designed, 13-unit 176 Perry Street, said Town Residential broker Bill Kowalczuk, who has represented units in the building.
"I have seen [176 Perry residents] Hugh Jackman and Calvin Klein get out of their car, the door is already open for them and the elevator is pushed from behind the front desk so they can walk right onto the elevator, and then it opens right onto their apartment," he said. "So it's a quick and easy in-and-out, and you don't have to socialize or run into many people at all."
Just don't forget to close the blinds once you get in.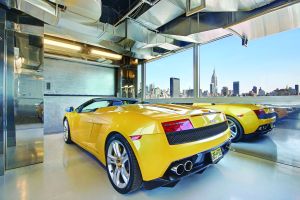 Of course, even at a place like 176 Perry, a person still runs the risk of human contact. On the sidewalk, in the lobby, the elevator—you never know when you might be unexpectedly forced to confront the ugly corporeality of life in a city of 8 million people.
No, if you really want to make sure you never have to see anyone at all, Chelsea condo development 200 11th Avenue is the spot for you. Home of the famous Sky Garage, the 15-unit building features a car elevator, allowing residents to, essentially, drive from the street into their apartments.
"You drive your car through the private driveway and into the car elevator, come up to your floor, park your car, and then you walk out and there is your apartment," said Corcoran broker Janet Wang, who represents units at the building.
Among its residents are designer Domenico Dolce of Dolce & Gabbana, along with big-name hedge funders and a smattering of celebrities (like Nicole Kidman, formerly an owner at the aforementioned 176 Perry). "It's a group of people who want their privacy, who don't want to parade in and out of a big building going by the concierge, doorman," Ms. Wang said.
"Certain boutique buildings attract certain types of people because there is a little more discretion; there are fewer people to talk about you," Steven Rutter, director of Stribling Marketing Associates, told the Observer. "Because it is a smaller group, I think they are a little more respectful of each other's privacy."
There's also the appeal of owning a limited edition, said Jourdan Krauss, president of Knightsbridge Properties, developer of the Shigeru Ban-designed, 13-unit Cast Iron House building in Tribeca.
"We believed that the type of buyers in this building would be people looking for one-of-a-kind spaces," he said. "The type of buyer who collects fine art, and that this would be something they would want to buy as a collectible piece—a one-of-a-kind Shigeru Ban apartment."
'Certain boutique buildings attract certain types of people because there is a little more discretion; there are fewer people to talk about you.'
In the past, said Douglas Elliman's John Gomes, buyers interested in the quiet and privacy of a boutique development might nonetheless have ultimately gone the tower route out of a desire for the amenities of a full-service building. Lately, though, he said, high-end boutique spots have begun offering packages comparable to those available in larger buildings.
"It's a competition," said Mr. Gomes, who has listings at 20-unit Noho building The Schumacher. "If you have towers that are amenity-rich and a boutique building that doesn't have anything, there may be people who say, 'You know, I really prefer a boutique building, but I just don't want to live without these amenities.' So I think developers have realized that there are people who want to be in boutique buildings but don't want to suffer without the amenities that their friends have in the towers."
"You have all the benefits of a full-service luxury condominium, but you don't have all the people traipsing through the lobby," said broker Katherine Gauthier, also with Elliman.
Ms. Gauthier represents the 10-unit condo development 33 East 74th Street, which, she said, aims to capture buyers looking for more intimate accommodations.
"You're sharing these amenities with far fewer people, so if you go to the fitness center, chances are at any given time you'll be there alone or with one other person, as opposed to buying in one of these buildings with a couple hundred units where it's going to feel like an Equinox," Mr. Rutter said. (Though you should still wipe down the machines when you're done.)
Yet, don't despair, misanthropic mega-tower residents! You might in theory be surrounded by hordes of your fellow man, but given the large number of international buyers and investors in these buildings, the reality is, many of them won't ever be home.
"In smaller buildings there's more of a likelihood that the people buying will be living there full time, Mr. Rutter said. "As opposed to the 432s and One57s, where the lights will be off in a lot of those apartments a lot of the time."