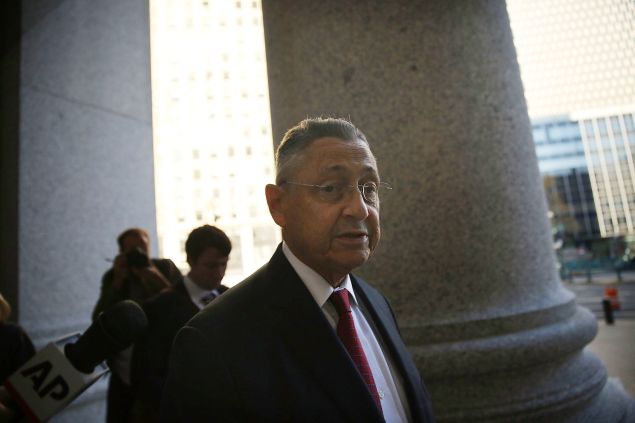 A bribe or a favor? Quid pro quo or goodwill?
A federal prosecutor and an attorney for former Assembly Speaker Sheldon Silver tangled over these questions and more today during closing arguments in a corruption case that has rocked Albany.
As U.S. Attorney Preet Bharara looked on from the back of the Manhattan courtroom, Assistant U.S. Attorney Andrew Goldstein portrayed Mr. Silver as a craven, cash-hungry pol who repeatedly deceived the public and even his friends. Everything Mr. Silver did in the two corruption schemes he is accused of undertaking was about the "money," Mr. Goldstein said.
"He did it for the money," he said, charging that Mr. Silver "lied to the press and public." "He wanted to use taxpayers' dollars to make him rich. That is the crime, ladies and gentleman."
Mr. Goldstein exhaustively detailed the alleged quid pro quo deals in which Mr. Silver funneled public money into the Mesothelioma Center at Columbia Presbyterian Hospital after the director of the center at the time had requested that the speaker's law firm, Weitz & Luxenberg, donate to the facility. No donation from the firm was forthcoming, according to former director Dr. Robert Taub, but state financing was—and the cancer researcher testified, as Mr. Goldstein reminded the jury, that he referred patients to Weitz & Luxenberg while getting the money, a favor he otherwise reserved for attorneys who had contributed directly.
In a second scheme, Mr. Silver is accused of pushing some of New York's biggest developers, including Glenwood Management, to hire a small law firm that secretly funneled $700,000 in fees to the former speaker. During the same period, Mr. Silver allegedly worked to deliver tax-abatement and rent-control legislation that favored developers, a pattern of corruption that made Mr. Silver $5 million richer during his reign as speaker.
Mr. Goldstein dismissed Mr. Silver's defense that this was all a coincidence and not evidence of quid pro quo, calling it "preposterous." Mr. Silver's attorney, Steven Molo, argued Dr. Taub was a longtime friend of Mr. Silver's who had a favor done for him. Mr. Goldstein acidly noted Mr. Silver didn't attend Dr. Taub's daughter's wedding; Mr. Molo replied that Mr. Silver attended a ceremonial meal after the wedding, and correspondence between the two men showed what could be called a friendship.
"A quid pro quo can exist even in a friendly relationship," Mr. Goldstein said. "It is [Mr. Silver's] corrupt intent, his alone, that matters."
While Mr. Goldstein said it was "obvious" and "common sense" that Mr. Silver was guilty on all seven counts, Mr. Molo argued the prosecution's "ridiculous" case had numerous holes. "It's a theory in search of a case."
Mr. Molo mocked one of the prosecution's witnesses, Assemblywoman Amy Paulin, a Westchester Democrat. Mr. Molo recalled that Ms. Paulin in cross-examination admitted to her own conflict-of-interest issues, holding hearings as chairwoman of the energy committee while her husband held $100,000 to $150,000 in stock in Con Edison. (Mr. Molo said the CEO of Con Edison testified at a hearing.)
Mr. Molo joked that the federal prosecutors, thinking they had their ace in the hole, were going to have Ms. Paulin march in the Macy's Thanksgiving Day Parade. "She's probably out there blowing up the balloons right now," he said.
Mr. Molo's argument boiled down to the prosecution failing repeatedly to prove explicit bribery in either the asbestos or real estate schemes. He called the real estate allegations "bizarre," contending that Mr. Silver was a pro-tenant speaker who did not make rent regulations, particularly when they were up for state renewal in 2011, weaker on behalf of major developers. He said the reason the small real estate law firm, Goldberg & Iryami, was steered so much business was because they did "good work."
He maintained that federal prosecutors simply didn't like how politics in Albany worked, and built a case around that. Part-time legislators are allowed to earn outside income, he said, and "it's okay to be motivated by the money" as long as no laws are broken.
"Was there an illegal quid pro quo? The answer to that is no," he said.