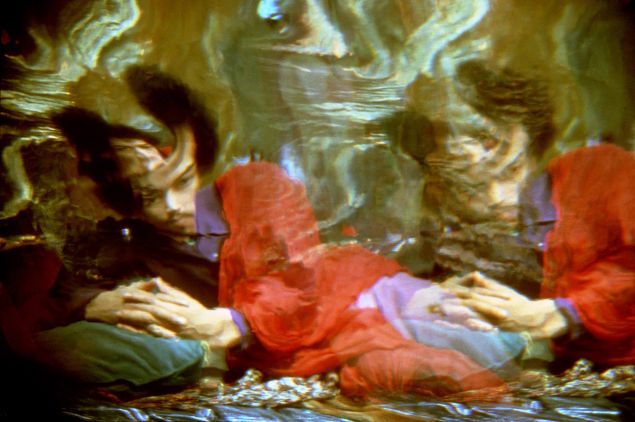 Heading out to the Walker Art Center this fall is a trip, and not just because it's in Minneapolis.
Bright yellow and green psychedelia lines the walls, the kaleidoscopic repetitions of Isaac Abrams' 1965 painting Hello Dali. Judy Williams' 1966 Payne's Grey-Horoscope offers a vivid green sphere of gouache and ink, resembling an altered earth. Elsewhere in the exhibition, the acid-influenced mantras of a legendary 1960s artist's group called the USCO collective (for "The Company of Us") are shaped into multi-ringed spheres. An outer ring of their typographic mural reads, "TAKE THE NO OUT OF NOW, TAKE THE OW OUT OF NOW, THEN TAKE THE THEN OUT OF NOW," in endless repetition.
Are you turned on yet?
That's what the Walker is going for with its "Hippie Modernism: The Struggle for Utopia" exhibition. A sweeping show assembled with the assistance of the Berkeley Art Museum/Pacific Film Archive, it's focused on art, architecture and design of the psychedelic era. Using '60s acid guru Dr. Timothy Leary's "Turn on, Tune in, Drop out" mantra as a framework, the exhibition (which runs through February 28, 2016, before going on tour) is presented in three sections.
The first hopes to "turn on" visitors to art. The work on view explores the notion of expanding your mind through altered states—be they spiritual, technological or pharmacological [read: drugs].
Gerd Stern, a founder of the USCO collective, said these types of works help viewers of their era feel more receptive to a psychedelic experience, through the "sacred geometry" present in the art. He recalled the formative years of USCO, when the collective repurposed an old church building in Rockland County, N.Y., to use as their studio in 1962.
"We had anywhere from three to 15 people living together and working there, a collaboration between art, poetry and technology," he said.
The Walker, the Tate and the Whitney Museum of American Art were among the museums that hosted USCO performances back then, while the Centre Pompidou in Paris displayed the collective's large Shiva painting in a show called "Traces of the Sacred." Shiva is on display at "Hippie Modernism," too, and Mr. Stern feels a tremendous sense of continuity for having USCO's work at the Walker all these years later.
But "turning on" is only the first step of Leary's mantra. Once people "turned on" through personal consciousness expansion, they could "tune in" to a social awareness—a collective consciousness.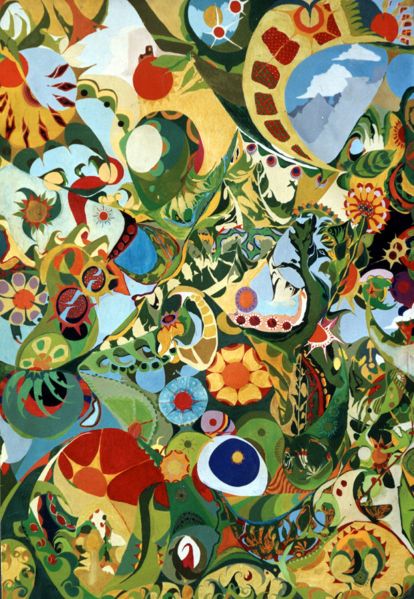 Works featured in the exhibition's next "tune in" section include Ken Isaac's The Knowledge Box from 1962, a giant chamber where visitors are bombarded with a montage of projected images culled from popular media of the era. Several illustrations created by Emory Douglas for the Black Panthers are on display, as strong and bold a call to organize as when they were first drawn.
The silk-screened prints of nun-turned-artist Corita Kent further illuminate what it meant for people to "tune in." "Vietnam, what has it done to the home of the brave?" asks Yellow Submarine, her 1967 Beatles homage. Where the submarine's periscope should be are flowers instead.
Print was still the primary method of spreading ideas back then, and underground presses were how it was done. The lack of a digital archival process back then meant much of this literature became rare art in of itself, said Andrew Blauvelt, the exhibition's curator.
"My joke is that the revolution was never really televised—it was printed," he told the Observer.
Collective organization took different forms on different coasts. Timothy Leary's upstate home at Millbrook was a psychedelic mecca for intrepid travelers, and Ken Kesey's California acid tests were taking a less serious approach to mind expansion. As such, the psychedelic creative on each coast was similarly split.
"On the West Coast, you would have the evolution of the light show, and collective forms of engagement around performance, which eventually became the rock concert," said Mr. Blauvelt. "But in the beginning it was more of a happening.
"And on the East Coast it was more cynical, like Andy Warhol and the Factory, creating his version of the light show and commercializing the musician. That was the difference between the so-called edgier East Coast approach and the laid-back West Coast approach."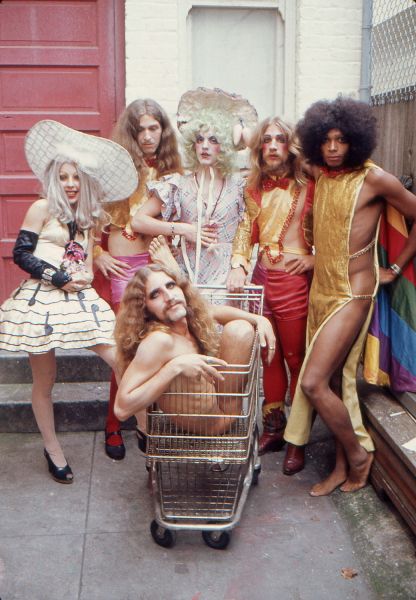 After "tuning in," the cycle of Leary's mantra is completed once the Walker visitor decides to "drop out." To drop out invokes a refusal. "It means to drop out of the normative structures of society," said Mr. Blauvelt. "You would be anti-school, for example, but not anti-education, because school was a part and parcel of a system that wanted you to be a good cog in the wheel."
The "drop out" section of "Hippie Modernism" brings this refusal to life through both literal examples and metaphor. A recreation of architect Buckminster Fuller's famous geodesic dome illuminates the history of Drop City, an art project-turned-commune circa '65 that became the epitome of what communal living was like back then.
Eco-artists Newton and Helen Mayer Harrison's Portable Orchard, an installation of citrus trees grown under artificial lighting, ends the show in its own gallery. The installation addresses the era's growing ecological awareness by looking at ecology as a series of circles.
"The smallest circle is you, and the next circle is maybe a community of people. And the biggest circle is Earth, right?" said Mr. Blauvelt, going onto explain the theory of holism that was developing at the time.
"Holism is where you get this notion that everything is connected, but it also comes out of this idea that the ecosystems are connected, systems of thinking," he said.
Underscoring the organization of "Hippie Modernism" is the idea of utopia. Mr. Blauvelt stressed that such utopias are not literary, but visual. "What's important about this idea is that all the stuff was visualized," he said. "And that's the big difference in utopic thinking of the period—it was at least partly actualized or made real. Not just a story or a concept."
Stressing the visual, a concurrent film series featured works by boundary-breaking director Todd Haynes, he of Velvet Goldmine, the vivid salute to the '70s glam-rock scene, and Far From Heaven. A teen night invites guests to "dress to stunt…get your picture taken by our event photographers, and live forever on the Internet."
Dr. Leary's famous mantra to "Turn on, Tune in and Drop out" is seldom thought of as a progressive arc one takes. From personal mind expansion, you eventually fit in with a prevailing social consciousness, and then refuse normative societal structures all together. "In the '70s, the rewrite of all of this, it became about the 'me' generation," Mr. Blauvelt said. "That understanding was a myth."
"It is originally about a personal journey and discovery. It was about the idea that you need to free yourself before you can free anything else."
The show travels to Cranbrook Art Museum in Bloomfield Hills, Mich., from June 19 to October 9, 2016, and will be on view at the University of California, Berkeley Art Museum and Pacific Film Archive from February 8 through May 21, 2017.