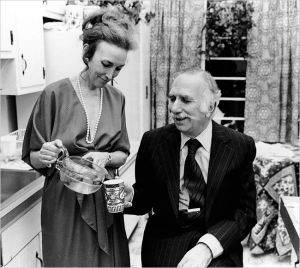 "I'm slightly prejudiced, but I think it's the best apartment in New York," Helen Gurley Brown once crowed of her Beresford tower quadruplex. The late Cosmo editor bedecked her beloved pad with red lacquer walls, zebra print wallpaper and shag carpeting in shades of pumpkin and bubblegum in the late 1970s. And it was never ever changed, not even after she died in 2012. Hearst general counsel and SVP Eve Burton saw to that.  Hey, if you decorate it right the first time…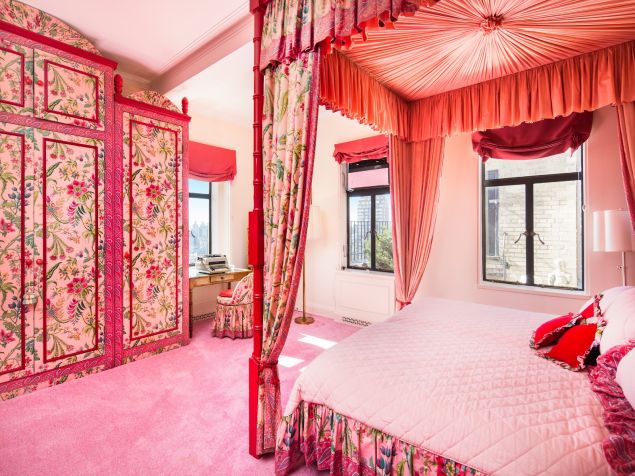 Now the apartment has finally hit the market, listed with Sotheby's Gabriele Devlin for $20 million as Curbed first reported. And while some personal effects have been removed (alas, the throw pillow embroidered with "Good girls go to heaven, bad girls go everywhere" that flanked Gurley Brown in a famous photograph is nowhere in sight), there are still red lacquer walls and bubblegum carpet and a magnificent bed whose floral canopy matches the built-in armoire.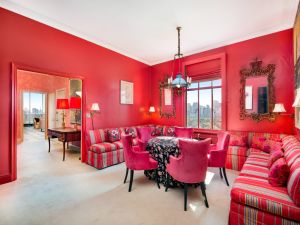 Back in 2012, we speculated that that the co-op, which is located in the Beresford's Southwest corner, might fetch in the high $20 millions. "The apartment is extraordinary," architecture critic Paul Goldberger told The New York Times, "it is the apex, the architectural climax of the building."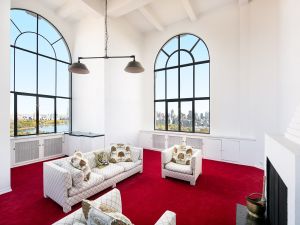 Meanwhile, broker and Beresford resident Carol E. Levy, declared to the gray lady that when the apartment went on the market, she had "numerous buyers who would buy it happily for more, maybe much more, than $50 million."
We're sure Ms. Devlin would be delighted to hear from her! But we're guessing it's not radically underpriced. After all, tower living and the somewhat odd layouts that come with it are not for everyone. The co-op is also currently configured as a one-, stretch two-bedroom (again, not for everyone, at least not in the $20 million category). And today's buyers may not be as fond as leopard print and lacquer as Gurley Brown was, who fled the tasteful confines of Park Avenue for the Upper West Side because "it was supposed to be kind of tacky over there."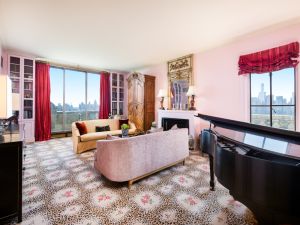 Still, tacky or not, it does have ceilings ranging from 10.5 to 17 feet, fireplaces, a wraparound balcony, a 52-by-44 foot terrace and a spacious kitchen.
The delayed sale reportedly irked the co-op board, which requires estates be put on the market post-haste if the deceased has no living relatives, as was the case with Gurley Brown. Proceeds from the sale will benefit Gurley Brown's Pussycat Foundation.