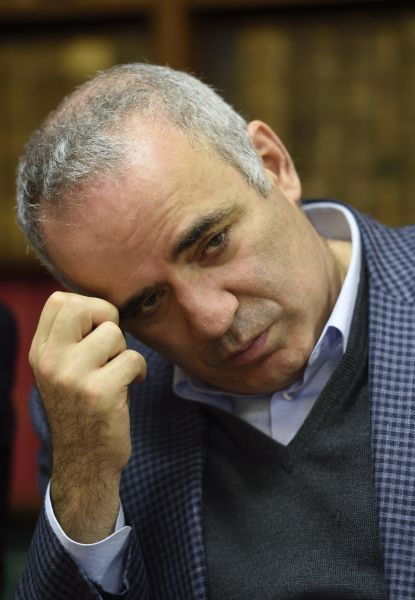 World-renowned chess legend Garry Kasparov spends most days in his $3.5 million penthouse on the Upper West Side of Manhattan, a home away from home in self-imposed exile, hiding from the dangers that face prominent opposition figures like himself. His home country—Russia—now lives, he says, under the "brutal dictatorship" of Vladimir Putin. Mr. Kasparov is not returning any time soon.
When his passport expired, rather than returning to Russia for a new one, Mr. Kasparov applied for Croatian citizenship (his previous application for Latvian citizenship was denied on "procedural issues").
"I don't buy one-way tickets," he said earlier this year, after the murky assassination of Boris Nemtsov, a fellow oppositionist, adding that the risks of being arrested or even killed in Russia were too high.
Mr. Kasparov's Russian adversaries want to disrupt his spotless reputation as a moral pillar of Moscow intellectualism. They want to deprive him of his clout as the anti-corruption guru; they want to rob him of his freedom, and they want to do it here, in fortress USA.
"Dirty Garry – the Anti-Corruption Fighter Kasparov Banned from FIDE for Giving Bribes!" was just one of last week's tabloid headlines to sensationalize the exiled dissident. "Garry Kasparov caught on corruption!" major newsreels echoed. And two identical headlines on RIA and Sputnik: "Kasparov and Leong banned from working at FIDE for two years."
FIDE is the World Chess Federation, an exclusive club led by influential chess "generals" whose "army" exceeds 600 million players worldwide.
The FIDE President insists he was once stolen by aliens, who told him they gave chess to humans as their gift from outer space.
Last week the FIDE Ethics Commission found Garry Kasparov guilty of violating its moral code: Mr. Kasparov was accused of allegedly paying for delegate support of his candidacy during the election for the FIDE's presidency last year.
The scandal began with a story published by The New York Times over a year ago, which revealed to the world the surprisingly brutal campaign for FIDE President, used by both FIDE's incumbent leader, Kirsan Ilyumzhinov, and his arch-rival, Mr. Kasparov.
At the time, Mr. Kasparov's press secretary expressed the grand-master's displeasure about the appearance of the Times article.
The juiciest detail was the existence of a signed contract between the Kasparov Chess Foundation and Ignatius Leong, the then Secretary General of FIDE and a deputy of FIDE's president, who represented the Singapore Chess Federation.
"The document, dated October 31, 2013, bares the signatures of Mikhail Khodorkovsky, the executive director of the Kasparov [Chess] Foundation, and Leong," reported Vesti.
In the contract, Mr. Kasparov promised to give Mr. Leong an initial payment of $500,000, followed by $250,000 each year for four years, to the ASEAN Chess Academy, established by Mr. Leong. In exchange, Mr. Leong promised to deliver Mr. Kasparov 11 votes in favor of his candidacy for the FIDE presidency from his region (Singapore) and also to make "the effort to deliver 15 votes (not counting China)."
The transfers of the last $500,000 would take place only after Mr. Kasparov's election to the post of the President of FIDE.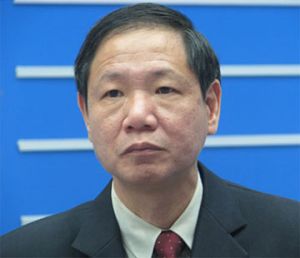 In addition aforementioned $1.5 million, if Mr. Kasparov won the election, he promised to open the FIDE office in Singapore — headed by Mr. Leong — Vesti reported.
Morten Sand, the lawyer who advised Mr. Kasparov' s campaign for the presidency and who drafted the contract between Mr. Kasparov and Mr. Leong, told The New York Times that the document "must have been extracted unlawfully from Leong's FIDE email account and that the agreement was never intended to pay for votes."
The FIDE Ethics Committee felt otherwise.
At the time of the interview to with the Times last year, Mr. Kasparov did not flatly deny the accusations. "I think it's a fair call, because we are helping federations, and we do it openly, and we are not hiding our intentions," he said. "I don't see any violations of the law in this case. FIDE has been complaining loud about it, but when it is complaining about bribes and corruption, it's like Putin complaining about unrestricted use of force against peaceful citizens."
Infuriated, FIDE President, Mr. Ilymzhinov accused Mr. Kasparov and Mr. Leong of breaking not only FIDE's code of ethics, but also American and Singaporean laws.
"Kasparov also had oral agreements (with the representatives of different countries)," he said. "He had verbal agreements in Europe and Africa. Altogether, he spent about $30 million on the elections."
Not everybody takes statements from Mr. Ilymzhinov at face value. For example, the FIDE President firmly insists he was once stolen from this planet by extraterrestrial aliens, who told him they gave the game of chess to humans, as their gift from outer space.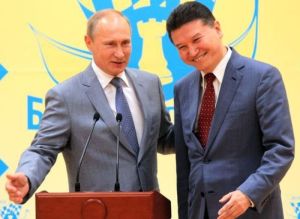 In the past, Mr. Ilyumzhinov has had some unusual friends – like Muammar Gaddafi and Bashar al-Assad. Today, he has powerful allies like Vladimir Putin.
In August 2014, despite all efforts, Mr. Kasparov lost his bet for presidency, having received votes from only 61 countries  during the elections in Tromso, Norway. Mr. Ilyumzninov received the support of 110 countries, securing his position.
Still, the investigation into the legality of the Kasparov-Leong contract continues.
Last week Mr. Kasparov was suspended from working for FIDE for violating the organization's "moral code." He is forbidden to take any position in FIDE for two years and is banned from all meetings.
"This is the punishment for violating the Moral Code – it has been established that before the last year's elections of the head of the federation the candidate Kasparov was giving bribes for additional votes," Vesti reported.
Russian business newspaper Vzglyad also reported that FIDE had "established that Garry Kasparov and Ignatius Leong were guilty of violating article 2.1 of the Moral Code of the Chess Federation," which states that "the code is violated when a person or entity directly or indirectly offers, or tries to offer, or accepts bribe with the goal to influence the outcome of the chess game or elections to the post in FIDE."
Will the U.S. courts begin criminal investigations on corruption in FIDE, or is American justice selective?
The FIDE Ethics Commission's judgment on October 21 stated that, "[u]pon due consideration by the Ethics Commission of the factors relevant to the sanction, including the gravity of the offense and the presence of aggravating and mitigating circumstances, the Ethics Commission imposes the following sanction: Mr. Kasparov and Mr. Leong are both banned for a period of two (2) years from holding any office or position within FIDE, including its member federations, continental associations or any other affiliated international organizations, as well as participating in any FIDE meeting as delegate, proxy-holder or other representative of a FIDE member. This ban will be effective from the period 21 October 2015 until 20 October 2017."
Mr. Kasparov's enemies in Russia are abundant both in the worlds of politics and sports, and hope FIDE's decision is just the beginning of troubles for the legend. They put the spotlight on the fact that the Kasparov Chess Foundation was registered in 2002 in the United States and that the alleged "bribes" paid to Mr. Leong were most likely sent from American bank accounts, possibly breaking a number of U.S. anti-corruption laws.
Following the widely-publicized bribery scandal in the International Soccer Federation (FIFA), many in Russia—who already see FIFA prosecutions as an attempt by the U.S. to undermine Russia's standing to host 2018 World Soccer Championship—want not only to take revenge on liberal poster boy Garry Kasparov, but also to challenge the U.S. criminal justice system.
After all the fanfare of fighting and corruption in FIFA, and after humiliating arrests and accusations against FIFA executives, will the U.S. courts begin criminal investigations on corruption in FIDE?
Or, is American justice selective?
There is deafening silence on the question of last week's FIDE's decision on Garry Kasparov's website and Facebook page. This is a new match for the former world champion—one he would rather not play.