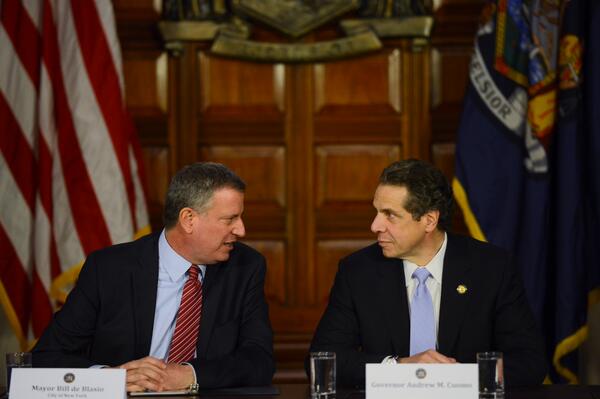 Gov. Andrew Cuomo today declared he was using his executive authority to raise the minimum wage for state employees to $15 an hour—and called upon the city to do the same for its public workers.
At a rally in the rain in Foley Square, Mr. Cuomo announced he would once again use the powers of his office to unilaterally advance a major liberal issue: in this case, the push for a $15 an hour minimum wage. The move marks the fourth time this year the governor has bypassed the State Legislature to enact a left-leaning reform—earlier this year he signed an executive order making Attorney General Eric Schneiderman the special prosecutor for all cases where a police officer kills an unarmed civilian, convened a wage board that single-handedly raised the pay floor for workers in the fast food industry to $15 hourly, and just last month decided that his Department would reinterpret state anti-discrimination statutes to include transgender people.
"New York is the progressive capital of the nation. We fight for fairness, we fight for justice, we act first, we lead by example," he told the crowd cheering activists in rain slickers and carrying union signs, sounding more like an Occupy Wall Street protester than the fiscally conservative governor who has often aroused liberal ire. "The top one percent in this society have had 95 percent of the income growth, and the bottom third is going backward. That's not what this country's all about."
Mr. Cuomo's office said the state worker wage phase-in would follow the same calendar as his fast food pay plan: taking full effect for workers in New York City by 2018 and for the rest of the state by 2020, with the lowest paid workers getting $10.50 an hour by the end of this year and $12 by the end of next.
Even as he made a concession to one of his longtime sparring partners—public sector employees—Mr. Cuomo took a jab at his main rival in the state Democratic Party: Mayor Bill de Blasio. Asked if he thought the city should ensure the same pay rate to its employees, the governor answered in the affirmative.
"I think it would be helpful, because I think the best leadership is leadership by example. I think we have to show people what's possible. I think there's a lot of talk in general about issues, but there's very little action. And I believe the best advocacy is action, right?" he said. "If you really believe in something, don't talk about it, do it. And show that it can be done."
Speaking on NY1 earlier today, Mr. de Blasio praised Mr. Cuomo but demurred on whether he would issue a similar edict. He pointed out that current city contracts will increase pay for the lowest-earning workers to $12 by 2016, moving more quickly than the state's wage increase schedule—but his budget office acknowledged to the Observer that current contracts do not extend to 2018 and have yet to be negotiated.
"I commend the governor for his action, and I'm proud to say that our city workers are already on a pace that's well ahead of the state minimum wage as it is, and I think would be very consistent with what the governor put forth," Mr. de Blasio said, trying to put the onus on Albany and particularly on the Republican-run State Senate. "What we really need is a new minimum wage for the entire state and for the entire city for all workers. And that should be, for the city, certainly, $15 dollars an hour. And we need that vote to happen in Albany next year. We've been trying to get that done."