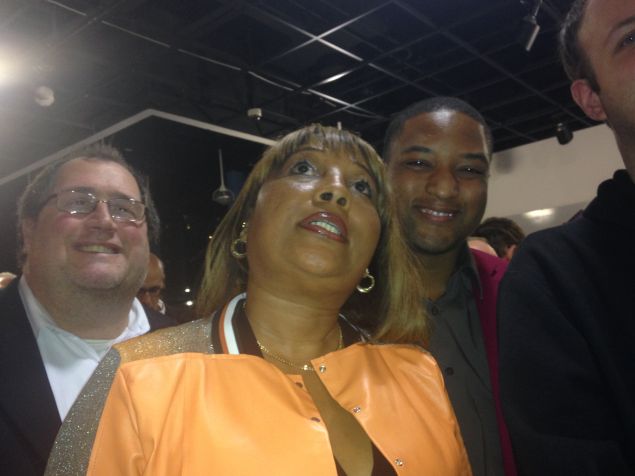 Democrat Pam Harris bested Republican Lucretia Regina-Potter in a southern Brooklyn Assembly race tonight, becoming the only African-American to represent a majority white district in New York City.
Ms. Harris, a retired city corrections officer and longtime youth group leader, defeated Ms. Regina-Potter by roughly 1,500 votes in a hard-fought contest for the seat covering Bay Ridge, Dyker Heights, Bath Beach, Brighton Beach, Coney Island and Seagate, according to unofficial Board of Elections results.
"We all won," Ms. Harris told supporters gathered at her celebration at MCU Park in Coney Island. "I really want to say thank you to all of you for being at my side through thick and thin."
Ms. Harris's victory was powered by a strong performance in her native, predominantly black Coney Island and even in mostly white Bay Ridge and Russian-speaking Brighton Beach, where she is less well-known.
Assemblyman Bill Colton and Assemblyman Nick Perry, just two of nearly a dozen elected officials at the party, called it a "historic night." Mr. Perry, who chairs the Black, Latino and Asian Caucus, said he was excited to see Ms. Harris come to Albany for next year's session.
"You will be a welcome addition to the caucus, and to the Assembly," he told the crowd.
The seat previously belonged to Alec Brook-Krasny, the first emigre from the former Soviet Union elected to public office in New York. Mr. Brook-Krasny resigned in July to take a job in the private sector.
Ms. Harris became the candidate after a fraught backroom battle with Mr. Brook-Krasny's chief of staff, Kate Cucco. In a special election, the local county committee—the elected panel of party insiders—nominates the candidate.
The fight became a proxy war between the Bay Ridge Democrats, led by Mr. Brook-Krasny and local Councilman Vincent Gentile, and the Coney Island-Bensonhurst faction led by Mr. Colton, Councilman Mark Treyger and State Senator Diane Savino.
Despite the large Democratic enrollment advantage in the district, many observers—including the Democratic Assembly Campaign Committee—expected the election to be close due to demographics. This was in spite of Ms. Regina-Potter, an Italian-American, being a perennial candidate who had lost three Republican primaries for Assembly in the past six years.
Some Democrats had expressed concern to the Observer that Ms. Harris would be unable to hold onto the seat in the higher turnout regular election next year, with potential challenges from a white Democrat or white Republican. Brooklyn Democratic boss Frank Seddio seemed to acknowledge this upcoming challenge.
"We start tomorrow on next September," he declared.
Ms. Regina-Potter did not immediately respond to requests for comment.