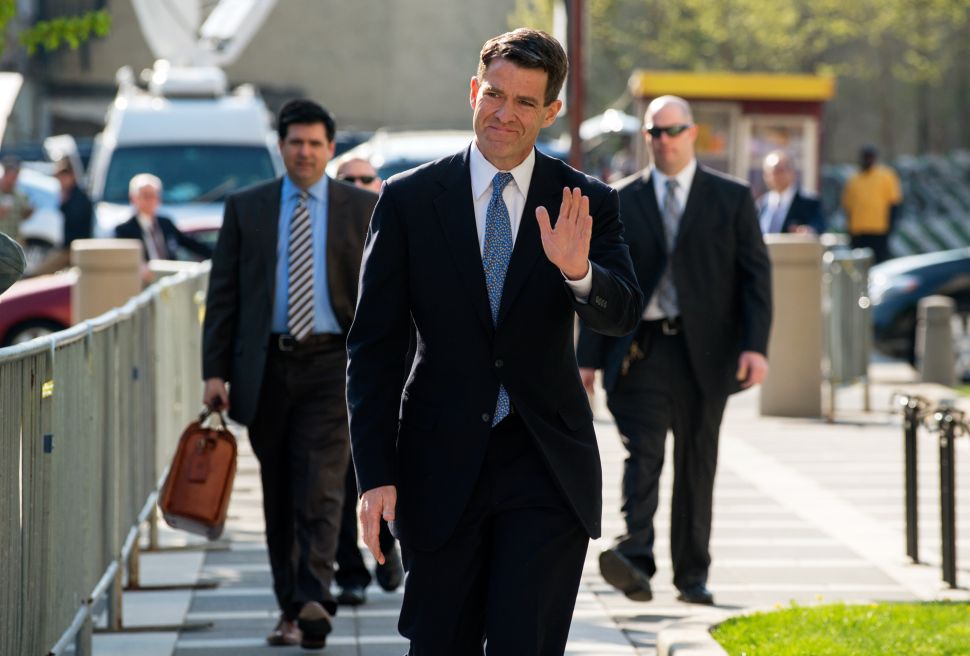 On Wednesday, unions representing the contract airplane and terminal cleaners at the Port Authority went on strike, demanding a $15 hourly wage. The Port Authority board met on Thursday and agreed to study that raise in the coming months.
Amid that background, there's some even deeper background that has yet to see the light of day.
PolitickerNJ has discovered that in the winter of 2013, Bill Baroni, the Deputy Executive Director of the Port Authority who resigned amid Bridgegate accusations and now stands indicted on nine counts of conspiracy and fraud charges, was involved in secret negotiations with 32BJ, the giant and powerful affiliate of the Service Employees International Union. According to a source close to the negotiations, 32BJ was willing to endorse Chris Christie in exchange for his help on certain issues. Highly placed representatives of 32BJ actually went to Trenton with Bill Baroni and held a meeting with Chief of Staff Kevin O'Dowd to talk about those issues and the possible endorsement.
According to an email obtained by PolitickerNJ, Bill Stepien, Christie's Deputy Chief of Staff and political strategist, told Barbara Panebianco, the executive assistant who worked for him and fellow Bridgegate figure Bridget Anne Kelly, that he had "previously spoken with Kevin regarding sitting down with Bill Baroni and union leaders from SEIU 32BJ; it's a meeting I recommended, and he agreed."
It is yet another example of how the lines between politics and policy were blurred during the governor's quest for an overwhelming re-election.
According to the source and documents made public by the investigation, the meeting included, in addition to Baroni and O'Dowd, Alison Hirsh, 32BJ's political director; Larry Engelstein, 32BJ EVP; Kevin Brown, 32BJ's VP; Amy Sugimori, the union's Policy Director; Jeremy Wilson, the Deputy Political Director; and Analilia Mejia, NJ Political Director.
The relationship was far enough along that Alison Hirsh emailed Baroni at Baroni's private gmail address on March 26, 2013 with a "fact sheet" containing the issues of importance to the union. She concluded by writing "Looking forward to working with you on all of this!"
According to an email sent the next day to Stepien, also obtained by PolitickerNJ, the issues on 32BJ's radar were 1) "Creating a Quality Standards Program for Service Contracting at airports operating by the Port Authority" which means a 40 hour training program and "minimum standards" for wages, health care, and paid leave. And 2) Support for A-2203/S-1459, which dealt with establishing a countywide purchasing system for "school districts that already contact out those services."
The meeting occurred at 1 pm on Thursday, April 4 and is marked in Baroni's calendar as occurring at "Governor's Office."
The hoped-for endorsement—which would have amplified Christie's case that he is a candidate who can broaden the Republican tent by appealing to constituencies that usually lean Democratic—never materialized. Apparently, the reason it fell through is not because the administration wasn't willing to help out.
In fact, the Port Authority under Executive Director Pat Foye has been regarded as generally pro-SEIU. Foye, whose father was a member of SEIU, went to college on a 32BJ scholarship. However, once Governor Christie's opponent Barbara Buono selected for her running mate Milly Silva, executive vice president of 1199 SEIU United Healthcare Workers East, the door was essentially closed.