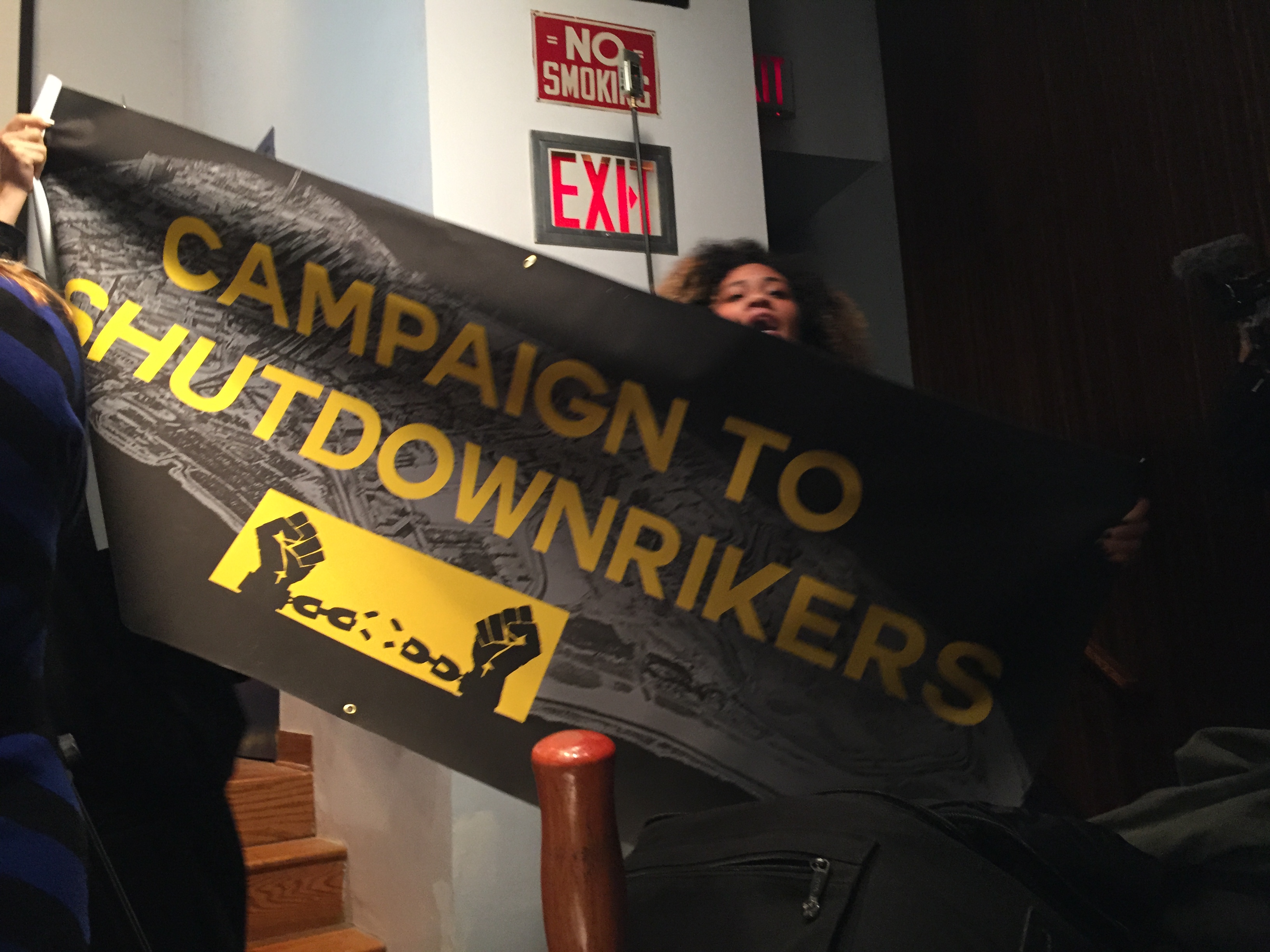 Just about nobody is happy with the way things are going on Rikers Island.
That was the overwhelming takeaway from a tumultuous meeting of the Board of Correction Tuesday morning, which saw protesters decry Rikers Island as a "racist" institution akin to a "torture chamber," and the leader of the correction officers's union accuse Commissioner Joseph Ponte and Mayor Bill de Blasio of ceding "law and order" in the jails to the inmates by ending solitary confinement for those under 21 and enacting a new use-of-force policy that prohibits blows to the head.
"I think clearly all of us that work there, be it union, civilians, uniform staff, understand that we have a troubled system," the soft-spoken Mr. Ponte said after the meeting.
It was, perhaps, an understatement. Mr. Ponte was updating the board on the investigation into the slashing of a correction officer, Raymond Calderon, who required 26 stitches to his face and neck after two inmates put him in a headlock and began cutting his face, when protesters interrupted his comments.
"Hell no to the status quo, these prison walls have got to go," the small group chanted, holding up a banner and standing in front of a stage. They yelled out criticisms as Mr. Ponte looked on quietly and police tried to wrangle them. "Rikers is racist," they yelled. "Rikers abuses children and the mentally ill."
The department has been barraged with such criticism for years, spurring a federal lawsuit, Nunez vs. the City of New York, filed by the Legal Aid Society on behalf of inmates that was eventually joined by U.S. Attorney Preet Bharara, who had alleged a "culture of violence" by officers against adolescent inmates at the city's jails.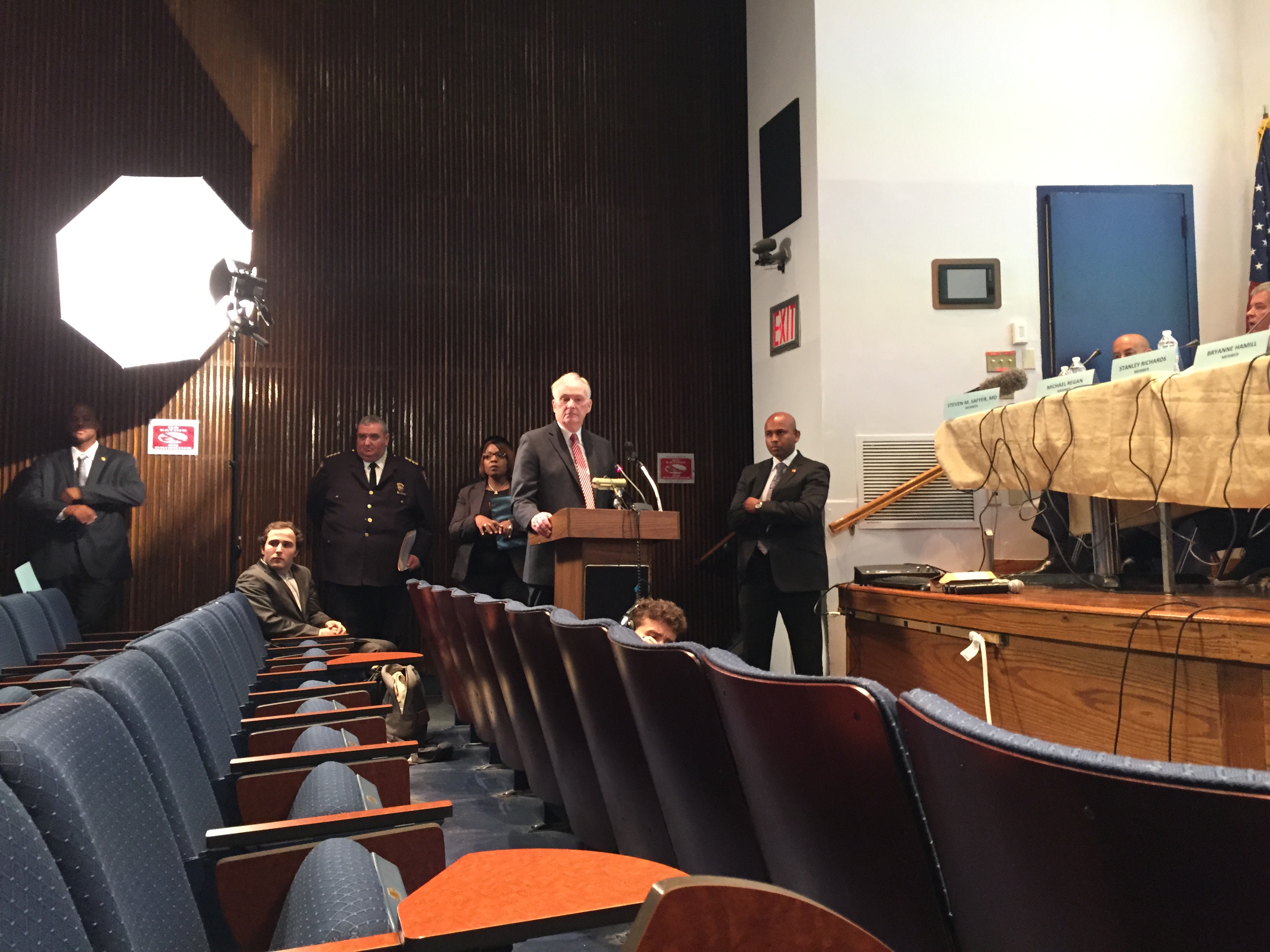 But on the other end of the spectrum, Mr. Ponte is facing criticism from his officers that he has gone too far in the wrong direction with his reform proposals, with Correction Officers Benevolent Association President Norman Seabrook once again calling for Mr. Ponte to be fired today.
"At the end of the day, if you don't know what you're doing, you don't know what you're doing," Mr. Seabrook, said of Mr. Ponte, who sat a few feet away from him. "We can't afford to die because you don't know what you're doing."
Not every union at Rikers Island agrees with Mr. Seabrook. Joseph Ferramosca, a member of the executive board of the Correction Captain's Association, said Mr. Ponte wasn't the problem.
"Tthe man has over 40 years experience in our field and we feel we have a good relationship with him," Mr. Ferramosca said. "However, he's getting his direction from City Hall. That's where the problem is."
While he didn't think Mr. Ponte should be fired, Mr. Ferramosca said he'd never seen correction officers and captains "afraid, scared to go to their post" in his 35 years on the job—until now.
One correction officer, Stacey Morris, said she was worried every day about getting home to see her four-year-old daughter, and a protester in the audience screamed out that she should get another job. Ms. Morris, who teared up when she spoke, said she was passionate about her job—but that now she had to fear not only being attacked by inmates but being punished by the department.
"I understand the risk of the job I took. I might get punched in the face," she said, "but when my fellow officers, supervisors try to help me help myself—that we don't get in trouble for what we do."
After the remarks from Ms. Morris, who said she worked closely with Mr. Calderon, several members of the board said they would visit Rikers Island and walk the jails with her.
"This is hard, this is very hard, and we are constantly trying to get the right balance," board member Jennifer Jones-Austin, who once co-chaired Mr. de Blasio's transition, said.
The slashing last week, coupled with the roll-out of a new use-of-force policy that was mandated by the settlement of the federal lawsuit, has galvanized correction officers and Mr. Seabrook in particular at a time when his union is one of the few still trying to negotiate a labor contract with the city. Mr. Seabrook has assailed a decision from the Board of Correction to end the use of punitive segregation for inmates under 21 next year, noting that the inmates who slashed Mr. Calderon are under 21.
"What do you do with the two young men, 18, 19 years old that tried to take this correction officer's life?" Mr. Seabrook asked. "You put him back into another housing area and he gets the opportunity to yet slash again, yet cut again. Perhaps we'll be having the conversation sooner or later about the death of a correction officer."
Critics of Rikers Island often note that the overwhelming majority of inmates are black and Hispanic, and many are mentally ill. Mr. Seabrook noted that at a previous meeting a board member used the now-common rallying cry of "Black lives matter." But the union Mr. Seabrook represents is also overwhelmingly black and Hispanic, and he asked whether the lives of his correction officers mattered. And he said the injustices plaguing Rikers Island—the system that allowed Kalief Browder to sit in jail for three years awaiting bail—weren't the fault of his officers.
"The criminal justice system continues to lock them up for jumping the train, put them in jail for stealing a backpack that they didn't even steal for three years, and yet we're made to be the scapegoat," Mr. Seabrook said. "We're made to take the blame. Correction officers are professional law enforcement officers. We didn't put them there. We didn't ask for them to be there."
Mr. Seabrook's union has started the process of challenging the new use of force policy before the city's Board of Collective Bargaining, and has insisted that his union was not consulted in drafting the policy. Mr. Ferramosca, with the captain's union, agreed with Mr. Seabrook, saying  "any conversation we were included in had to do with context, not content." The department, meanwhile, has repeatedly said all stakeholders, including unions, were consulted. Asked about the discrepancy, Mr. Ponte told the Observer, "That's probably all a little bit true."
The framework of the new use of force policies were laid out as part of the Nunez settlement, by attorneys and the Department of Correction, but no union members, Mr. Ponte said. There was a public hearing on the settlement that anyone could speak at, Mr. Ponte noted, to oppose the agreement. Then the department wrote the actual use of force policy, based largely on the settlement.
"As we drafted the use of force policy we did share that with the unions," Mr. Ponte said, with some weighing in and others not. "Did they get to write everything they wanted in the policy? No, but they were include in the use of force policy."
The pressure on Mr. Ponte from both sides was evident in the business before the board today. On one hand, the department has changed its proposals for new visitation rules after inmate advocates complained—children up to 14 would be able to hug a parent, for example, instead of up to 9, for example. But the department was also seeking to allow inmates who have committed a violent infraction to go immediately back into solitary confinement, without a 7-day reprieve.
Despite the leader of a union representing 9,000 correction officers calling for him to be fired, Mr. Ponte said he was confident he could lead the department.
"I think we all need to get on the same sheet. It does make it more difficult, but I know we can," Mr. Ponte said. "What I'm asking people to do, it makes sense."
In full disclosure, Jillian Jorgensen's father is a retired deputy warden with the New York City Department of Correction, who served at Rikers Island. He is among department leadership named in the Nunez complaint.