Ringly has already given followers a preview of the Libra Collection, with its "Dive Bar" ring, tourmalated quartz atop a new setting of rhodium plating, all surrounding the tech that allows women to put a little distance between themselves and their mobiles. Christina Mercando, the fashion hardware company founder, told the Observer exclusively that women who had been following the Ringly device liked the concept, but many of them said they never wore gold, which the first collection used for all its settings.
'
Ringly is fashion hardware. It's a ring that lets users leave their phone inside their purse or bag, but get the most important notifications via lights and vibrations on the ring. "We want you to focus on on the moment in your life that you would want to enjoy without having to keep your phone out," said Ms. Mercando. All the names of the rings ("Daydream," "Stargaze" and etc.) convey that message.
The team is continuing that approach through the new collection's names (for example, "Daybreak" and "Opening Night"), all comprising semi-precious stones set in a gunmetal base (the base metal is brass, for now). "We decided to announce this smaller collection of silver rings to balance out the gold ones," Ms. Mercando added. 
Working with stones gives the wearable company an aesthetic edge in this new tech industry space. "Usually with consumer electronics you have a lot of products that look exactly the same," she said, explaining that no two of these stones every look exactly the same. Adding, "And they are hand cut so they will all be slightly different."
"This past May I went over to India where we have the gemstone operation, and explored the different style and the different cuts," she said. She made a point, when we spoke, to mention adding a pink stone to this new collection.
The new line is available in sizes 5, 6, 7, 8 and 9, according to a spokesperson, and will retail for $195 each, the same price as the company's previous rings (with the exception of its $260 emerald ring, 'Into The Woods').
This is fashion hardware, though, so the company has special goals. "We can't really get bigger, because we are a ring. We are pushing to get smaller," she told us. If you were to break it open (Adafruit did so you don't have to), you would find the circuitboard wrapped something like a burrito around the battery and motor (the motor is for the vibration notifications—that took me a minute, too).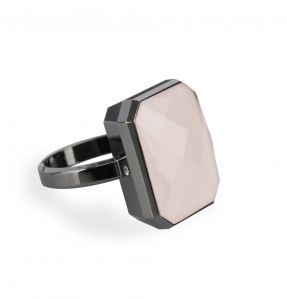 They have succeeded in getting battery life up to 24 to 48 hours. The team wants to get that to a week. When next version of the device comes along, they hope that with a more powerful processor notifications can be more refined. So, for example, your ring might be set now to let you know about all text messages, but you could filter that for a particular notification (light color, for example) if the text is from a coworker.
The Ringly app, which sends bluetooth messages to the ring, is now integrated with 80 other apps. The top of Ringly's list of the 20 most popular lists what you probably suspect (Text messages, emails), but WhatsApp is a more popular use case than a phone call (number three and four, respectively). The big social networks round out the top ten (Facebook, Facebook Messenger, Instagram, Snapchat and Twitter).
Twitter beat by Instagram? Clearly, the company isn't marketing to journalists.
To come: Ringly will join the partnerhip MasterCard is forging with wearable makers, to turn their future lines into credit cards on your finger. "Payments is something that was always on my product roadmap," she said.
It turned out that it had also been on Mastercard's roadmap. The tech company heard her speak about the idea (her team had already built a prototype) and invited her to come by. The credit card company was already building its own infrastructure toward the same end. In fact, you can see the Ringly prototype in the preview video the company made to talk about the new marriage with wearables.
https://youtu.be/GSiBlFFwALU?t=25s
New attack surface for hackers? Of course, but Ms. Mercando noted that the credit card can be disabled on the app, instantly. And it would up convenience. That's just a problem that the partners will need to be conscientious about.