Robert Sikoryak is a virtuoso cartoonist who draws so well he can not only draw whatever he wants, he can draw it to look like any other cartoonist he wants to pay tribute to, as well. He often reinterprets classic literature in the style of a great cartoonist. He says his most well known work is "Inferno Joe," from Raw (1989), where he reconstructs Dante's Inferno in the style of Wesley Morse's Bazooka Joe comics.
The Internet was abuzz Tuesday with links to his latest project, iTunes Terms and Conditions: The Graphic Novel. In 94 pages, it's a word for word rendition of Apple's unbelievably dense text rendered in page after page of tributes to great comics, with one key change: the main character on each page is transposed with Apple (AAPL)'s iconic co-founder, Steve Jobs. He's publishing it now, one page per day, on a Tumblr devoted to the project (over 40 pages are up now, but Mr. Sikoryak has finished his work).
He has published two mini-comics of the first parts of the book so far. For New Yorkers, copies of the mini-comics will be available this Saturday at Comics Arts Brooklyn. If you want to go through it online, start here. He names the artist he's paying tribute to at the bottom of each post, but if you know comics it's fun to see if you can place it before looking.
Mr. Sikoryak has a riff on the Marquis de Sade's Justine told in the form of classic Wonder Woman covers, forthcoming in the Best American Comics 2015, edited by Jonathan Lethem (series editor, Bill Kartalopoulos). He also has a fable in First Second's Fable Comics anthology, which just came out.
The Observer spoke to the Manhattanite about the project, which he began work on last November, via telephone.
When did this project start? 
I started working on it late last year, I was talking to a friend about graphic novels, because everyone is making graphic novels now. I come from a tradition of comics that's about compression, about boiling everything down. But lately most comics are about expanding into full length books. Which is great, but it's not what I've ever done.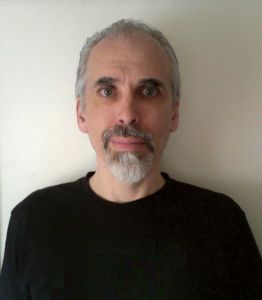 So I was thinking, "What would be an interesting thing to adapt?" And I made a joke to someone that: "I should do the iTunes agreement." And the more I thought about it, I realized, I had to do it.
I just started posting in September. I actually wanted to draw all of it before I put it out in the world. I had no idea what the response to it would be, so I wanted it to be done. I didn't want it to be stopped. No one said anything to me, but I didn't want there to be any issues, in terms of legal.
The funny thing is, I thought I was halfway through it as of June, but then iTunes' agreement was revised and expanded, so I had to add 20 more pages (as well as correcting some small things in the prior text). I felt like I needed to have a complete version of the text as it existed at the point I made the book. I didn't want to have a body of work that was inconsistent.
Page 11, which is now on the Tumblr, I did in July because they added enough text to part A that I had to insert that into the document. I have never done unedited text before, so it seemed only right. I'm all about faithfulness to a form. Even if the process of being faithful is absurd. If you have reverence toward what you are doing, the result will be even more absurd.
How did you go about the work?
I had a unique opportunity here. I was working with a text that was not made to be illustrated. There's a lot of nonfiction books that are turned into graphic novels—and the illustrations are very literal—but that wasn't possible here.
The first thing I did was I took the text, I copied the text from online and put it into a Word document and broke it down into sections that would have, say, 100 to 200 words per page, without breaking sentences or important paragraphs. And I broke them down by the little subheadings.
So I would try to find a way to break the text up among multiple pages so there was some coherence to it.
Once I've done that in Word, then I go in and draw the pages, with the understanding that I then have to go in and fit the words about the pictures.
I also had to find comics to parody. I probably spent as much time on that.  I would draw 10 pages (which I'm doing digitally). And then I would shuffle the images around on the pages and the page order to fit the words.
I didn't even really know how many panels would be on a page as I was drawing. In this case I was very slavishly using the panel layout of various artists. So in that Kate Beaton page are very specific strips that are in her Hark! A Vagrant book.
'Doing this was sort of an antidote to a text that I had too much respect for.'
One of the things in comics that can make you less creative, is if you solve the problem of the text, which is what I usually do. In this case, I was finding visual storytelling from artists I really liked, and applying that to the iTunes document.
In the mini-comics, I give the specific issue and dates of the specifics comics that I use. Like the rest of this project, it is insanely methodical and precise in terms of documentation.
The first page in the book is a four panel page with a lot of room, and that was good for an introduction. The second page was in the style of Little Lulu, so that was lots of little panels.
I wouldn't want to have two superhero pages right next to each other. I wouldn't want to have two goofy kids comics pages right next to each other.
Why did you want to take on this document for an adaptation?
In a way, it was a challenge to me. I am really interested in adapting classic literature. I'm working on a version of Moby Dick which will see the light of day…sometime. This product is the inverse of that. I think probably only the iTunes Terms and Conditions is less read than Moby Dick (which is a great book, by the way—Melville was a great writer).
Doing this was sort of an antidote to a text that I had too much respect for. This was the first text that I've adapted before I've read all of it. There's something kind of subversive about taking legalese and making it more readable.
Why Jessica Abel turned her journalism how-to comic book into a podcast.
A lot of my real paying work is completely anonymous cause-based drawing. I'm a cog in a machine. This project was almost a way of embracing that.  Making a visual edition of the iTunes Terms and Conditions is about the most anonymous work you can do.
In that way, I suppose there's some political point to this, but I think it more has to do with some sense of existentialism than any particular comment on Apple.
I was telling a friend that I could have easily done Amazon's 'Conditions of Use,' but I was lucky in Choosing Apple in that its Terms and Conditions are famously long and unreadable. And I had a great lead character in the Steve Jobs I'm appropriating.
Any reaction from Apple?
No. that's why I wanted to make it first. I don't know what they are going to say. I've been doing parodies of work for a long time and pretty much haven't had any trouble.
Why Tumblr?
Actually it was suggested to me by someone. I was showing it to someone and she said 'you should put it on Tumblr.' I already have an account, but it made sense to make it its own page.  
Real talk: do you always read the terms and conditions of stuff you sign up for?
No. I tend to skim them, and I feel bad when I don't read them. They are very important; you should read them. I've been agreeing to iTunes conditions since long before I've read them. I'm more interested in reading Moby Dick.
All screenshots used by permission of the artist.