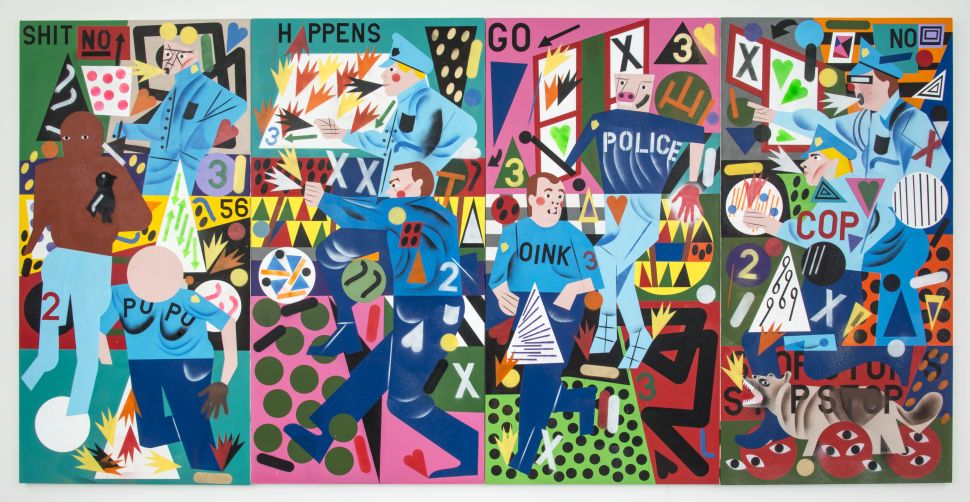 What we think we see in Nina Chanel Abney's current painting show at Kravets Wehby Gallery in Chelsea is police brutality against African-Americans, both extreme and casual.
But look closer at this show, up through January 3, 2016 at 521 West 21st Street, and you'll see more. Much more.
Ms. Abney impressed with her jazzy yet nuanced paintings from the moment she emerged in a 2007 group show at this same gallery, and despite some high-profile accomplishments—her work was immediately snapped up by the esteemed Rubell Collection and she's currently in the historic "30 Americans" exhibition at the Corcoran Gallery in Washington, D.C.—the reserved 33-year-old has kept her head down and refined her craft with an almost fierce dedication.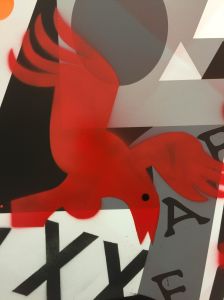 The fruits of her labors are quite evident in this her fourth New York solo exhibition: an immersive series of multi-paneled works that form a tightly-knit environment of image, color and text. It's an effective recipe that blends gravitas, suggested narrative and immersive atmosphere, much like Rothko's Chapel does, despite Ms. Abney's less than Ab-Ex leanings.
Ms. Abney's large-scale works—titled What, Why, When, Who and Where—pervade the space; they give you no exit option, but they also invite you to move around them freely and connectedly.
She clearly excavates the brash and spry acrobatic style of the early American Modernist Stuart Davis (as well as the bouncy cut-outs of late Matisse) but with an urban twist that borrows "construction cone orange" and graffiti marks that echo the garish energy of the concrete jungle. Thanks to a practically unmatched work ethic, Ms. Abney's graphic execution has become flawless over the years: a synchronic surface of colors and crisp techniques.
Because of this she achieves a uniformity that is important, as it lets the viewer entertain these works as one circuitous story.
It prompted one viewer to say "it's the #blacklivesmatter show," an explanation that promotes the show as a call for justice for African-American police brutality victims.
It's a tidy view that, while perhaps therapeutic, only scratches the surface of Ms. Abney's vision.
Scrutiny reveals that both white and black police officers make the rounds in Abney's work—not to mention both black and white victims. Police batons double as hard-ons while confused arrows and pointing hands pay tribute to the epic comic painter Philip Guston, as they flip between representing either the faceless powers that be or our guardian angels with helping hands. Meanwhile, animals of all sorts (birds, dogs) either scurry in fear, dive forward to attack, or simply lead the humans onward via their hidden senses.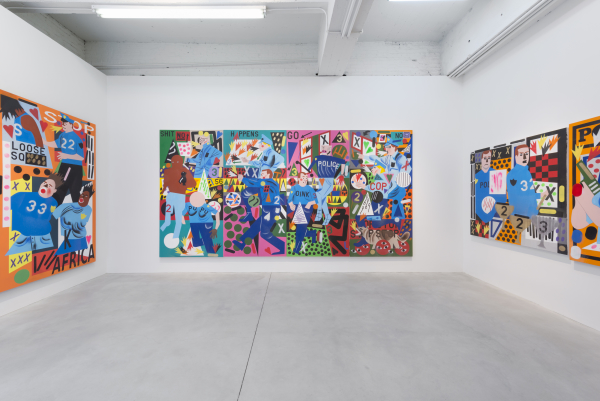 And the officers themselves are as complex as they are in real life; do they lead to safety and fight crime or use their power for nefarious purposes?
Like black history painters before her, such as Robert Colescott and Kerry James Marshall, Ms. Abney has no answers for our problems but has concocted a beautified opus inspired by what seem like insurmountable troubles.