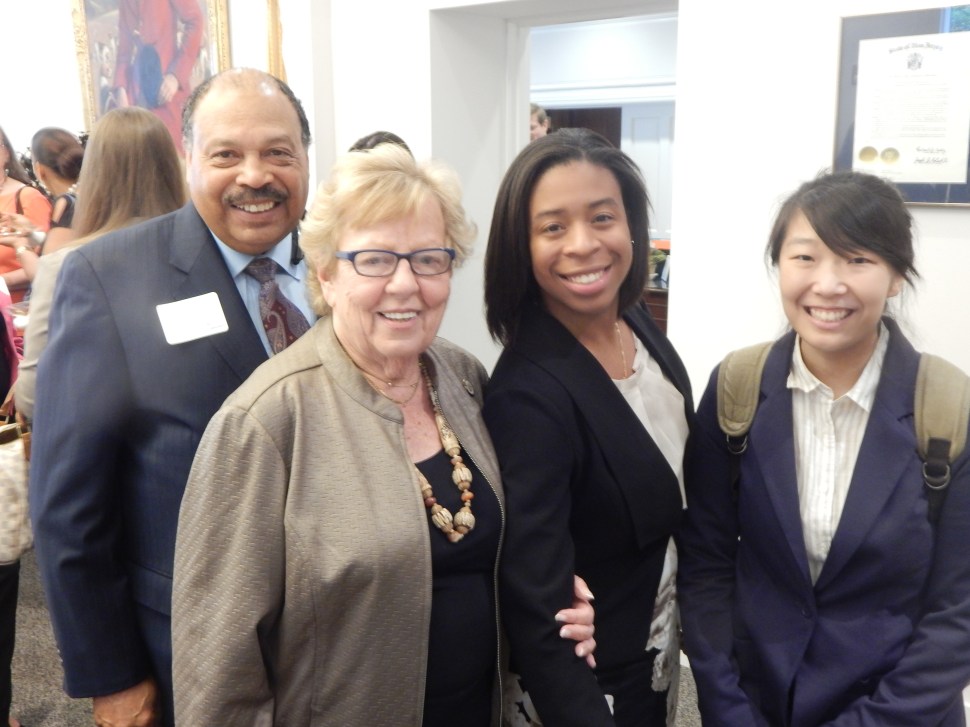 Senator Weinberg's 2015 Women's Power List
"I want to congratulate all of the women named to PolitickerNJ's Power List and thank Politicker for increasing the number of women honorees to 25 in 2015, up from 15 last year. We'll be happy (sort of) when we reach 51," said Senate Majority Leader Loretta Weinberg.
"I also want to thank Politicker for being good sports and for publishing our list.
"The truth is that there are dynamic and powerful women in New Jersey who deserve recognition for their work –  and there are many who were not named to the list – so here is my 'Power List' of women in alphabetical order."
Senate Majority Leader Weinberg's 2015 Women's Power List:
Alyana Alfaro – PolitickerNJ
Mishael Azam – New Jersey Medical Society
Susan Bass Levin – The Cooper Foundation
Carmen Benitez – Senate Democratic Office
Laurel Brennan – AFL-CIO
Dana M. Burley – Assembly Clerk
Julie Busby – Philadelphia Inquirer
Chrissy Buteas – Home Care and Hospice Care Association of NJ
Nancy Cantor – Rutgers University
Salena Carroll –  New Jersey Civil Rights Commission
Annette Catino – QualCare
Lisa Chapland – New Jersey State Bar Association
Laurie Clark – Legis-Serve
Jennifer M. Coffey – Association of New Jersey Environmental Commissions
Susan Cole – Montclair State University
Maria Comella – Chris Christie for President
Jackie Cornell-Bechelli – US Department of Health and Human Services
Michelle Coryell – Office of Senate President Sweeney
Sonia Das – Office of Senate Majority Leader Weinberg
Nicole Davidman – Republican Fundraiser
Sonia Delgado – Princeton Public Affairs
Angela Delli Santi –  AFL-CIO
Tracie DeSarno –Public Strategies Impact
Barbara DeMarco– Porzio Government Affairs
Patricia Dicostanzo – Bergen County Superintendent of Elections
Michele DiIorgi – Office of Bergen County Executive Tedesco
Beth Dohm – Kaufman Zita Group
Rosi Efthim – Blue Jersey
Regina Egea – Office of Governor Christie
Karin Elkis – Optimus Partners
Zulima Farber– Lowenstein Sandler
Debbie Francica – Office of Senate Majority Leader Weinberg
Janice Fuller – Office of Congressman Pallone
Barbara George Johnson – Thomas Edison State College
Barbara Gitenstein –The College of New Jersey
Trish Graber– Senate Democratic Office
Phoebe Haddon – Rutgers University
Veronique "Ronnie" Hakim –NJ Transit
Melissa Hayes –New Jersey Turnpike Authority
Lynn Haynes –AMG
Jeanette Hoffman – Capital Impact Group
Deborah Howlett – ACLU of New Jersey
Michelle Jaker– Amerigroup
Lisa Mizrahi Kaado – Women's Political Caucus
Carol Katz –  Katz Government Affairs
Karen Kominsky – K Street Public Affairs, LLC
Kay LiCausi – Hoboken Strategies
Susan K. Livio – NJ Advance Media
Sarah Lechner – Lechner Strategies
Ruth Mandel – Eagleton Institute of Politics
Laurie McCabe – Office of Senator Vitale
Patti McGuire – Princeton Public Affairs
Jennifer McQuaid – Senate Secretary
Bernadette McPherson –Millennium Strategies
Mary Messenger –Assembly Democratic Office
Audrey Meyers –The Valley Hospital
Kelly Mooij –New Jersey Audubon Society
Mary Noonan – Office of Congressman Chris Smith
Lynn Nowak – Porzio Governmental Affairs
Theresa O'Connor – Bergen County Superintendent of Elections
Jeanne Otersen – HPAE
Mary Kay Roberts – Riker Danzig
Julie Roginsky – Democratic Party Operative
Betsy Ryan –New Jersey Hospital Association
Peg Schaffer – Somerset County Democratic Organization
Stacy Schuster – The College of New Jersey
Marsha Shapiro and Louise Walpin  – Marriage Equality Activists
Christine Shipley – Senate Republican Office
Babs Siperstein – Democratic National Committee
Christine Stearns – Gibbons P.C.
Kelly Stewart Maer – New Jersey Democratic State Committee
Candy Straight – Republican Fundraiser
Grace Strom Power – Eckert Seamans
Jennifer Taylor – Assembly Democratic Office
Patricia Teffenhart – The New Jersey Coalition Against Sexual Assault
Myra Terry – Emerge NJ
Jennifer Velez –  Barnabas Health
Mary Wachter ?– Genentech
Debbie Walsh – Center for American Women and Politics
Shari Weiner – Murphy McKeon P.C.
Melanie Willoughby – New Jersey Business and Industry Association
Catherine Yaxley – Holy Name Medical Center
Named on PolitickerNJ's 2015 Power List :
Jennifer Borg- North Jersey Media Group
Brigid Harrison – Montclair University
Mary Pat Christie- First Lady of New Jersey
Heather Haddon- Wall Street Journal
Maggie Moran- Kivvit
Hetty Rosenstein- Communications Workers of America
Trish Mueller- Cammarano, Layton & Bombardieri Partners LLC
Analilia Mejia- New Jersey Working Families
Gail Gordon- GOP fundraiser
Christine Sloan- CBS News
Trish Zita- Kaufman Zita
Idida Rodriguez- 1868 Public Affairs
Milly Silva- SEIU Local 1199
Ann Twomey- Health Professionals Allied Employees
Marcia Marley- BlueWaveNJ and Succeed2gether
Tai Cooper- Office of Newark Mayor Ras Baraka
Jeannine LaRue- Kaufmann Zita
Lizette Delgado-Polanco- Democratic State Committee
Laura Matos-Kivvit
Samantha Maltzman- Democratic Party Fundraiser
Julie Diaz- SEIU 32BJ
Jen Holdsworth- Democratic State Political Director
Michellene Davis- Barnabas Health
Arlene Quinones Perez- DeCotiis, FitzPatrick and Cole
Rhoda Chodosh- Republican Diehard