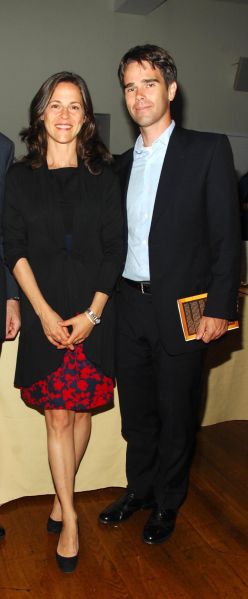 Most reporters spend their days and nights toiling far from the charming meadows and dramatic rock outcroppings of Central Park. Not Warren St. John, the editor-in-chief of Patch (and a former New York Times and Observer scribe), who even parlayed his daily visits to the park into a cause célèbre by complaining about One57 casting a playground on its southern edge in shadow.
We guess he's getting out while he can: Mr. St. John and his wife Nicole have put their co-op at 929 Park Avenue on the market.
We do hope that the couple have an easier time selling their apartment than Ms. St. John's mother, Rona Maurer, did earlier this year.
Ms. Maurer, the widow of Jack Maurer, had a number of difficulties offloading her 12-room co-op at 145 Central Park West, which included a lengthy legal battle with her estranged stepdaughter and a lot of not-so-nice details in between, like Mr. Maurer suing his wife while they were still married and claiming she tricked him into giving her their apartment.
Not to throw shade! The St. Johns' apartment seems to be free of any controversy. It sounds nice too: the tenth-floor pad has 10-foot ceilings, an open-windowed chef's kitchen and a decorative fireplace.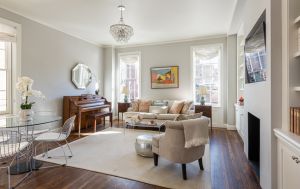 Brown Harris Stevens brokers Amanda Brainerd and Simone Mailman share the $2.195 million listing for the two-bedroom, two-bathroom spread, which the couple purchased for $870,000 in 2010.
"It is beautifully renovated. The kitchen opens up to the living room and dining room, and it's incredibly bright, airy, and open," Ms. Brainerd told the Observer. "It's pretty special for that reason. It has incredible proportions, because the building was built in 1913. It feels very grand, the windows are huge—triple windows in most rooms."
We're not surprised to hear that the St. Johns would be fans of bright and airy! So why  are they leaving?
They need more space, of course!
Too bad, as the co-op sounds like it's been renovated to the hilt: through-wall air conditioning in all the rooms, restored hardwood floors, and "artfully built in bookshelves." (Sure to be popular any other writers who have several million to spend on an apartment.)
"It's a wonderful Upper East Side location," gushed Ms. Brainerd. "The light, the views, the quiet."
Just stay away from the gloomy Southern edge of the park.