I reposted a poignant piece yesterday on the Garbage Facebook page entitled "We Are All the Road Crew."
It was written by Tim Sommer, originally running on the culture pages of Observer.com. It's a rather beautiful little article on humanity and you should read it. It had been forwarded to me by our sound engineer who knew and had toured with Nick Alexander, the merch manager for Eagles of Death Metal who was so brutally murdered by extremists last Friday in Paris.
When a journalist takes the time to honor one particular member of a road crew who lost his life last Friday, he is honoring the humanity in all of us.
A few hours later, upon solely reading the title of the piece I had posted and without bothering to take the time to read the article itself , a certain individual took to our page, leaving a snarky and nasty little comment in the thread, calling me out for not being a member of a road crew myself.
Ironic, really when you think about how closely bands travel with their crew. How we travel the road as a pack. How when traveling together there is no delineation between performer and tech. We travel simply as people from one destination to the other. We travel together as one. And we travel a long road together, often one that lasts for years.
But what struck me more about this little turn of events was how it perfectly illustrated just exactly where we are all going wrong lately. How we leap to conclusions upon reading headlines and rush to judgement without availing ourselves of the facts. We position ourselves behind our computer screens as avenging angels, judges and executioners often without doing our due diligence. We decide for ourselves the content of news articles based solely on an accompanying picture or a hysterical headline because we are too busy multitasking to apply ourselves to truth. Fact and accuracy is of little interest or value to us these days it would seem.
What my aforementioned critic did in this instance was assume from the headline that I was exploiting the death of a fellow human being, identifying myself as a member of a road crew. For what reason he would assume I would do that, I am not entirely sure. Afterall, my identity and what I do for a living is hardly a secret.
However, I digress. What my accuser did in this particular instance is he leapt to conclusions. He jumped to accuse me of something without taking a moment to actually read the piece.
We are all, indeed, in this nutty, magical, chaotic, cruel, beautiful and priceless life, members of a road crew.
If he had, he would have understood that the piece centers around the idea that when we acknowledge the death of another person we acknowledge their life and in doing so, we are acknowledging the sacredness of life for all human beings.
Sometimes when I post condolences as I have on this page many many times over the years, regarding tragedies that may have taken place in a variety of different countries and places all over the globe, I will receive an onslaught of complaints from people, wondering why I am not marking the pain and suffering taking place in their particular position on the map.
Believe me, if I could honour every single person who has lost their life or encountered a devastating tragedy I would. But life is not that simple and I do not have the knowledge or the ability to do such a thing.
However I strongly believe that in mentioning a tragedy that takes place in Nepal or Turkey for a random example, then in doing so we honour those who suffer in Afghanistan,Russia,Egypt, France, the Ukraine or South Sudan. I make no distinction between color, faith, gender or job description.
SEE ALSO: Everything Is Garbage: How Shirley Manson Sowed Pop's Future
By pleading for the war to stop in Syria, we are pleading for all wars to stop.
When we speak up about the need for equal rights of women we are speaking up for the rights for all human beings everywhere, all across the globe. When we fight for the right for animals to be treated with respect and kindness, we are fighting for every living, powerless but cognizant being who has no voice.
When we save one child, we are begging to save ALL children.
So when a journalist takes the time to honour one particular member of a road crew who lost his life last Friday, he is honoring the humanity in all of us.
The fact that I fell in love with and married a member of our own particular road crew, the tribute perhaps hits me harder than most.
But make no mistake, terror does not discriminate. Terror has no mercy. Terror will strike anyone, at anytime at all and we must stand together to safeguard against it.
And so I leave you with this photograph of my beloved, precious husband simply doing his job for me and my band less than 24 hours after the atrocities that took place in Paris last week.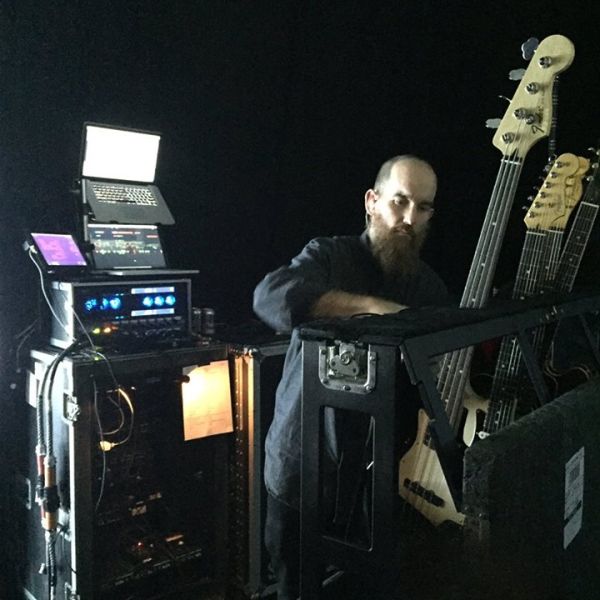 Thank you journalist Tim Sommer for your elegant piece. You absolutely got it right.
We are all, indeed, in this nutty, magical, chaotic, cruel, beautiful and priceless life, members of a road crew.
Peace and love to all.
Hate no one.
Your girl,
Shirley Ann
Shirley Manson is the groundbreaking front woman for influential art pop band Garbage.