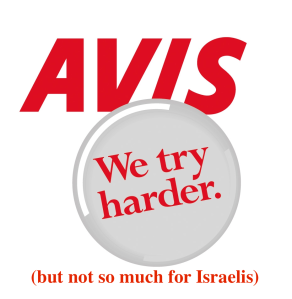 UPDATE (6:33 p.m.): This story has been updated to add comment from Avis.
On Saturday evening, Dov Bergwerk arrived at the Avis branch on West 76th Street and Broadway. Accompanied by his wife Ruth, the Bergwerks were planning to join friends for dinner in Westchester. Mr. Bergwerk, a senior vice president and general corporate counsel at the Israeli pharmaceutical giant Teva, got out his driver's license, reservation number and "Wizard" loyalty card—he's rented from Avis dozens of times before—and anticipated the usual smooth transition into a nondescript mid-sized sedan.
That's when the trouble started.
A reservation agent named Angelline declined to honor Mr. Bergwerk's reservation, saying that it was company policy not to recognize Israeli documents. Stunned, Mr. Bergwerk explained that he had rented from Avis many times, including a car from that very same office on Thursday, November 19—only two days earlier.
Mr. Bergwerk asked Angelline to access the profile attached to his Wizard card, which shows that he is an executive at a giant multinational company who has no regulatory issues and has rented from Avis, including at that very branch, many times without incident. She refused. They argued.
Eventually, a manager was called. Shamoura took the side of her reservation agent, also refusing to honor Mr. Bergwerk's reservation or recognize his documents. Stunned and stranded on a Saturday night in New York, Mr. Bergwerk called the Avis main number and got through to customer service. The representative confirmed to him that the Israeli license was an acceptable form of ID and also mentioned that he could show his passport to ameliorate any ID concerns the on-site employees had. Mr. Bergwerk put the customer service representative on the phone with Shamoura, the branch manager, and at this point the story evolved. She now claimed that she was declining to rent the Bergwerks a car not because of the insufficient documents but because Mr. Bergwerk had "argued about the way I was being treated in front of other customers," according to Mr. Bergwerk.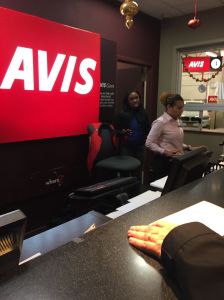 The Observer asked Mr. Bergwerk if he felt that, in the heart of Manhattan's progressive activist community, he was being singled out for being an Israeli.
"While no direct reference was made to being anti Israel, that was my impression almost from the initial moment I presented my license and credit card as I have done over 15 years of business and leisure travel without ever being challenged. The agent stated that the Israeli license did not have the required info in English. I tried to demonstrate that the license had all the required info but she and the manager had no interest. Similarly, the fact that I have had many rentals at Avis and at this location was dismissed as having been 'done by new employees.'"
New Jersey based Avis, owned by the Avis Budget Group (which also owns Budget Rent a Car and Zipcar), is one of the largest car rental companies in the world, with almost 5500 locations in 165 countries. Almost nine hours after being asked for comment, Avis got back to the Observer with a statement, surprisingly doubling down on the behavior of its employees. The company declined to attribute the statement to any individual, and even the email address is a disembodied "Avis Budget CORP Communications."
According to Avis, "On Friday, a customer seeking to rent a car from Avis Car Rental in Manhattan was not allowed to do so because he failed to provide the required documentation. Visitors to the U.S. from other countries must provide both a valid drivers license from their country of residence as well as either a valid International Drivers License or passport in order to rent from Avis. We are aggressively investigating the customer's allegations regarding the handling of this matter, as we do not tolerate any form of discrimination. So far, our ongoing investigation suggests that this customer is unfairly maligning us with unfounded allegations."
Ruth Bergwerk confirmed her husband's version of events, telling the Observer, "Of course it was embarrassing. They wouldn't even open our reservation and see that we have an Avis Wizard number or that we had rented a car from the same location two days before. There was no way they would rent a car with that license. There was no way to reason with them."
According to both Mr. and Ms. Bergwerk, Angelline and Shamoura would not even provide their last names or employee ID numbers. Observer reporting confirmed that the manager is Shamoura Welch-Robinson, who has worked for Avis since April 2014, according to her LinkedIn page.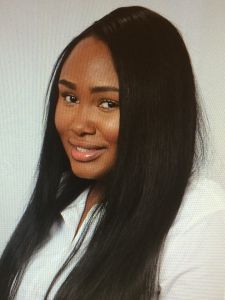 Mr. Bergwerk said, "I felt that something very ugly was going on. Discriminated against. When you deny someone a service and they present the ability to pay for that service and they dismiss you like your money isn't good here, it's very demeaning."
The Israeli government provides a list of countries that recognize an Israel Driving License; as a close ally, the US has among the most generous policies and even Turkey and Singapore do so. Meanwhile, the Bergwerks never made it to Westchester last night. In something short of a tragedy—but with ominous overtones for those carrying Israeli documents—according to Ms. Bergwerk, "Our plans for the evening were ruined."
It wasn't just dinner. According to Mr. Bergwerk, "I was also planning a very personal visit this morning out of New York to a cemetery but [now] will not go."