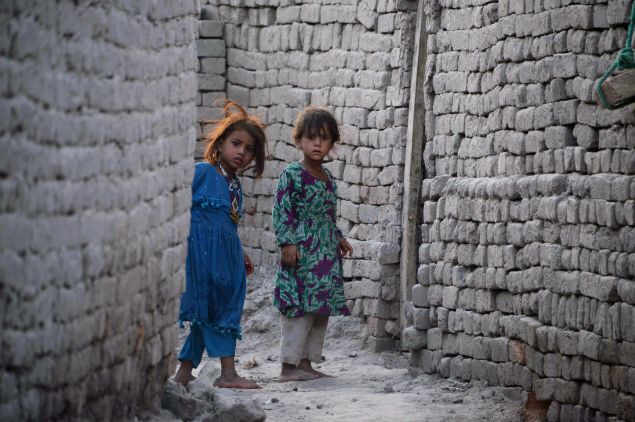 "When I saw these young children, I was really, really upset, really sad. I was thinking about Afghanistan's future. Afghanistan's next generation. What do we have next? These children who learn how to kill people, how to do jihad, how to behead, how to fire, this will be Afghanistan? I was thinking maybe the war will never end and the people will keep suffering from war." That's Najibullah Quraishi in a new PBS Frontline documentary that premiered on November 17.
The film follows Mr. Quraishi's trips into ISIS-controlled territory in Afghanistan, where villages are being used as training grounds and schools for violent ideologies. It details how ISIS began taking over Taliban strongholds in the country in 2014 with the release of a video in which masked ISIS members executed a dozen Taliban leaders. The country continues to struggle in turmoil as ISIS, Taliban, and Afghanistan government forces commit daily atrocities in order to gain the upper hand in disputed territories. Mr. Quraishi, an Afghanistan native, is the first Western journalist to be given access to ISIS behind the scenes.
Despite covering the Taliban in many dangerous situations, Mr. Quraishi explained in an interview with Frontline that covering ISIS "was the most risky and dangerous job ever I've done in my life."
One of the main recruiting tactics of ISIS is to offer high salaries to soldiers—$700 a month. ISIS is "probably the best funded terrorist organization we have confronted," said David Cohen, a Senior U.S. Treasury official in an October 2014 speech. A vast amount of ISIS funds come from money seized from Iraqi banks, assets taken over during invasions, and the taxing of residents in the territories they control.
In a poor country with very few opportunities, Mr. Quraishi cites education as Afghanistan's main problem. "Over 90 percent of our population is uneducated. So what can you expect? The terrorists come from Syria, Iraq, Pakistan, saying the Quran says this, Quran says that, and the Afghans believe that because they speak Arabic, they think they know the language of Quran, and they know Islam better than us, let's follow them. So they simply follow them," said Mr. Quraishi.
Although ISIS is predominantly located in Iraq and Syria, the organization and their affiliates have infiltrated at least ten other countries, including Afghanistan. The rise of ISIS has sparked the greatest refugee crisis since World War II, with an estimated 9 million Syrian refugees fleeing their homes since the civil unrest began in 2011.
They use Islamic rhetoric as propaganda to fuel aggressive recruiting strategies, indoctrinating children as young as three years old in schools and mosques.
The growth of ISIS over the last few years has ignited communications between countries who otherwise would not ally with western or other Middle Eastern nations. Iran and Saudi Arabia, both predominantly Muslim countries who inject extreme religious views into their governments, have denounced ISIS and support military action against the organization.
The Paris attacks on November 13 have expedited global calls for action in defeating ISIS. The dangers ISIS poses are being taken much more seriously, but it should not have taken a tragedy of this magnitude for global superpowers to take resolute action.
ISIS formed after a mass genocide in Syria in 2011 when revolutionaries protested against the Syrian government under the rule of Basshar al-Assad. Mr. Assad's regime used brutal force to stop the rebellion. The revolutionaries turned to Al-Quaeda for support, sending the country into civil war.
Next door to Syria, in Iraq, the United States left the country in the hands of Nouri al-Maliki, who waged a campaign to consolidate power by attempting to arrest anyone who opposed him, the majority of whom belonged to a religious sect, the Sunnis. After their political leaders were run out of Iraqi politics, Sunni councils wanted to secede from the country. As Iraq unraveled, spillage from the fighting occurring in Syria crossed into Iraq as well, and now both countries serve as safe havens to militant extremists.
ISIS wants to establish Caliphate; a form of Islamic government in which a religious leader, a descendant of the Prophet Mohammed, rules. They use Islamic rhetoric as propaganda to fuel aggressive recruiting strategies, indoctrinating children as young as three years old in schools and mosques and through extensive social media campaigns. Those who refuse to adhere to ISIS policies are brutally murdered to make an example out of dissidents.
These acts of brainwashing children is a means to grow the organization are viewed as ideological lost causes. ISIS uses propaganda videos, cash, toys and other means at their disposal to lure children from their families. Their emphasis on youth makes eradicating ISIS much more imperative as children who grow up under their influence may not be able to be reasoned out of an ISIS mode of thinking. Despite airstrikes killing thousands of ISIS soldiers, their recruitment tactics are providing the organization with an unlimited supply of devoted soldiers, and the slower the world reacts to eradicating ISIS, the more prevalent and powerful they will become.