Danielle Snyder and Jodie Snyder Morel, the sisters behind the DANNIJO bauble brand are in agreement that "retail is increasingly mundane." So this holiday season they have decided to take a new approach, with a pop-up shop aimed to engage their customer base and ignite discussion. Through a partnership with A Current Affair, the traveling vintage marketplace that is a favorite among devout vintage shoppers, they have created an exclusive collection of #ConversationPieces in a unique retail setting.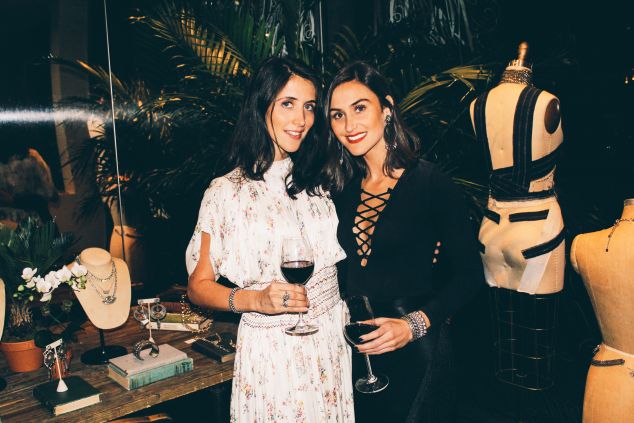 "The goal was to reposition the brand and use our jewelry as a vehicle to start a conversation," Danielle told the Observer at the launch party on Friday evening. "We just wanted every piece of jewelry to have its own story. We originally designed jewelry to help fundraise for grassroots initiatives in Africa. So we want to carry the notion that as we evolve and expand into new categories, storytelling is [still] the ultimate driving factor in the growth of the brand."
The pop-up space, at 68 Gansevoort, was once a blank canvas but has since been transformed into a festive experience that evokes every element of the DANNIJO brand. Small stacks of first edition novels served as displays for chunky necklaces, plated cuffs, and crystal earrings, all thoughtfully merchandised around the room. Titles included Wuthering Heights, Five Little Peppers And How They Grew, Earth And High Heaven, to name a few. Even the very first edition of The Great Gatsby was used as a jewelry stand. "Danielle and I collected books over the years and thought, what are we ever going to do with these? We always look for books that we loved and remind us of childhood, and that take us back to that fantasy world," Jodie explained.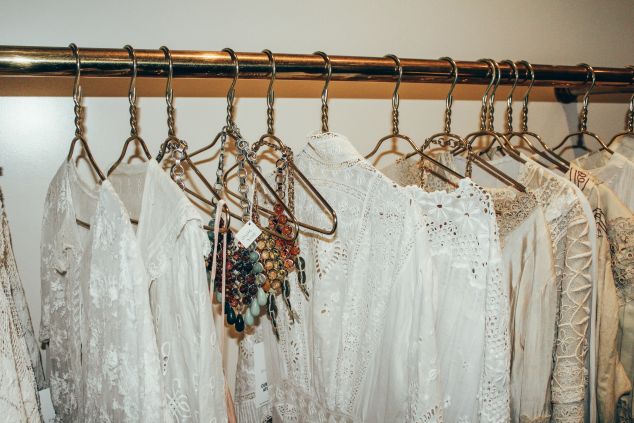 Racks of vintage apparel lined the walls thematically, ranging from what the girls call Almost Famous inspired fur coats to Jane Birkin-esque vintage tees. As every vintage piece has its own unique narrative that is linked to a particular person and era, Danielle and Jodie felt that A Current Affair complemented their underlying message and ongoing story.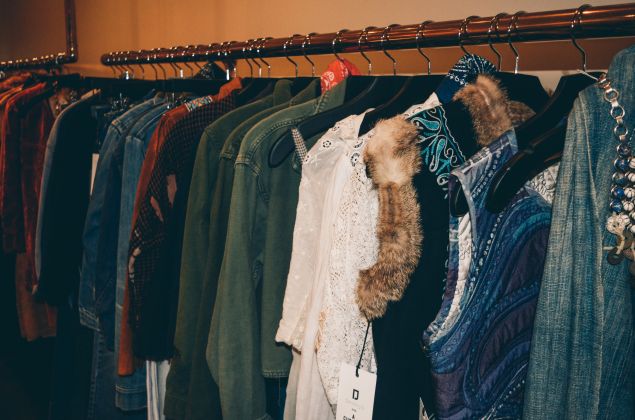 Jodie is always on the hunt for new vintage gems throughout her travels, and shares that Champagne, France, her husband's birthplace, is one of her best kept secrets. "I love Victorian blouses and lace dresses, and they are so hard to come by, but these small antique stores there have them and they are so inexpensive that you feel like you found amazing treasure," she told us. As it turns out, Jodie's daughter Margaux is well on her way to becoming a fashion and jewelry expert, despite still being an infant.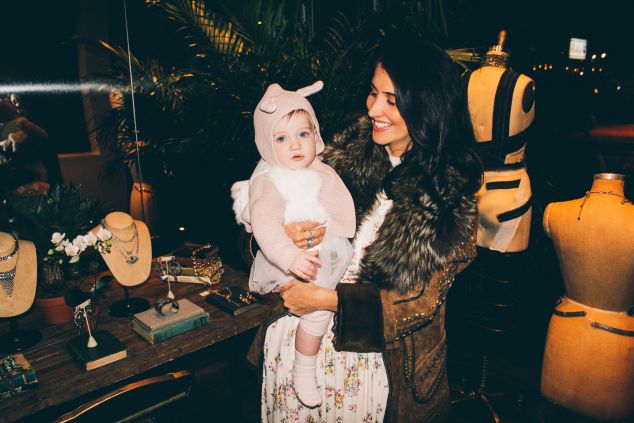 "My daughter is 9 ½ months old, and one of the French shops had an archive of Victorian baby dresses, so I bought like five for her," Jodie admitted. "I'm not into twinning, but I can share something that I love with her while she still lets me dress her."
Beyond the selection of jewelry and apparel, DANNIJO tapped friend and multidisciplinary artist Joseph Aloi of JK5 to customize the store window and design a mannequin, or as the girls call, a "fembot." The custom fembot is encased in glass and functions as the room's focal point.
Additional participating brands include Morgan Lane lingerie, Carbon38 athleisure wear, and True Origins Coffee. #ConversationPieces is up and running until December 31, Thursday through Sunday, from 11 a.m. to 7 p.m. at 68 Gansevoort Street.