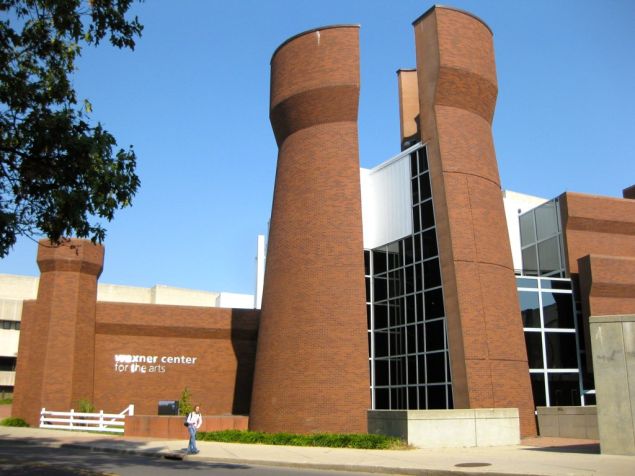 A former Ohio State employee was found dead by a self-inflicted gunshot wound on an upper level of the $43 million Wexner Center for the Arts in Columbus, Ohio on Sunday after police responded to the sound of gunshots.
The Wexner Center control center called police at 11:26 a.m. saying that shots had been fired, according to the Columbus Dispatch.
The shooter vandalized some artworks in the nearly empty museum before taking his own life. No one else was hurt, as the police safely evacuated two museum goers and a few employees.
It wasn't the first time shots were fired inside the Wexner Center. A February 1997 incident did not end as well, when an Ohio State Police Officer was fatally shot while responding to a call at the center. A few days later, the shooter was found dead from a self-inflicted gunshot wound.
"We heard one cop come this way and pulled up right to the curb, grabbed his rifle and just ran in," said OSU student and witness to Sunday's events Ryan Jacob to WBNS in Columbus.
The name of the shooter had not been released as of today because police were trying to contact his relatives, said Dan Hedman, a spokesman for the university.
The Wexner Center is currently hosting the exhibition After Picasso: 80 Contemporary Artists, which features 150 works by artists influenced by Pablo Picasso. Contemporary artists such as Andy Warhol, Roy Lichtenstein, Jasper Johns, Sigmar Polke, Fred "Roller" Wilson and Amy Sillman are included in the show alongside some of Picasso's contemporaries such as Ernst Ludwig Kirchner and Henri Cartier-Bresson.
No word was given as to which artworks were damaged and to what extent.
The Wexner Center was named after retailer and Ohio State graduate Leslie H. Wexner, who is the founder of L Brands; a corporation that includes chain store such as The Limited and Victoria's Secret. Mr. Wexner was the primary contributor for the building, donating $25 million.
The museum remains closed until further notice.