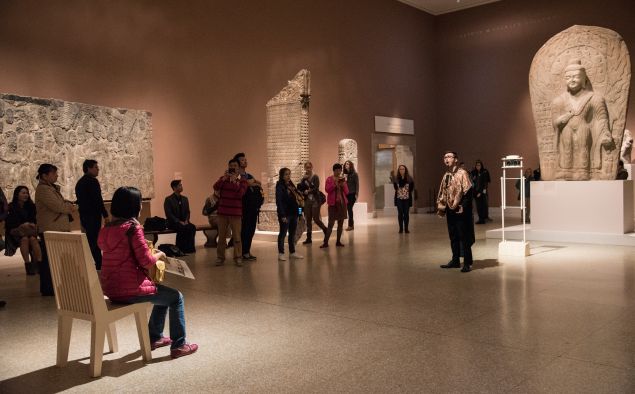 If you go to the Metropolitan Museum of Art this weekend you might end up being given your own personal Schubert concert.
Artist Lee Mingwei's intimate performance work, Sonic Blossom, will be taking place in the museum's Modern, Contemporary and Asian galleries through Sunday, November 8. For the interactive piece, Mr. Lee has recruited roaming singers from Manhattan's School of Music and tasked them with singing an intimate acapella tune for a single visitor in the center of the gallery.
Song material for singers can be any one of five of the Austrian classical composer Franz Schubert's Lieder (songs meant for a single performer). Expect the singers to wander the galleries, and approach visitors with the question: "May I give you a song?" When a visitor answers yes, they are seated and sung one of five Lieder chosen by Mr. Lee.
The work was initially created as a commission for inaugural exhibition of the National Museum of Modern and Contemporary Art in Korea in 2013. Since then, it's been performed at venues in Toyko, Beijing, and Singapore, and most recently at the Museum of Fine Arts in Boston.
Mr. Lee told the Observer by phone that the five chosen Lieder were childhood favorites that he learned through his mother. He later played the songs frequently for her while she recovered from surgery later in her life. For this work, he gave no formal guidance to his performers as to which songs would be sung to which visitors, but rather left it to "fate and chance," he said.
Limor Tomer, the museum's general manager of concerts and lectures, told the Observer, "People have been overwhelmed. It's been one of the most emotionally charged performances that we've presented to date."
Mr. Lee says the costumes the performers wear has changed from venue to venue, dependent on the region where it's being shown, and described the colorful Japanese textiles for the Met performances as "obi," traditionally a sash worn with a kimono, but in this case a two part suit: a pattered top and bottoms.
"For this there are two kinds of obi," he said. "The top is very formal, and bottom is less formal, but both textiles feature the tang flower, which in Japan represents a mystical creature. So, when the singer wears the costume they are like the demi-god bringing gifts to the people they sing for."
As for the location of the work, The Met gave Mr. Lee freedom to choose where in the museum he wanted performances to take place.
"The Sackler Contemporary room has always been my place to come to when I'm in New York. I like to come and sit in front of the Buddha and meditate for a minute or two."