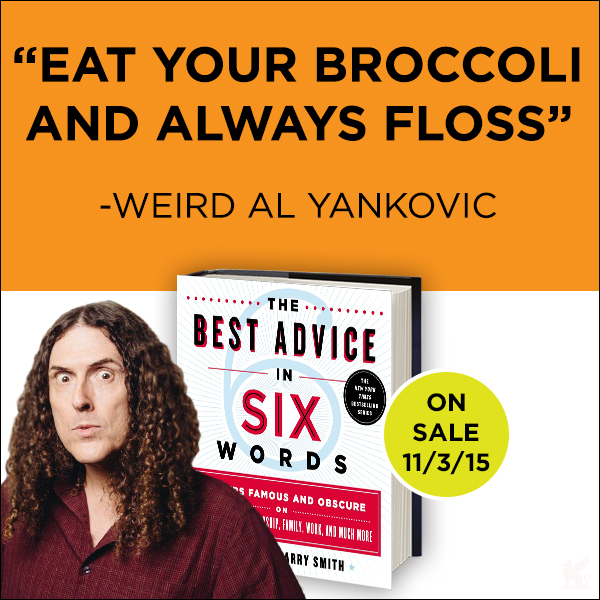 For someone who has worked with words all my life, I do a lot of counting. Mostly I count to six.
I run the Six-Word Memoir project. Why six? Six-Word Memoirs is a personal twist of the form that, according to literary lore, Ernest Hemingway started when he was once challenged in a bar
 bet (where much literary lore happens) to write a novel in just six words. As the story goes, Papa wrote, "For sale: baby shoes, never worn." Could be true; it's probably not. Still, it's a good story and I ran with it.
What in 2006 my co-editor Rachel Fershleiser and I thought would be a one-month contest on our fledgling storytelling platform, smithmag.net (now SixWordMemoirs.com), has taken on a life beyond our wildest dreams. Nine years after we launched the challenge in collaboration with what was then a little-known company called Twitter, more then with one million six-word stories have been shared on the site—and countless more across the web and in real space.
For me, six words is a way into many other worlds, communities and causes.
No shock that summing up your life in six words works well in the age of Twitter. Yet what started as challenge to a small, online literary community turned into a tool for classrooms and boardrooms, churches and synagogues, veterans' groups and speed-dating as this simple, creative constraint creates conversation, sparks imagination, or helps anyone get to the essence of who they are and what matters most to them. For me, six words is a way into many other worlds, communities and causes: In the last month alone I've taken six-words into a residency for the formerly homeless; a men's medium security prison; the Zen Hospice Center fundraising gala; and led "six-word slams" at a number of hipster storytelling events and half a dozen schools.
The latest chapter in the six-word story is our seventh book, The Best Advice in Six Words. How to choose some of my favorites among the 1,001 morsels of six-word advice to share here? Impossible. So I decided to create the first-ever Six-Word Advice Awards.
---
MOST PRECOCIOUS:
Both these bits of advice were shared during a third-grade classroom I was invited to talk to.
"Life is better in soft pajamas."—Emily C.
"Look mean, be nice to everyone."—Kevin R.
MOST IN NEED OF A BACKSTORY:
"Don't set your brother on fire."—Jodi Picoult, bestselling novelist, most recently of Off the Page, written with her daughter.
MOST WELL-TIMED:
"Fear not, live in the now."—sent by Goldie Hawn, and arriving on my phone moments before I was walking into a yoga class as I was feeling extremely stressed about this book. (Also: I love Goldie.)
BEST WORDPLAY
"Intercourse is easy. Discourse is hard."—Abby Ellin, Observer contributor and author of Teenage Waistland: A Former Fat-Kid Weighs in on Living Large, Losing Weight, And How Parents Can (And Can't) Help.
BEST COUPLE:
"Do I look fat?'
'NO HONEY.'"—Jason Biggs, actor
"Live far away from your in-laws."—Jenny Mollen, actor and author of I Like You Just the Way I Am
BEST REMINDER:
"Most powerful words: 'Thanks' and 'Sorry.' "—Jennifer Egan, Pulizer-Prize-winning author of A Visit From the Goon Squad
SECOND-BEST REMINDER
"Your phone does not love you."—Scott Alexander, former gadget editor, Playboy
MOST RELIABLE NARRATOR:
"Don't put that in your mouth."—Morgan Spurlock, director of Super Size Me.
FUNNIEST:
"Hands where I can see 'em."—Gary Shteyngart
BEST REASON TO DATE A JEWISH GUY:
"At least you know he's circumcised." (from Six-Word Memoirs on Jewish Life)
—Amy Schumer, actor, comedian
MOST LIKELY TO LAUNCH A NEW RELIGION:
"Secret of life: family, friends, bacon."—Katie Couric
SIX WORD I HEARD ON A TED TALK I MOST WISH I COULD HAVE PUT IN THE BOOK:
"Divorce your story, marry the truth."—Tony Robbins, motivational speaker
---
Want more Six? Check out Six-Word Memoirs
The Best Advice in Six Words: Writers Famous and Obscure on Love, Sex, Money, Friendship, Family, Work, and Much More
Larry Smith is the founder and editor of Six-Word Memoirs from SMITH Magazine (sixwordmemoirs.com), a bestselling book series, board game, live event series, and global phenomenon that's found a home in classrooms and companies across the world. Larry speaks on personal storytelling all over the place, including Levi's, Dell, Shutterfly, ESPN, and in classroom of all ages.