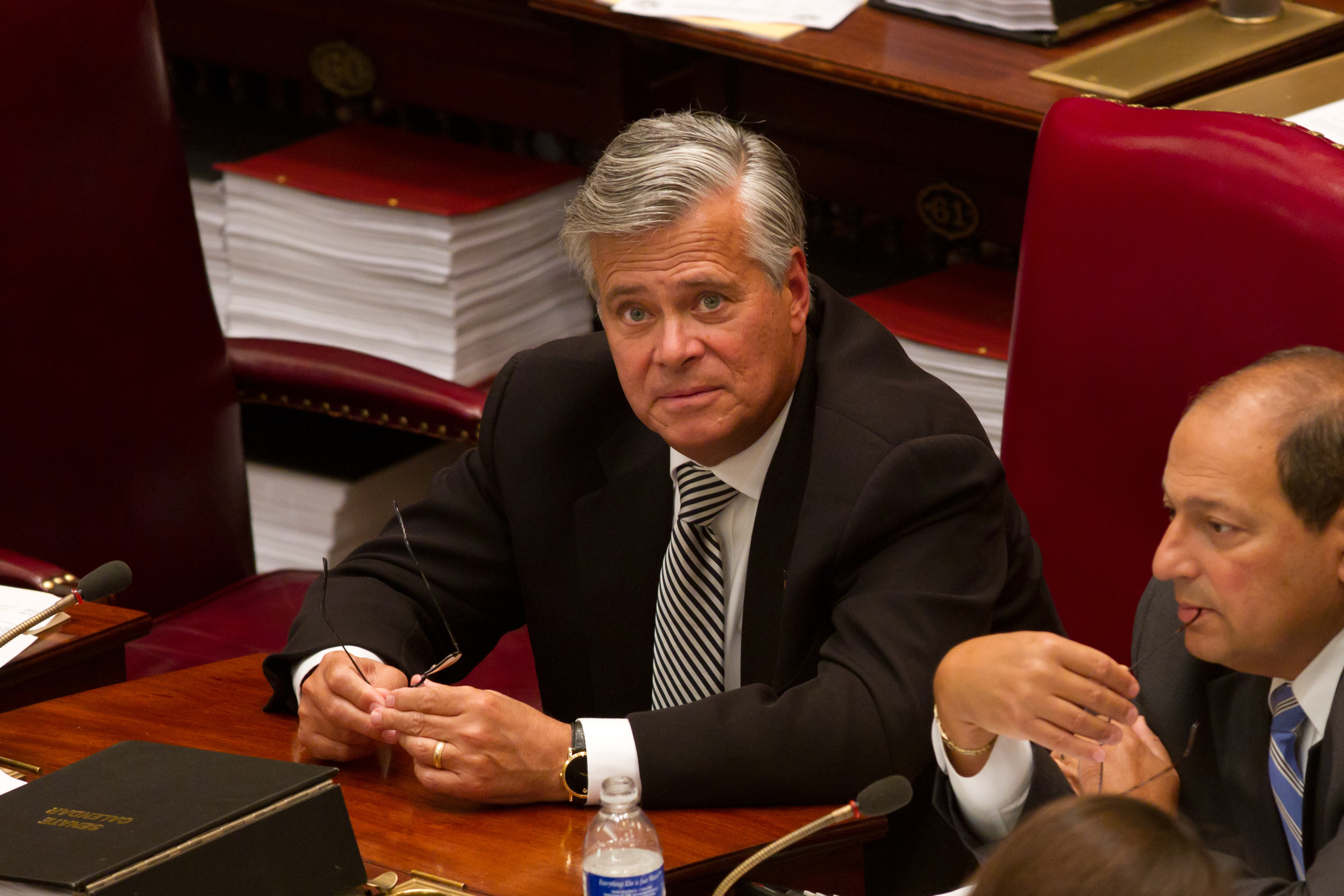 Lawyers for former State Senate Majority Leader Dean Skelos and his son Adam today argued that the federal corruption charges against the pair—which allege that the elder Mr. Skelos obtained posh jobs for the younger from companies with business before the state—really tell a heartwarming tale of a "caring and concerned" father and his "rude," "volatile" and "immature and emotional" 33-year-old boy.
At the Daniel Patrick Moynihan Federal Courthouse in Lower Manhattan, the attorneys argued in their opening statements that, contrary to Justice Department claims, the Nassau County state senator had never and would never change a vote or stance in order to secure sinecures for his son and thus had never engaged in a criminal quid quo pro arrangement. Instead, they depicted the Skelos scion as a troubled youth who had occasionally needed to fall back on family connections to "live the American dream"—in the words of Christopher Conniff, counsel to the younger Mr. Skelos, the jobs had "nothing to do with official acts and everything to do with friendships."
"This is about the relationship between a father and his son," Mr. Conniff argued, claiming that a municipal waste treatment start-up and a medical malpractice insurance firm hired his client because of his name recognition and ties to Long Island elected officials. "We don't dispute that Adam got the Abtech and PRI jobs because of connections through his dad. That's how generations of young people have got their starts."
Mr. Conniff highlighted that Abtech had previously employed Robert Kennedy Jr. and former Pennsylvania Gov. Edward Rendell for the same reasons. The attorneys maintained that the angry threats the younger Mr. Skelos made against his supervisors when he felt they were not paying him enough or paying him fast enough, or when they asked that he show up to work more often—threats that his father would obstruct legislation and funding crucial to their companies—were little more than bravado.
"He threw his father's name around, acted like a big shot and exaggerated a bit," Mr. Conniff said of his client, who visibly grinned and smirked through much of the proceedings.
The lawyers asserted that the hours of tapped phone calls and reams of emails in which the government alleges the Skeloses discussed the jobs in secretive and coded phrases, are in fact the record of a father and child with a truly exceptional bond. And the conversations in which the feds claim the Skelos patriarch hinted at ominous consequences to Nassau County Executive Edward Mangano should he not accelerate payments to AbTech was just two seasoned officials talking shop.
"A father can finish his son's sentences and a son his father's. They're not speaking in code: they're speaking in the way fathers speak to sons," said Robert Gage, the state senator's attorney. "Of course, you speak in shorthand to other politicians."
Mr. Gage lashed out at the prosecution's key witnesses, most of them executives at the companies his client allegedly leaned on to funnel money to his son—Charles Dorego, chief counsel to luxury developer Glenwood Management; Abtech CEO Glenn Rink; PRI CEO Anthony Bonomo—noting that they had all signed non-prosecution agreements. He also maintained that they had all enjoyed long, friendly relationships with State Senator Skelos and had seen nothing unusual about the hiring of Adam Skelos until the U.S. Attorney's office began its probe.
Most of all, however, he argued that Mr. Skelos was an "excellent public servant" who had from the beginning of his political career backed the tax breaks, spending and legislation that helped keep Glenwood, Abtech and PRI afloat.
"You're going to see these positions of Senator Skelos were not for sale, they've been consistent since the 1980s and are core positions," Mr. Gage said.
U.S. Attorney Preet Bharara, who brought the Albany-shaking corruption charges against the Skeloses and against former Assembly Speaker Sheldon Silver earlier this year, sat in the back of the room. One of his assistant prosecutors read the opening statement for the federal government, in which she noted that it is irrelevant under federal corruption statutes whether Mr. Skelos had made an open threat or whether he had explicitly changed his position on any issue as part of a quid quo pro agreement.
"From a corrupt politician's perspective, there's no better scenario than taking bribes for something they would have done anyway," she said.