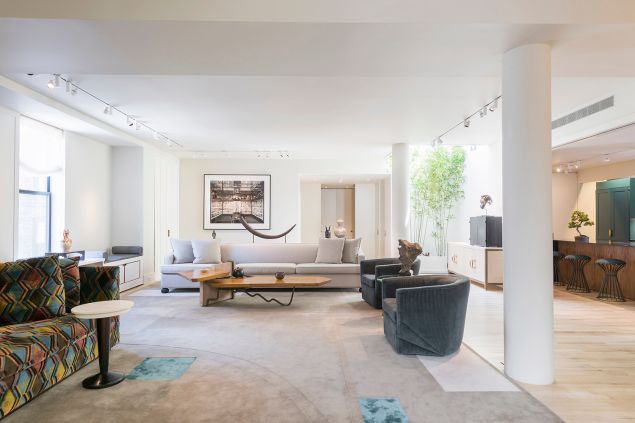 "It's like a little oasis," Sotheby's broker Philip V. McCarthy said as we stepped off the elevator into the foyer of an airy, 4,900-square-foot Chelsea duplex penthouse.
That phrase often results in an eye roll, but as the Observer took in the double-height ceilings in the skylit entrance, which included a working fountain, "oasis" didn't seem like such a bad word.
"It's unexpected," Mr. McCarthy said of the ninth and 10th floors. The airy, nearly 5,000-square-foot duplex wasn't exactly what we prepared for when we saw the rather diminutive, nondescript eight-unit condo building at 291 Seventh Avenue, which recently underwent a two-year gut renovation that included carving out a formal dining room from the loft space and adding a kitchen island, as well as separating the two bedrooms and two baths on the first floor from the entertaining area.
"It has a Zen vibe," he added, underscored by a formal tearoom off the living room. A slightly less Zen feeling occurred upon walking into the dining room, which contained a pair of taxidermied peacocks. The avian theme was contained in the (otherwise very chic) dining room, where a stuffed owl perched high above us.
"It has to stay up there, because it's still full of arsenic, so it's pretty poisonous," one of the owners, Cole Harrell, informed us, as we subtly inched away from the dead owl's knowing eyes. (A very much alive, three-legged cat and extremely cute puppy both perched on the couch, though sadly neither is included in the $12.85 million listing.)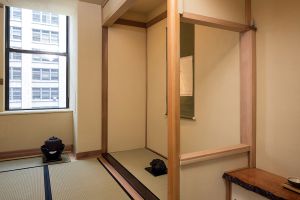 From the safety of the second floor, we surveyed the master suite, an additional kitchen and an "informal" entertaining room that leads out to the 2,500-square-foot outdoor space, which includes a greenhouse.
Perhaps the simplest appointment was the most singular: a brown wooden table in the living room. "It was designed by Frank Lloyd Wright," Mr. Harrell casually noted, adding that the table adorned Elvis' Hollywood home when the Beatles paid a visit.