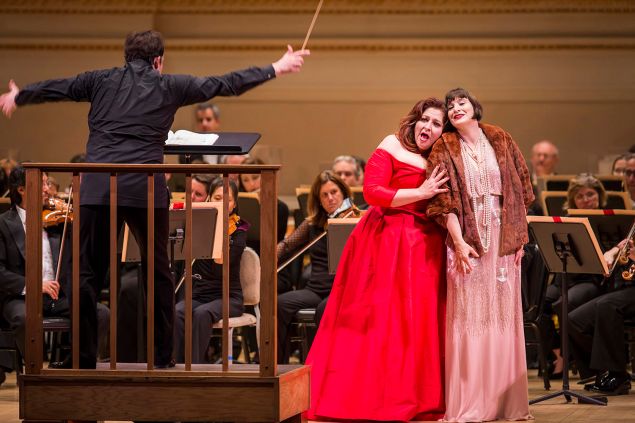 One of those "Applause Meters"—you know, the gizmos they used on 1950s quiz shows to gauge crowd reaction—would have come in handy at Carnegie Hall late last month to judge which was louder, the opera Elektra given in concert by the Boston Symphony Orchestra, or the audience reaction that exploded after the final crunching chord.
Let's call it a tie. The fortissimos in the Richard Strauss tragedy and the tumult of shouting that greeted the curtain call of soprano Christine Goerke, who sang a blazing performance of the title role, both seemed to rattle the foundations of the auditorium like an earthquake.
The 1909 opera is a Freudian take on the classic Greek tale of revenge, adapted from a one-act play by Hugo von Hofmannsthal. Elektra has waited years for her brother Orest to return home to take vengeance on their mother Klytämnestra, who was complicit in the murder of their father Agamemnon. When Orest arrives and executes the guilty woman, Elektra performs a frenzied ritual dance, then drops dead.
For the obsessed heroine, Strauss wrote what is arguably the most difficult and demanding female role in all of opera. To the rarefied society of superb interpreters of Elektra, consisting of perhaps two or three singers in each generation, we can now welcome Ms. Goerke. Her dark, grainy soprano has developed into a mighty battering ram of sound, vaulting from thundering low tones to brilliant, steely shafts of tone on top.
But she is far more than a mere noisemaker. What made her Elektra special was a scrupulous musicality, attention to tiny details in rhythm and dynamics that gave the performance crispness, vitality and, most importantly, variety. It's an enormous part—Elektra is onstage for all but a few moments of the opera's 100 minutes—and the character's fixation on revenge almost never wavers. Ms. Goerke, though, found nuance and differing colors, here a little more fanatical, there a little more distanced and ironic, in the monumental role.
Even in this concert setting, sporting a bouffant ball gown of flame-colored silk, Ms. Goerke acted every moment, stalking the narrow open area of the Carnegie stage before the 100-plus members of the BSO like a furious lioness. Even in instants of repose—and there are not many in this part—she stayed in character, crouching on a concert chair or swigging water with an insolent swagger.
If anything, Ms. Goerke went a little over the top, convulsing her whole body or pulling grotesque faces at times when a simple glance or lift of an eyebrow could carry the drama. My only other quibble is that the topmost notes of her range failed to match the voluptuous quality of the rest of her voice. Climactic high B-flats and C's in Elektra's aria "Allein!" and in the scene where she threatens Klytämnestra sounded narrow and shrill, almost like a different singer entirely.
More consistent, if less spine-tingling, than Ms. Goerke was another soprano, Gun-Brit Barkmin, who spun out cool, instrumental tone as Elektra's relatively sane sister Chrysothemis. If the sound was not exactly glamorous, it cut like a laser through Strauss' bulky orchestrations. Garbed like a 1930s socialite in a spangled sheath and a fur stole, she evoked a Tennessee Williams heroine who inadvertently hopped on a streetcar named "Mycenae." Despite the unconventional getup, though, Ms. Barkmin proved as intense a tragedian as she was a vocalist.
As the guilt-ridden but defiant Klytämnestra, veteran singer Jane Henschel relied more on subtle declamation of the lurid text of her "dream" monologue than on her slender mezzo-soprano, though her apprehensive dignity created an effective contrast with Ms. Goerke's feral physicality. As Klytämnestra's paramour and co-conspirator Aegisth, Gerhard Siegel socked his single scene across with a muscular heldentenor. His top B-natural in the murder scene was, to my mind, the winner in the night's closely fought high note sweepstakes.
If baritone James Rutherford amounted to little more than a warm-voiced blank as Orest, the cast boasted alert and committed performances throughout the many smaller roles, particularly soprano Nadine Secunde, who snarled menacingly as the overseer of the palace slaves.
With all due respect to Ms. Goerke (and to her fervent public), the breakout star of this performance was conductor Andris Nelsons, who found in this monster of a score an ideal balance of decibels and transparency. 
Strauss once jokingly advised that the opera should be played "in the manner of Mendelssohn," i.e., as delicately as possible, and Mr. Nelsons is the first interpreter of this piece in my experience who has approached this ideal. The lyrical passages of the score seemed to presage the later works Der Rosenkavalier and Ariadne auf Naxos, layering a tint of bittersweet melancholy over the granite fortissimo chords.
More startling yet was the sheer quality of relentlessness Mr. Nelsons conjured—most appropriately in this work about obsession. Even in relatively sedate moments, such as the scene leading into Elektra's recognition of her long-lost brother, the music seemed to quiver and throb like a living thing. As a result, despite moderate tempos, the opera flashed by like lightning. When it was over, I wanted to join in the chorus of "bravos," but I couldn't draw a breath.
Such a supernova would overshadow just about any other event in its vicinity; though, to be sure, the Met's meek revival of Rigoletto on October 20 would look dim in any light. Verdi's opera, like Elektra, is a tragedy of revenge, but you'd hardly guess it from the well-bred playing of the Met's orchestra under Pablo Heras-Casado or the polite singing of soprano Olga Peretyatko (Gilda) and tenor Stephen Costello (Duke of Mantua).
Baritone George Gagnidze delivered some welcome grit as the titular hunchback, in Michael Mayer's production a member of the entourage of a Sinatra-esque Vegas crooner. Making the most of this louche milieu was debuting tenor Richard Troxell, whose tangy voice and delightfully skeevy characterization definitively put the "rat" in "Rat Pack."