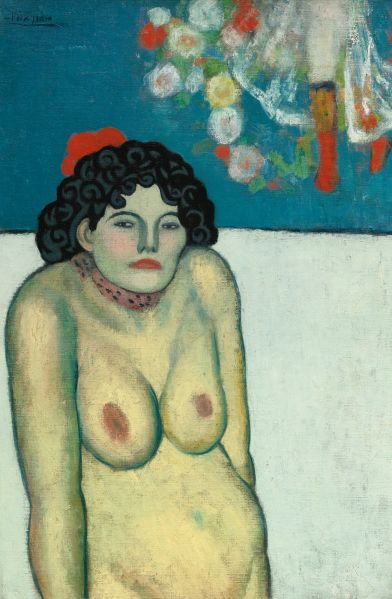 You could find out much of what you needed to know about Sotheby's sale of Impressionist and Modern Art last night through one single artwork: a small painting of a bunch of lemons by Impressionist master Claude Monet, titled Branche de Citronnier and painted in 1884. It previously sold at Sotheby's in 1993 for $213,441. Last night, it was estimated to fetch $1.2-1.8 million, and it sold for $2.2 million, with the buyer's premium, after lengthy back and forth bidding. A tenfold return to the seller (plus a Monet on the wall for a while) in a little more than two decades.
Now that's, wherever it goes from here, an art boom.
Not every piece was as successful, by any stretch of the imagination, and the salesroom was missing the celebrities and buzz that often mark Contemporary art auctions. But interest seems to be quite healthy for all but the more routine artworks, based on the results of tonight's evening sale at Sotheby's, which totaled $306.7 million, with a sluggish 23 percent of its 47 lots left unsold. Billionaire William Koch in particular was a winner, getting good prices for works he was parting with, including $67.5 million for a Pablo Picasso he paid $3 million for in 1984.
For a relatively small sale, which Sotheby's co-head of Impressionist and Modern Art Simon Shaw described as "finely edited," it moved quite slowly at times, with bidders taking their time on paintings by Vincent van Gogh and others by Monet. Most works comfortably met their low estimates, and a few standouts exceeded the high end by a wide margin.
The star of the night was Pablo Picasso's La Gommeuse. The artist painted the 1901 nude portrait, stunningly, when he was just 19 years old. It depicts a cabaret dancer stripped bare, her skin a greenish tint—not unlike the color of the psychotropic absinthe that was de rigueur at such venues—with red lips, black hair, and a fleeting glimpse of another dancer's skirts in the background. But what makes the painting unique is that its backside contains a second composition: a portrait of Picasso's friend Pere Manach, naked, painted as a female deity.
The double-sided painting was estimated upwards of $60 million (a figure available only upon request prior to the sale), and was one of two major works on offer that hailed from the collection of Mr. Koch. When the gavel finally hammered La Gommeuse fetched $67.5 million, with commission.
The second work from Mr. Koch's collection was Monet's Nympheas (1908), a delicate rendering of the artist's beloved Giverny water lilies, estimated between $30-50 million. The painting totaled $33.9 million.
There was Kazimir Malevich's stunning work 1920-22 Mystic Suprematism (Black Cross on Red Oval), which was the last of five paintings to be returned to the artist's heirs after a lengthy legal battle for restitution from the city of Amsterdam, sold for $37.8 million, just ahead of its low estimate of $35 million.
Canvases from Rene Magritte, and Wassily Kandinsky both made the top ten lots, pulling in $6.7 million and $6.4 million respectively. Van Gogh's late Arles landscape, Paysage sous un ciel mouvemente, a cloudy composition featuring the country field he enjoyed painting in often, was the second big lot of the night, totaling just over $54 million. Also in the top ten lots was his portrait, Le Bebe Marcelle Roulin, a portrait of Arles postman Joseph Roulin's infant daughter. Le Bebe sparked a bidding war, before totaling $7.6 million (way ahead of its high estimate of $5 million) and a hashtag debate on Twitter.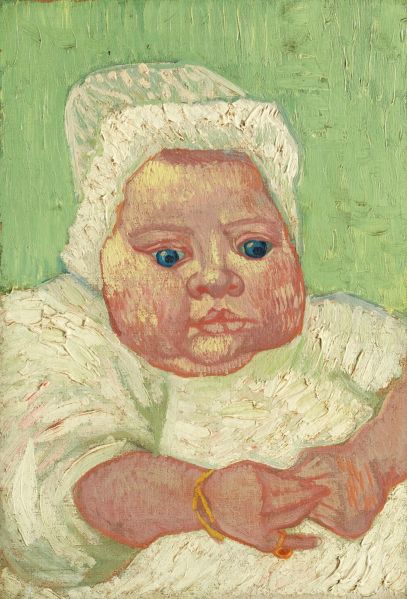 A takeaway from this evening: despite some initial rocky-going on Tuesday evening and yesterday morning at Sotheby's $410 million sales, so far, of the collection of Alfred A. Taubman (the Detroit mall magnate and the auctioneer's former owner) it's important to remember that the past several years have seen a string of stunning, record-breaking prices for Impressionist and Modern Art. They include the highest on record to date. Last May, Picasso's 1955 painting Les femmes d'Alger sold for $179.37 million at Christie's, becoming the most expensive work of art ever to be sold at auction. Another record was set that night when Alberto Giacometti's L'Home au Doigt (The Pointing Man) sold for $141.3 million, now the most expensive sculpture ever sold on the auction market.
And, as Mr. Shaw told the Observer after the sale, 30,000 people viewed the house's traveling exhibition for the show, which included works from the Taubman collection and Contemporary auction, between Hong Kong, London, and New York.
Looking ahead, Christie's has done something unprecedented, and perhaps somewhat…ungentlemanly(?) next week. The rival house has moved its own Impressionist and Modern Art evening sale eight days later to Thursday, November 12, shifting from its traditional spot for decades right alongside Sotheby's. The rescheduling is a problem for collectors who might wish to go to both, as it forces some to choose between houses.
Of course, this could simply be an attempt on Christie's part to breathe more life and younger collector blood into the Modern Art market by pairing it with its Contemporary sales. Or perhaps its just a ploy to undercut its rival?
No matter, said one Sotheby's exec, privately: the company argued to clients that Christie's was just showing them it puts Impressionist Art last.