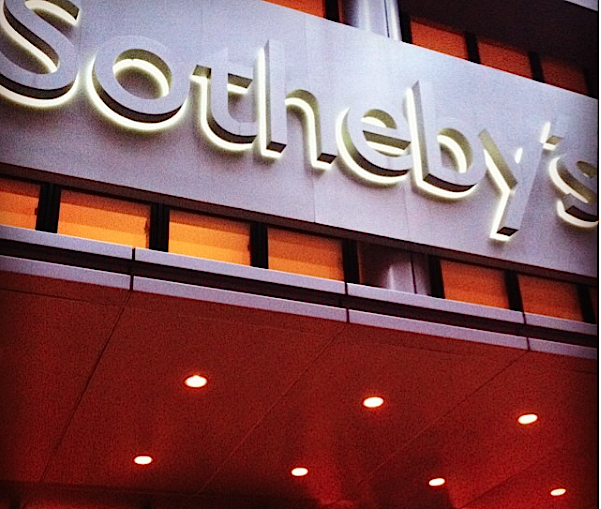 What a difference a year makes.
Yesterday afternoon Sotheby's held an online fire sale of works by young artists, many of whom are under 35 years of age, called Fast Forward: New Directions in Contemporary Art. The "direction" in this case was south.
The online sale was not highly promoted and came five days after New York's auction week had ended. Not surprisingly, it did quite poorly; netting a paltry $210,500 on 62 lots, which fell way short of it's resale low estimate of $393,500. Seventeen lots went unsold, including works by renowned artists such as Roe Ethridge and Sam Falls, and a slew of other works sold for a fraction of their pre-sale price estimates (some changing hands at prices between $300 and $750).
The results are a far cry from the scrum for emerging art that defined much auction house activity in 2014, when a handful of auctions of similarly fresh work were just about 100% sold. It should be noted that, unlike auctions that included emerging art in the past, this was an online auction, which, as a representative from Sotheby's told the Observer, are still catching up to the live auctions.
Nevertheless, works by young artists such as Israel Lund fetched $52,500 at a contemporary auction last November (where many more emerging works were included than in this year's contemporary day sale.) Meanwhile, a work by the young artist Ryan Estep, whose sterilized dirt painting sold for $30,000 last November at a Phillips Contemporary Day auction, failed to sell a very similar piece in this auction, even without a reserve.
Though the auction's 74 percent sale rate doesn't seem atrocious (as the Sotheby's representative pointed out), the fact that another 17 lots each sold for under $900 is distressing—especially at an auction house which has advertised that it won't accept consignments under $5,000.
On first blush, the sale has the look of a group of impatient collectors wanting to rid themselves of inventory that is no longer "hot."
It provided further proof that emerging art auctions are unreliable price barometers for artists this young—and that auction results shouldn't be seen as representative of any artist's fledgling career.