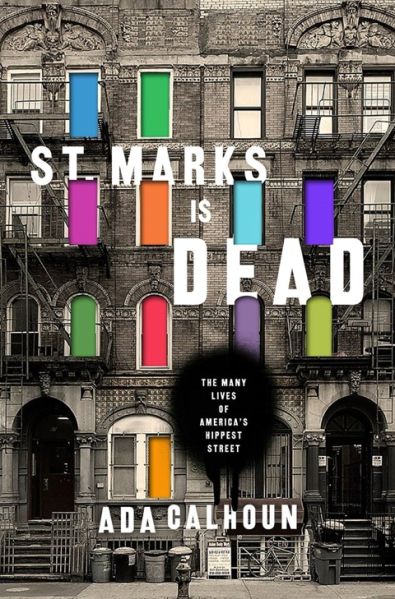 On Monday night, author Ada Calhoun celebrated the publication of her new book, St. Marks is Dead: The Many Lives of America's Hippest Street at Cooper Union's Great Hall, just an avenue away from the current incarnation of St. Marks.
"Now I'm going to cover four hundred years of history in about ten minutes. And then the band will come on," Ms. Calhoun said, after noting that she was speaking from the very stage where Abraham Lincoln delivered his "Might Makes Right" speech in 1860.
Earlier in the day, Ms. Calhoun was freaking out a little bit. The capacity of the venue is 960 but at that point, 2,800 had said they would attend on Facebook. A tense encounter with the Cooper Union's events coordinator had made her cry, she was looking into procuring a last minute liquor license, and Adam Horovitz, better know as Ad-Rock of Beastie Boys fame, had requested a switchblade for his performance with the St. Mark's Zeroes, the band created for the book.
"A few months ago I wanted to have a party where maybe 200 people could all meet up – the meat market guys, Albert the Russian barber," Ms. Calhoun told me when we spoke on the phone a few hours before the party. "We chose the biggest event space and when the woman giving me the tour told me the capacity was a thousand people we laughed and laughed. She said to me, 'Don't worry, if 100 people show up it will feel full."
The unexpectedly enthusiastic response caused Ms. Calhoun to post a cautionary message on the event's Facebook page asking people to be nice if they couldn't get in and join them later at the after the party, to be held at Barcade, on, naturally, St. Mark's, former home of the dearly departed Kim's Video.
The book's editor, Tom Mayer, was, not surprisingly, happy with the turnout. "I've seen art students, rock stars, old hippies, people from the art world," he said, "it's a way stranger mix than any other book party I've been to."
A merch table was piled high with St. Marks is Dead tee shirts and totes (it was still a book party, after all). Holding up a shirt, a woman named Eduvigis Cruz-Arieta debated the purchase. "But I conceived my baby on St. Marks!" she said, overcoming her reservations. "And now she's twenty-three and she's here tonight."
She bought the shirt.
Following Ms. Calhoun's rapid-fire history lesson, she yielded the stage to the St. Marks Zeroes, composed of Neal Medlyn aka Champagne Jerry, (aka Ms. Calhoun's husband), Mr. Horovitz, Carmine Covelli, Julian Maile, and some special guest stars including cabaret powerhouse Bridget Everett, Erin Markey and Oliver, Ms. Calhoun's nine-year-old son. Kathleen Hanna of bands Bikini Kill, Le Tigre, and the Julie Ruin (and the wife of the grown-up Beastie Boy) hugged the author before hopping on stage. "Do you guys want to hear about how Ada saved our marriage?" Ms. Hanna asked the audience, while the band took a tuning break.
"Maybe you could talk instead about the book Ada's got coming out about marriage?" suggested Mr. Horovitz, referring to the book deal Ms. Calhoun recently made with Norton to publish a book based on her Modern Love column that ran in The New York Times this past summer.
When the band was done, hundreds of people crowded around the open bar and grabbed copies of the book. Waiting in line to get books signed, talk inevitably turned to the skyrocketing price of East Village real estate.
The neighborhood may not be what it used to be, but, at least for the night, a lot of people were happy to gather and remember the way it once was, and imagine what it might become.