New York's booming tech scene is a strong second to Silicon Valley and getting stronger. There are several reasons for this, but one factor deserving credit is the influx of business incubators supporting local innovators. According to the National Business Incubation Association, the number of incubators in New York State now stands at 282, roughly a 40 percent increase in the last three years.
Incubators nurture new companies, providing resources like funding, mentorships, training and workspace, while usually taking little to no ownership stakes in the burgeoning companies. What's more, just being a part of an incubator shines a warm spotlight on participating companies, particularly when it comes time to find VC capital for that next funding round.
Universities are pouring millions of dollars into many fortunate startups, especially those led by their students, alumni and faculty. Here we review programs run by Columbia, NYU and CUNY. —Sage Lazzaro
Columbia Startup Lab
At first glance, the entrance to the Columbia Startup Lab, located in a refurbished industrial building on Varick Street in Soho, is suspiciously grungy, with college students sprawled on old couches, typing away on laptops.
But once you enter the lab proper, it's all business. The main bullpen features long wooden conference tables at which founders and staff members of the 40 at the lab huddle to discuss their burgeoning businesses.
One promising startup is Scopio, a photo curation service founded by Columbia alum Christina Hawatmeh, who came up with the idea for her company during the Arab Spring. Amidst the protests, Ms. Hawatmeh noticed that images and videos were getting lost on Twitter, creating a "media blackout." She and her collaborators devised an automated system to find, organize and license this media.
Following her graduation in 2014, Ms. Hawatmeh signed an agreement with the Columbia Startup Lab to develop Scopio.
Columbia opened the Startup Lab at WeWork Soho West in 2014. The open-plan workspace enabled Ms. Hawatmeh to collaborate with other entrepreneurs to solve problems and bounce ideas off each other.
"Before, we were locked in an ivory tower uptown, with our lofty ideas and unlimited research capabilities," Ms. Hawatmeh told the Observer. "But now we put all our heads together to solve the vexing problems that founders face."
The "ivory tower" still helps in some important ways, however; Columbia subsidizes the WeWork space, so the startups can have a free office no matter their financial status. Startups are invited to stay in the space for anywhere from four months to one year.
The university also makes seasoned alumni available to answer founders' questions and organizes workshops and networking events.
Columbia does not take an equity stake in the startups to avoid conflicts of interest. According to the incubator's administrators, the Startup Lab serves as a way to provide free professional development to entrepreneurs, just as they do for aspiring lawyers and journalists. "Entrepreneurship has become a very viable career path, and it's our business to help," said Chris McGarry, director for entrepreneurship in Columbia's Office of Alumni and Career Development. "We want these startups to grow as much as possible before the first check is written."
The Scopio team, for one, is growing at a healthy pace, amassing a library of 60 million images. "We are in trial phase with our client dashboards (curated feeds of images where the company can request rights directly to the user), and hope to be generating revenue by December," reports Ms. Hawatmeh, who acknowledged her new company still faces long odds to succeed: "We know New York City is tough, and we have to bring our best game to it or fail, which is the reality of most startups." — John Bonazzo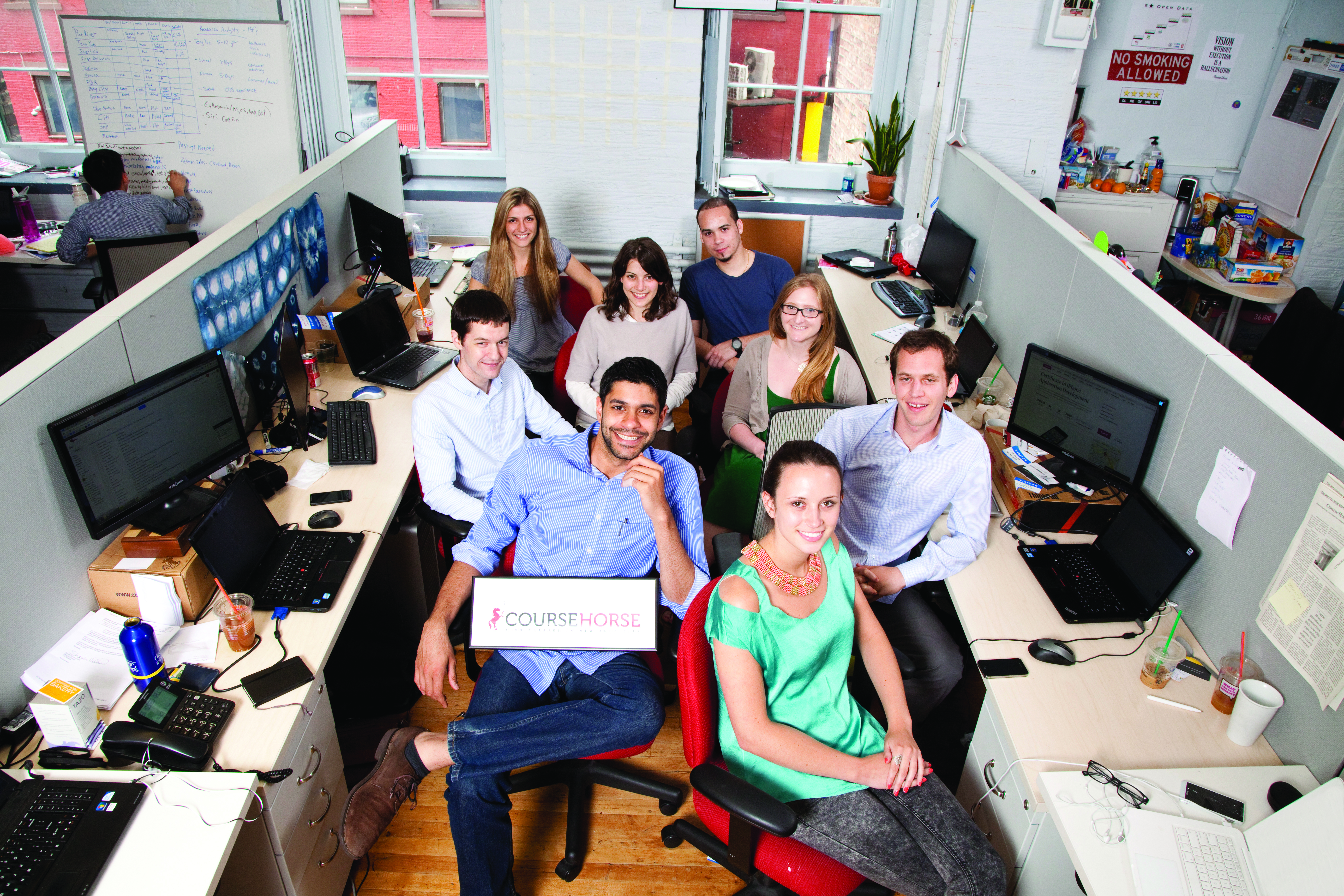 Varick Street Incubator, NYU Tandan School of Engineering
Every day at noon, Steve Kuyan, the managing director of the Varick Street Incubator, along with some of its members, drop to the floor to do push-ups together. It's a tradition held over from one of the incubator's alumni companies, Bounce Exchange, which exercised in unison every two hours.
Traditions are something that most organizations only develop when they have been around for a while, and Varick Street has. It is the oldest university incubator in New York City, opening in 2009.
"I remember going to the first New York Tech Meetup, the first Mobile Meetup, the first iOS Meetup," Mr. Kuyan recalled. "These are things that happened in the first five years."
The New York City Economic Development Corporation acted as an angel for the center, awarding it a $100,000 grant to bring students and faculty into the tech ecosystem, during the height of the Great Recession.
Most of the space is devoted to desks for companies, but there are also conference rooms, break areas and a large flex room for events. (It also has a pull-up bar with rings hanging from it, in case pushups do not suffice.)
So far, dozens of companies have graduated from the program and nine have been acquired with a combined $721 million in portfolio company valuations.
"We take companies and get them to scale," said Mr. Kuyan, who noted that NYU does not take any equity stake in companies it helps.
Companies join the incubator for two years. Staff members meet with them multiple times each year to assess each firm's needs.
"Every company has to double in value every six months," Mr. Kuyan said. "We help to create these constraints that every company needs to be successful."
One of the companies hoping to attain fast-paced growth is Mental Canvas, a company developing a graphic-design system that makes it easier to transform 2-D drawings into 3-D models.
Sydney Shea, Mental Canvas staff designer, demonstrated how its proprietary software revolutionizes drawing. She started with a simple sketch of a house and a tree. She next gave the building depth, so it could be viewed from different angles, before moving the tree around, showing it closer or further away from the house on its virtual lawn.
"I think it's interesting being around companies that do such different things," she said. "The proximity to publishers and architecture firms is a good thing for us."
The incubator's staff fosters a sense of community through events and by encouraging member companies to advise each other and participate in interviewing new applicants. "The most important resource," Mr. Kuyan concluded, "is the community."—Brady Dale
CUNY Center For Student Entrepreneurship Incubator
When Ismael Mercado's old opera singer roommate posted a Craigslist ad seeking work as a nanny, he quickly received 23 inquiries. He ultimately accepted an offer from a billionaire who told him that he'd been looking for months for a male nanny for his son.
When billionaires can't find what they want, that's a sign of an opportunity. So Mr. Mercado and his former roommate started a company that morphed into MyManny, a service that recruits men to the nanny trade.
Mr. Mercado still owns part of the company, but he's moved on to a new venture, an Uber-for-nannies called Now Nanny, a startup that hoped to enable parents to summon someone to care for their children at a moment's notice. To help his burgeoning business grow, the Baruch College senior signed on with the CUNY Center For Student Entrepreneurship Incubator, a program currently spread across CUNY's 24 colleges.
Lou Anne Flanders-Stec, the center's director, explained that CUNY previously held competitions for students with business concepts, but wanted to do more to help winners. "What do you do after you finish a competition?" she asked. "You need a place to launch."
Prior to opening the center in July 2014, each college fostered entrepreneurship in its own way. CUNY created the incubator with a commitment of $1 million per year, supported in part by Verizon.
"We run a series of milestones," Ms. Flanders-Stec said. "First, incorporation; then, customer acquisition and business plan and, finally, demo day."
CUNY takes a 5 percent stake in its affiliated companies in exchange for connections with advisors, access to contacts with capital and a modest stipend so students can devote themselves to classes and their company. Currently, student teams receive $2500 from CUNY for trading equity by joining the incubator, and they are eligible for a second $2500 milestone payment, according to a school spokesperson.
While challenging its students, the center is also challenging itself, moving beyond the software-heavy emphasis of the previous companies into food business and hardware, such as Ellude, a vegan condiment company, and Amber Blue, an organic skincare line.
"We are really having to do a little more hands on work," Ms. Flanders-Stec, a former CFO of a dot-com herself, said. In fact, the next big item on the incubator's 'to do' list is setting up a physical headquarters for its roster of companies.—Brady Dale
---
No Kidding Around: A Business Incubator for Tots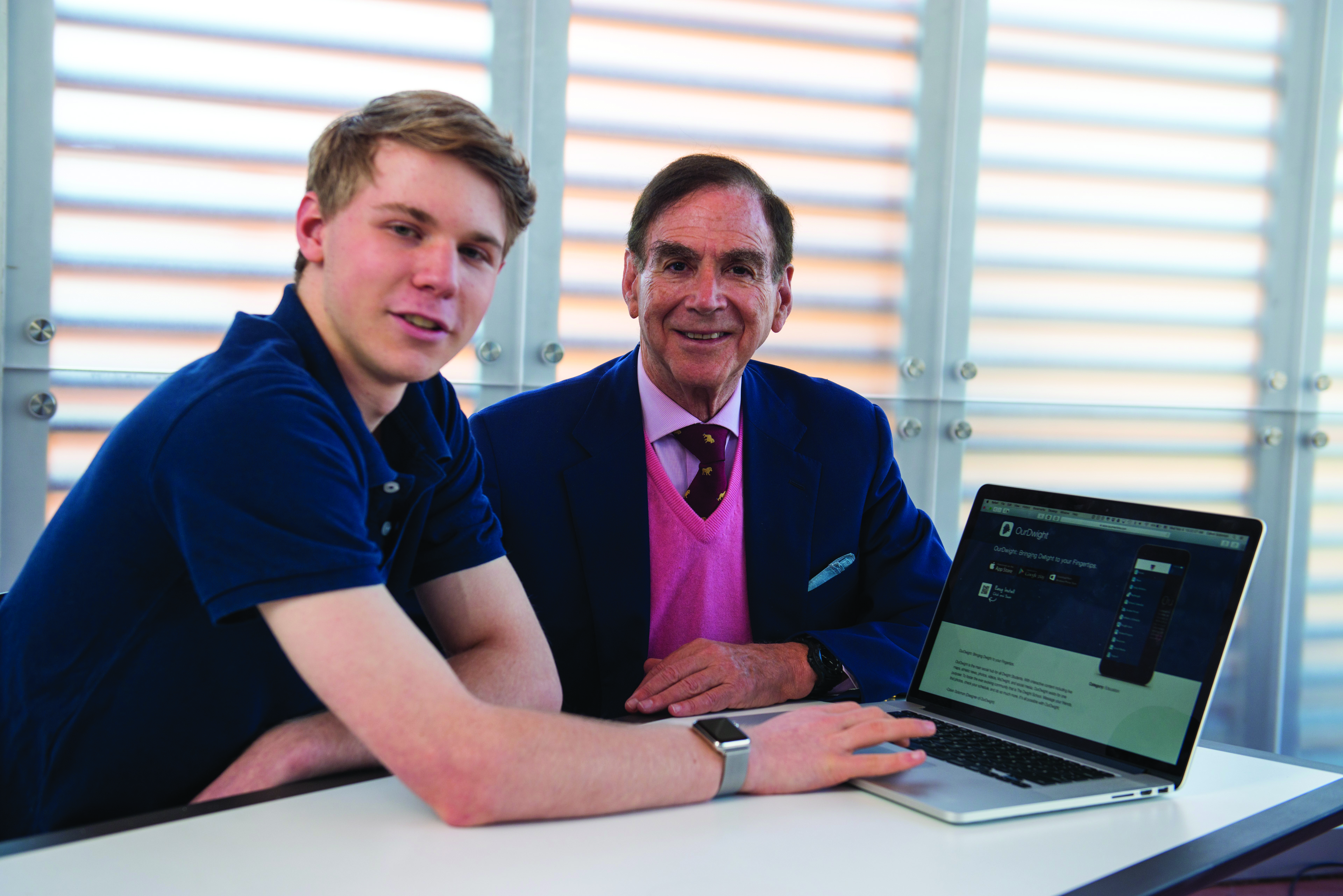 College business incubators may be all the rage, but one Manhattan school is getting students' entrepreneurial juices flowing far earlier.
Spark of Innovation, a program started by Dwight School, a pre-K-12 private school on the Upper West Side, incorporated business creation into the school day.
"It's too late to wait to have entrepreneurship and social initiatives take place after they [the students] have graduated," Stephen Spahn, Dwight's chancellor, said in a promotional video.
Dwight's focus on entrepreneurship starts with its youngest children; kindergartners might sit in a circle and discuss how to make the world a better place.
In fourth grade, the focus shifts to so-called "intrapreneurship" workshops, in which students brainstorm how innovations like renewable energy can be used in their school.
Middle and high school students put their plans into practice through the Policy Entrepreneurship program.
All K-12 students are aided by The Dwight School Foundation's Spark of Innovation Fund, which distributes grants so they can bring their concepts to market.—John Bonazzo