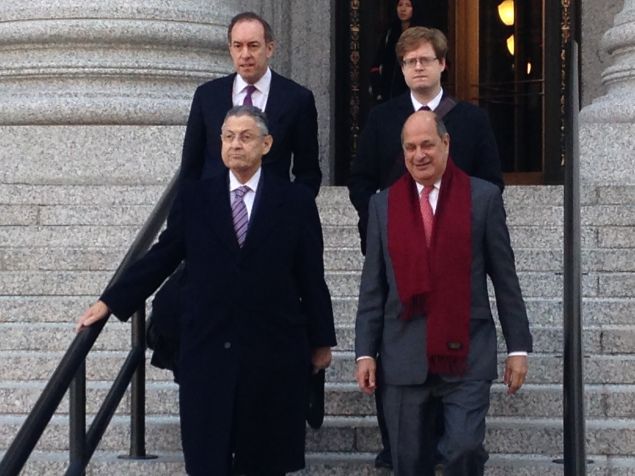 There's no place like home for the holidays, and that's where jurors in ex-Assembly Speaker Sheldon Silver's corruption trial went this afternoon—without delivering a verdict or, in one case, obtaining a meeting with Judge Valerie Caproni.
The jury asked to leave by noon in honor of Thanksgiving, a request Judge Caproni granted. She was not so receptive, however, to a request for a meeting from one of the jurors, who wrote a letter yesterday saying she was feeling "pressured" and "very, very uncomfortable" in deliberations because her opinions differed from the others deciding if Mr. Silver engaged in illegal activity.
Judge Caproni said there was no precedent for a judge to allow such a private meeting, and warned it could compromise the integrity of the proceedings.
"The secrecy of jury deliberations is the cornerstone of our jury system," she said.
The jury deliberated for a little less than three hours before adjourning until Monday.
Mr. Silver, a Lower East Side Democrat, spoke briefly with reporters outside the courthouse. He praised his legal team but declined to guess at what was going on in the jury room, calling it "pointless."
"It's all in the hands of the jury, and it would be foolish to speculate as to what is taking place," he said.
He also declined to say whether he intended to seek re-election to his Assembly seat if he is exonerated.
"I think we'll cross that bridge when we come to it," he told the Observer.
Mr. Silver stands accused of extortion and fraud for allegedly pressuring two developers with business before the state to hire a law firm that gave him referral fees. U.S. Attorney Preet Bharara also has maintained he obtained funding for the Mesothelioma Center at Columbia Presbyterian Hospital in exchange for its director referring patients to another law firm that employed the legislator.