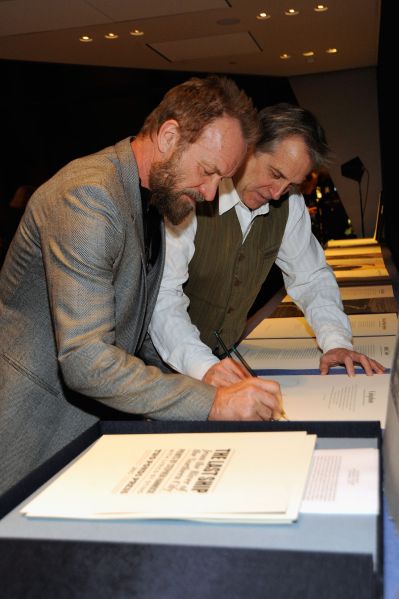 "He's such a good friend, he made me sing 'Englishman in New York' live on Late Night With David Letterman," chuckled artist Stephen Hannock, riffing on his friendship with musician Sting at the Hearst Tower last week. A cheerful crowd had gathered to celebrate the publication of The LAST SHIP: From the River of the Northern City, a collection of woodcuts inspired by Sting's lyrics.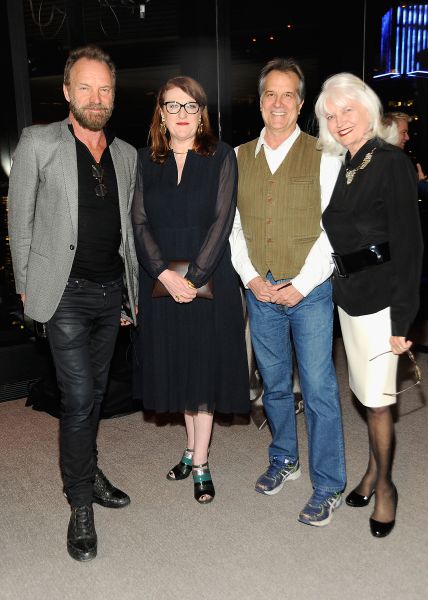 The mutual appreciation of Mr. Hannock and Sting's talents manifests itself in the stark, moving prints in the artist's book, of which just  75 copies were printed. Guests were invited to handle satisfyingly heavy slices of the woodblock-printed paper as they were passed around. Ellen Levine, editorial director of Hearst Magazines, and Glenda Bailey of Harper's Bazaar introduced the pair. Sting performed three songs from his musical The Last Ship, based on memories of his childhood growing up in Wallsend, near Newcastle, England. Much of it was spent watching the comings and goings of the shipyard at the end of his street. "There was nothing else to do in that town. You basically got a job when someone died," the singer told the audience, guitar poised. "The shipyard had one of the worst safety records in Western Europe."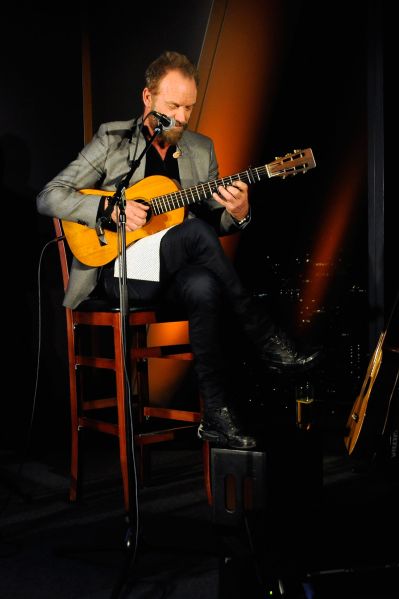 One day though, life shifted off-course for little Sting, and he recalled one particular incident: "The Queen Mother came to launch a ship, (a very big deal) and everyone in the town turned out to watch. They drove her down my street. I stood there waving and she waved back at me. She caught my eye for a second and we looked straight at each other. As people do in those moments sometimes, I felt different, special. Even though I was only a kid I thought, 'I want to be in that limo! I want that life. I want to go to New York…' "
This was said with humor as Sting poked gentle fun at his illustrious audience. His comments, though, probably resonated somehow with everyone in the room. In our real lives there are huge gaps between human beings, but in our dreams we are all the same.