Twenty-seven-year-old artist Lucien Smith's latest work was on view Thursday night at "Macabre Suite," an open house-cum-art show-cum-concert in the South Bronx's newly monikered (or so developers hope) "Piano District." It was co-hosted by art dealer Jeanne Greenberg Rohatyn, real estate developer Keith Rubenstein, and an all-star crew of art lovers and investors too long to list.
The cross-pollinated event was likely a refreshing change from the singular, often glaring, spotlight for the art star; Mr. Smith has seen his work, market-wise, soar, sink and recover, in his brief time in the art world. Here, his art was relegated to being just one part of a multi-pronged whole that included a hypnotic performance by Tigga Calore and a booming set by the magnetic rapper Travis Scott, among other proceedings.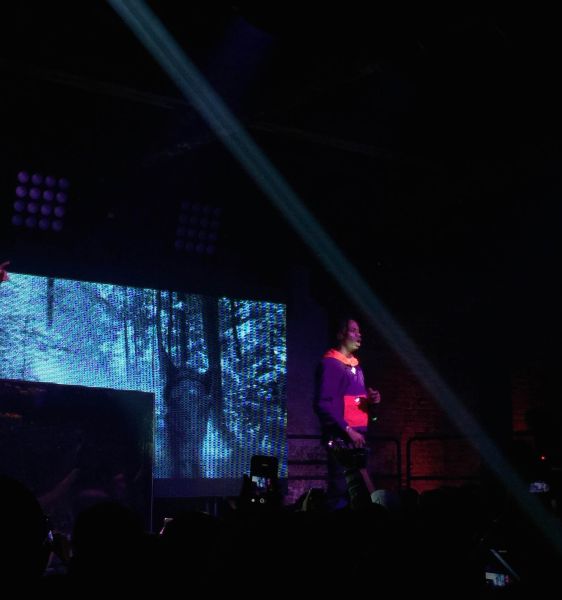 The sprawling event was like witnessing a presentation of Cirque de Soleil on the set of Mean Streets, cast with a horde of gorgeous and wealthy creatives.
Stunning models like Gigi Hadid and Shanina Shaik floated by as "art-repreneurs" like designer John Varvatos and Perfoma director RoseLee Goldberg mingled with costumed partygoers. Even Academy award-winning actor Adrien Brody, looking relaxed and jovial, made an appearance.
The event was held at the very South end of the South Bronx, on the banks of the Harlem River at about Third Avenue and 138th Street.
Mr. Smith's artworks were peppered throughout a teeming labyrinth of rooms and hallways in a decaying building, some works more visible than others. But the "main attraction" was located front and center: A scabrous assemblage (swathed in colored spotlights) of two destroyed cars laying on top of each other (as if humping?) that had been fired upon with innumerable rounds of ammunition from weapons ranging from handguns to fully automatic rifles. The piece is just the latest in a series of objet trouvé works that Mr. Smith has been exploring since 2011.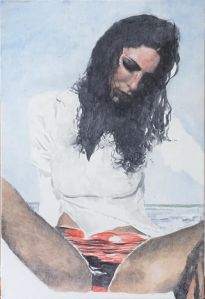 While the originality of this style of artistic gesture is debatable—and by some accounts, the taste—Mr. Smith's focus for this work felt apt.
In a borough marked at points in its history by gun violence and teen pregnancy, one couldn't help but ruminate on the metaphors presented, and if the automobile was at one time the symbol of American freedom and power (sheathed in sex appeal), then Mr. Smith has illustrated the present state of this aging icon perfectly.
Mr. Smith's small paintings were less convincing and less noticeable in the riotous atmosphere. One artwork titled Frankie, 2015, picturing a young dark-haired woman on a dreary beach in a long-sleeved shirt and sunset-themed bikini bottoms, becomes an artwork greater than the sum of its parts thanks to a gratifying mixture of real and simulated horizon lines framed within the woman's angular limbs.
So, as an exhibition, did the "Macabre" do Mr. Smith any favors?
His work in this one-night-only show was presented as one of many branding elements in the service of real estate development (and to be fair, the release for the event stated this with complete transparency, saying that "Macabre Suite" fêtes the revitalization of the historic South Bronx Piano District by Somerset Partners and the Chetrit Group, which will bring a luxury residential community with market-rate apartments, ground-floor retail space and a waterfront promenade to the South Bronx.") Basically, the ambitious promise is: "Bronx is the new Brooklyn."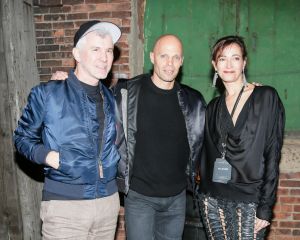 No one can deny that this was a fun party, but it was one that only served to nullify Mr. Smith's artwork, at best. Even Jeffrey Deitch, an art dealer renowned for his ringmaster-like abilities, knows the importance of the gallery context to art objects, and "Macabre Suite" ironically made the case for these unique art viewing locales.
Perhaps its time for the South Bronx to grow a few galleries of its own? Ms. Greenberg Rohatyn is rumored to be weighing the challenge.