What combines 150 years of Swiss horology expertise with the modern finesse of Google, plus Intel technology? None other than Tag Heuer Connected, a smartwatch that pays homage to the art of watchmaking while catering to the generation that adores instant gratification.
This new design was unveiled yesterday in a press conference thrown by Tag Heuer CEO and president of LVMH Watches, Jean-Claude Biver, along with Intel CEO Brian Krzanich and VP of engineering for Android at Google David Singleton.
The timepiece, which bears a $1,500 price tag, stays true to the Tag Heuer philosophy. Crafted out of grade 2 titanium, the large timepiece, which clocks in at 46 mm, is in line with a proper chronograph watch and has three digital watch dials, similar to the brand's Carrera style. The only caveat here is that Connected is offered only with a rubber strap, although it does come in a rainbow of six different hues.
"Google strives to give you the right information, at exactly the right time and place. Android is how we bring this helpful experience to many of the world's devices. TAG Heuer Connected, powered by Android Wear, is a luxury watch that's beautiful and incredibly useful," Google's Mr. Singleton explained.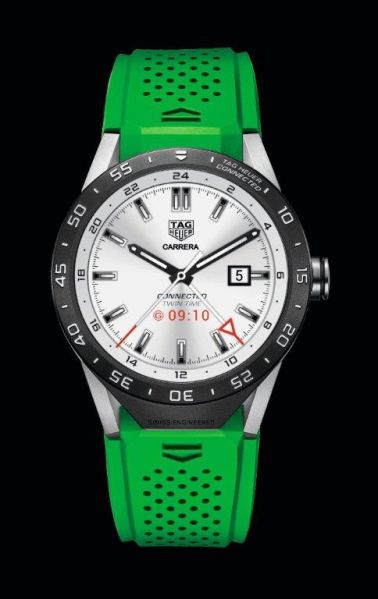 So, what type of technology can be expected from the latest rival to the Apple Watch? For one, the Connected has 4 GB of memory, a battery that will last all day, a teeny microphone for voice control features and a touch screen, all encased within a waterproof timepiece.
On this watch, the dial and hands will always be on show and a simple tap on a screen will open applications, alerts or sports updates. There are a handful of apps custom to this watch, including ones for golf, motor racing and trailing. Also custom are the watch faces, some of which will feature designs influenced by Tag Heuer ambassadors.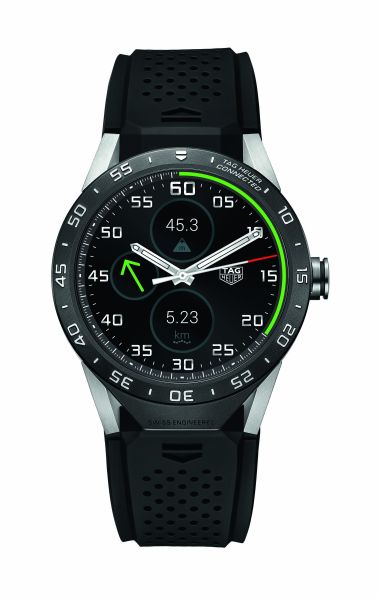 For those Tag customers who are skeptical about upgrading from a classic to a modern watch, there's no need to worry. When the customary two-year warranty is up, this watch can be traded in for a Carrera watch, one with real Swiss movements.