There are countless museums to explore in New York City, and thousands of restaurants for a bite after a cultural jaunt. But never has there been a local museum to unite both worlds—a curated experience of food history and culture—until now.
The Museum of Food and Drink (MOFAD) recently opened in Brooklyn with an inaugural exhibit entitled "Flavor: Making It and Faking It," which reviews the history of the flavor industry that dates back to the 19th century with the creation of the first artificial vanilla flavor.
MOFAD was cooked up over 10 years ago by Dave Arnold, renowned chef and innovative culinary figure. Mr. Arnold initially launched the museum, with a team of volunteers and dedicated colleagues, through a Kickstarter campaign in 2013 which successfully created its first exhibit "Boom!: The Puffing Gun and the Rise of Cereal" at the Summer Streets festival.
"It just struck me that we needed an institution with that kind of majesty devoted to food"
Mr. Arnold, now MOFAD's president and the owner of Booker and Dax, a food and drink research lab (named after his sons) that serves experimental cocktails in its East Village bar, spoke with the Observer about his latest venture.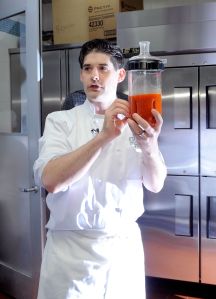 How did you come up with the idea for a museum? I was in the Natural History Museum here in New York and it just struck me that we needed an institution with that kind of majesty devoted to food. Then I realized that's not the kind of thing you can wheel into existence over the course of a couple of years. Instead the best way to do it is to start small and build it piece by piece but treat every exhibit with the same level of quality that any of our flagship museums would.
Was an exhibit on flavor the first one you wanted to stage? No. One of the original exhibits we wanted to do was on breakfast cereal, and we're still going to do it. It just seemed right that we deal with flavor first rather than a specific food or a specific historical point. So then the question was what can we say about flavor that effects everyone? Well the flavor industry instantly popped up. Here's an industry that has their hands in almost everything that we buy. And yet people don't understand it and make choices all the time about the food they eat without an understanding of what's going on.
What's your favorite part of the debut exhibit? I like watching people use the smell machines. I can hear them right now they're hitting all the buttons and they're cranking the gumball machines. I like people tasting and smelling because it's the reasons why we need to have a brick and water space like this. What people learn with the smell machines is that smells that are unpleasant on their own are good when they're added in to other things. Take something that smells like it came out of skunks behind and add it to coffee and all of a sudden it goes from smelling stale to smelling fresh. You get to see how to tweak flavors in ways that are unexpected.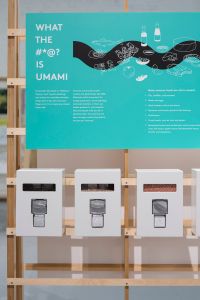 That's interesting. It's really a new way to think about flavors and scents. Exactly. And even if you're not thinking about it from a flavor standpoint, especially kids who don't have the opportunity cook or people who have cooked their whole lives. It's fun and I think informative to be able to layer these aromas very quickly and very fluidly together to see how surprising combinations can be.
What do you want people to take away from this exhibit? Just a deeper understanding of the food that you buy. What it means when you're buying a label that says natural; Does it mean that the flavor industry hasn't touched it? No. If it's artificial does it mean it's some sort of evil poison that's going to kill you? No.
Do you know what some of the future exhibits will be? We have so many ideas planned but we don't know which ones we're going to make real first. Eventually we'll have three kitchens running, each from a different culture and a different era. But everything we do will shed light on history, culture, science, commerce and sociological issues.
Whenever we're discussing this it's like a kid has to come and get something out of this and a PhD student has to come and get something out of it. Our goal was to design it so there's something here for everybody.