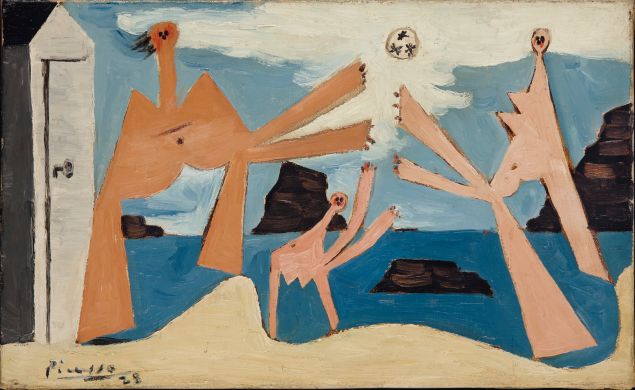 The fall auction season crawled to a slow, but respectable close at Thursday night's Impressionist and Modern Art evening auction Christie's, which crossed the $1 billion mark after a week of stunning cross-category sales. While none of the lots on offer were big ticket items—one could even argue they were the leftovers from Monday's record crushing curated "Artist's Muse" sale—the evening totaled $145.5 million, with just 17 percent unsold.
At the end of a very long two weeks, collectors took their time buying, and Christie's took its time selling. The result: conservative estimates were on point, and while no longer starving for art, buyers were still biting.
Sotheby's, too, cracked $1 billion in art sales during the bellwether fall sales of Impressionist, modern and contemporary art. So, with only moderate, but solid, standalone results last night, what does Christie's have to be excited about? The sale was evidence that their Madhatter plan to jump ship from the first week of sales and blitz collectors all at once in the second week was a strategy that paid off.
The room during this evening's sale lacked enthusiasm overall—at times it didn't feel far from the vibe one might find at a community board meeting—and the bidding was  sluggish almost all night, but nevertheless many lots consistently sold above their high estimates—a few totals more than tripled expectations.
A small oil painting by Pablo Picasso titled Baigneuses au ballon (1928), an abstract composition of three figures playing with a ball at the beach, was estimated between $1-1.5 million, and totaled $3.5 million with action from ten bidders.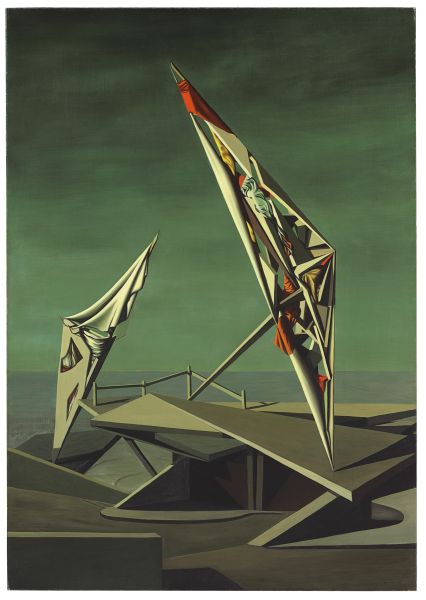 A large painting by Kay Sage, one of the great under recognized female surrealists (her work was included in LACMA's 2012 exhibition "In Wonderland: The Surrealist Adventures of Women Artists in Mexico and the United States"), surprised when it sold for $1.2 million, ten times the high estimate; Ring of Iron, Ring of Wool was estimated between $80,000-120,000.
When bidding finished on French Abstract painter Jean Helion's colorful 1935 canvas Abstraction there was a new world record for the artist, and the painting sold for $3.4 million, nearly four times the high estimate (est. $600,000-800,000) as well as the artist's previous record of $782,500, which was set in 2011. The house revealed at the press conference that the painting's buyer had only started doing business with them in the last six months.
Similarly, Christie's told press that the buyer of one of the night's top lots, Paul Cezanne's Pommes sur un linge, only started shopping with them in the last year. The still life is notable for its subtle tension between a pile of apples precariously balanced in the foreground, and a single, stable apple in the background. The work sold for just over $9 million, within the estimated $7-10 million, and was last seen at auction in 1987 at Sotheby's, when it sold for $2.3 million.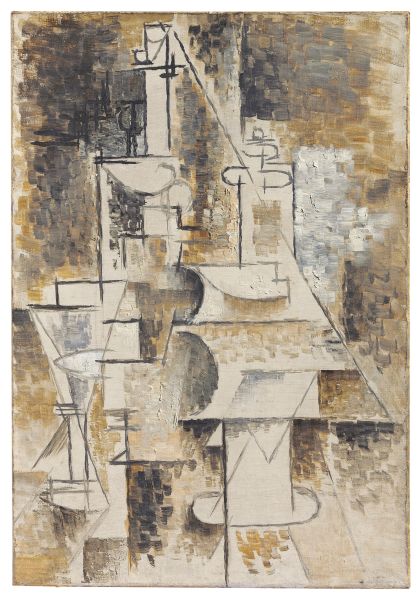 The night's top price went to a Cubist canvas (which came with a guarantee from the house) painted in 1911-1912 titled La Carafe (Bouteille et Verre). In 2008, the work fetched $7.3 million at Christie's London. Bidders—who began the night duking it out over a work on paper by the artist—brought the painting's total to $10.4 million, finishing above the estimate of $6-9 million.
Other works of note in the sale included the cover lot, René Magritte's Le miroir universal (1938-1939) (est. $3-5 million), a large portrait of a nude female figure whose top half seems to fade into the dark blue skyline while her bottom half reflects the beige tones of the rock she leans on and a wall pictured in the right half of the painting. The painting sold for $6.7 million. And a work that almost inched out the Magritte as the cover lot, Joan Miró's Homme et femme (1935) (est. $2-3 million), a striking oil on board in white with primary colors, sold for $5.4 million. The painting was completed at a time of drastic change for the artist who, influenced by economic and political events such as the Great Depression and the rise of the Second Spanish Republic, began exploring darker subjects.
At the end of a very long two weeks, collectors took their time buying, and Christie's took its time selling. The result: conservative estimates were on point, and while no longer starving for art, buyers were still biting.
Christie's president Jussi Pylkkänen ended the night by telling press that the sales' totals, headed into tomorrow's day sales, were "a good place to be," and that not only was Christie's "comfortable going into the spring sales" but that it "will continue to approach the market with caution."
International director of Impressionist and Modern Art Adrien Meyer explained further by saying, "It's about being picky—on the origin and the price [of a work]…focusing on how to curate your sale."
Christie's has now sold $487.8 million worth of art in the Impressionist and Modern Art category, with a works on paper sale and a day sale still to come.