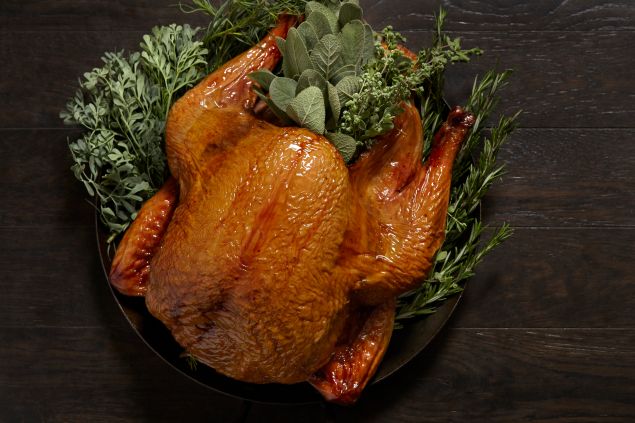 Thanksgiving is less than a week away, so if you haven't planned your feast(s) already, here are some tips, tricks and hacks from 15 accomplished Los Angeles chefs.
ADAM COLE, Maple Block Meat Co.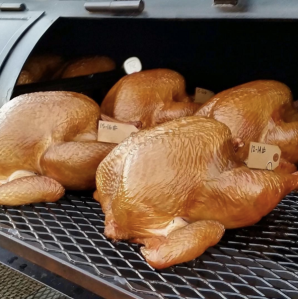 L.A's new smoked-meat king, Adam Cole—the man behind the brisket that no less an authority than Texas Monthly barbecue editor Daniel Vaughn declares is California's best—wants to stress that a humanely raised turkey is a delicious turkey. So sourcing is key: "It should have been raised on a vegetarian diet with room to roam (free-range), never given any antibiotics or growth hormones, and raised on a farm with good animal welfare practices. The flavor and texture of your turkey directly correlate to all of these things. You cannot make a delicious turkey if it wasn't happy and healthy to begin with."
Two of Mr. Cole's favorite suppliers are Diestel and Mary's. Whatever kind of turkey you get, know that "2 pounds per person sounds gluttonous, but it's not—especially if you want leftovers." Mr. Cole also advises that you pre-order your turkey from your favorite grocery store or market to make sure you get a fresh one that's the size you want and can be picked up two days before you cook it, giving you proper time to brine.
"The Simplest Brine Recipe in the World: Measure 2 cups kosher salt + 1.5 cups brown sugar + 1 gallon water into a stock pot. Bring to a full boil to dissolve salt and sugar. Add to that your favorite combination of herbs, spices, etc. and steep for 15 minutes. Add enough ice to equal 2 gallons total. Submerge your bird in brine for 48 hours."
For gravy: "Roast the turkey neck and make stock. Soak the heart, liver and gizzard in milk overnight, then rinse them thoroughly. Saute, cool and chop into small pieces. Add to your thickened gravy that you made with that beautiful roasted turkey stock."
And here's an important hack for those of you in L.A.: "If you're picking up your turkey from the Whole Foods at 3rd and Fairfax, consider parking at The Grove and walking over because [the Whole Foods] parking lot is a fucking nightmare for most of November and December."
Good tip, chef!
BRYANT NG, Cassia
"Make your Thanksgiving dinner more unique by integrating Asian elements to the traditional turkey, stuffing, mashed potatoes, cranberry sauce, sweet potatoes and pumpkin pie," said chef Bryant Ng, who's elevated L.A.'s brasserie game with his mix of Far East and French flavors.
"Instead of a bread stuffing, why not use sticky rice (lo mai fan) with Chinese sausage, shiitake mushrooms, dried shrimp and scallions? You can serve it on the side or stuff it into the bird."
"Try brining the turkey with a brine using lemongrass, shallots, turmeric, coconut vinegar, sugar and fish sauce. Cook the turkey as you normally would, then brush it with a sauce of pureed lemongrass, shallots, honey, fish sauce, Sriracha, coconut vinegar, sugar, soy sauce and turmeric in the last hour of cooking to give it a punchy flavorful glaze. It's doubtful people will be complaining about a bland turkey."
"Amp up your mashed potatoes with sour cream mixed with green scallion rounds, sesame seeds, toasted cumin, chile powder and ground Sichuan peppercorns to give you that spicy and numbing ma la sensation."
KRIS MORNINGSTAR, Terrine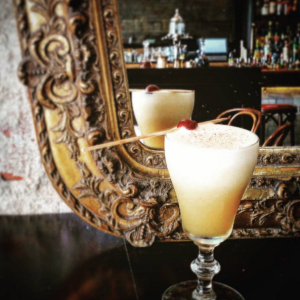 Kris Morningstar, the acclaimed chef behind bustling California brasserie Terrine and a judge on Esquire Network's Knife Fight, has a secret weapon for Thanksgiving: "Inject your meat with a brining needle. The flavor and moisture you get from it can't be achieved any other way."
You should use the brining needle to inject the turkey "all over and multiple times throughout, all of the way in so you reach the middle. I'd recommend going in from the openings in the front and back, under the skin, so you don't have ugly, visible holes everywhere."
For the brine, Mr. Morningstar recommends "a combination of rosemary, orange (first squeeze the juice, then throw the whole rind in), orange juice concentrate, garlic, salt and sugar. I would brine for two days, drain and let dry, and then put your bird back in the fridge uncovered to dry out the skin before roasting. Then, if you're really trying to impress the new in-laws, make an orange butter and rub it under the skin to baste while the turkey is in the oven."
Terrine is hosting a $45 all-you-can-eat Thanksgiving extravaganza with everything on a communal table and Kris Morningstar carving turkeys. For reservations, call 323-746-5130.
AKASHA RICHMOND, Akasha and Sambar
Akasha Richmond is the queen of modern Indian food in L.A., was once Michael Jackson's personal chef and has catered for other high-profile clients including Barbara Streisand. She's also here to offer easy ways to spice up Thanksgiving.
"A great appetizer would be Brie with store-bought mango chutney and spiced pumpkin seeds or almonds."
"Minced candied ginger or grated fresh ginger in the candied yams."
"A pinch of cardamom in your pumpkin pie."
"Add some spiced nuts with coriander and cumin to a salad."
"Make cranberry chutney instead of cranberry sauce. (Rick Rodgers has a killer recipe). Or apple chutney in addition to the cranberry sauce."
"Add some sautéed brown mustard seeds to a vegetable such as green beans or Brussels sprouts."
Both Akasha and Sambar are open on Thanksgiving. Expect an elaborate pie buffet at Akasha and an Indian twist (think ginger-and-pepper-brined roast turkey breast, "samosa"-seasoned mashed potatoes, oven-roasted curried cauliflower and Bengali five spice-and-jalapeno cornbread stuffing) at Sambar.
ANDREAS ROLLER, Nick + Stef's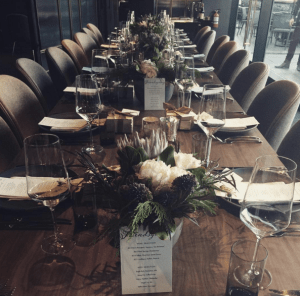 Andreas Roller of Patina Group's newly reopened steakhouse suggest you prepare your turkey's dark meat separately: "When cooking the dark meat, deglaze the roasting pan with a few frozen cranberries, cassis liqueur and a squeeze of orange, along with some light turkey stock. Reduce it into a sticky, shiny and sweet emulsion. We often add this base to braised red cabbage to give it a nice shine and deep flavor."
"Once the turkey is cooked and resting, don't let it get too cold. Use a warm kitchen towel soaked with a little bourbon, thyme, honey and bay leaf to keep it moist and aromatic. Once you are ready to serve, crisp the skin again in the oven under the broiler."
Nick & Stef's is serving a three-course $55 Thanksgiving prix fixe. You can see the menu and make reservations here or call 213-680-0330.
MICHAEL HUNG, Viviane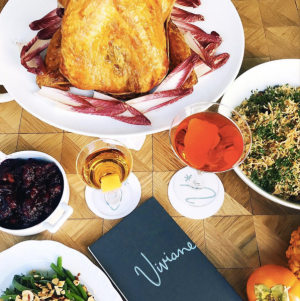 "My best advice is not to get too ambitious," said Michael Hung, the former star chef at Faith & Flower who's now showcasing his rarefied take on Continental cuisine at the new Viviane. "Instead of trying to pull off a theatrical dish like a turducken, take the time to source better ingredients and prepare them simply. A pasture-raised heritage turkey roasted with butter and thyme is much simpler to execute, and the higher quality of the bird will show."
Viviane is serving a $68 Thanksgiving prix fixe that includes a galantine of Diestel turkey with rosemary and sage gravy. Stuffing is brioche with wild mushroom and truffles. Call 310-407-7701 for reservations.
YUICHI NATORI & JOJI INOUE, Chaya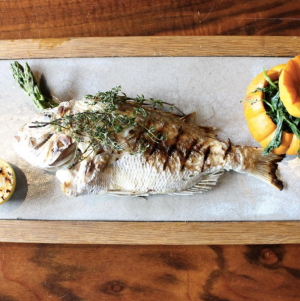 "Be inventive with your side dishes," said Chaya Venice's Yuichi Natori. "There is no reason to stick to what's 'traditional.' At Chaya, we make wasabi mashed potatoes—it's been a restaurant favorite for years. Also, in place of the traditional cranberry sauce, I love to make a Ume plum Sauce. It pairs very well with turkey."
Joji Inoue, who's flying in rare seafood from Japan to Chaya Downtown, says you could really wow your guests by serving a whole fish. But if you're sticking to turkey, he suggests stuffing it with Fuji apples, kabocha squash, peewee potatoes and sweet potatoes.
LEE GROSS, M Café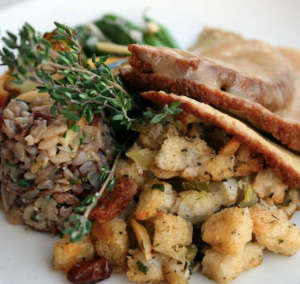 "Please skip the jellied cranberry sauce in the can, " said Lee Gross of macrobiotic mainstay M Café. "I love a fresh, simple relish of fresh or frozen cranberries, a whole orange, fresh ginger and maple sugar. Simply throw all the ingredients in a food processor and you're good to go."
M Café, which serves food free of dairy, red meat, refined sugars, eggs and poultry, is offering take-home Thanksgiving entree alternatives like a smoked tofu, pumpkin and chestnut terrine with porcini mushroom-and-red wine sauce. Sides include herbed bread stuffing with almonds and raisins. To order, call 213-500-7220.
ANDREW GAVALLA & SHANNON SWINDLE, Craft
Andrew Gavalla, chef de cuisine at Tom Colicchio's buzzy L.A. outpost of Craft, doesn't want you to overcook your bird: "A lot of recipes instruct you to cook the turkey to as high as 185 degrees, however, they continue to cook once they are out of the oven. Take your bird out at around 140 degrees for a turkey that will be cooked through and juicy."
Pastry chef Shannon Swindle jokes that maybe you shouldn't try to do everything yourself and leave dessert to a professional baker. He's selling his pies for Thanksgiving, after all. That said: "If you do make your own pie, pre-baking your crusts before filling and baking them is a must. No one wants a soggy bottom on Thanksgiving."
Your saggy bottom the day after will be a different kind of problem.
Craft is serving a family-style Thanksgiving meal ($125 per person). Highlights include kale & fennel salad, organic free-range turkey (or a different main course like braised beef short ribs or king salmon) and Tom Colicchio's signature sausage and raisin stuffing. You can view the menu here and make reservations online or call 310-279-4180.
Craft will also offer to-go desserts, all serving eight to 10, by Mr. Swindle: a traditional pumpkin pie ($35), pecan pie ($40), chocolate s'mores tart ($40, with a gluten-free option) and apple cranberry crumble ($35, with a gluten-free option). Orders must be made via reservations@craftlosangeles.com by 5 p.m. on Monday, November 23, with pickups Wednesday, November 25 after 5 p.m. or Thanksgiving between 8 a.m. and noon.
DAVID CODNEY, The Peninsula Beverly Hills
"I prefer to let the butcher break down the turkey for me," chef David Codney said. "If you ask ahead of time, any good butcher shop will take the breasts off the bone and tie them, take the legs and thighs off the bird and cut up the bones for stocks. This can be done days ahead of time."
This saves valuable refrigerator space and also makes it easier to confit the legs and thighs: "I marinate in Dijon, garlic, black pepper, thyme and sage. The next day I cover in whatever fat I have." It could be bacon fat from drippings or duck fat or, of course, fat on top of your turkey stock.
After slow-cooking the legs and thighs (250 degrees for 12 hours in your oven, or make good use of your Crock Pot), Codney advises you pick the meat off and add them to your stuffing, "which makes it super moist and flavorful."
One more piece of advice for Thanksgiving, especially if you're at a big family gathering: "Start drinking early—this is the best tip I can give to anyone."
VALERIE GORDON, Valerie Confections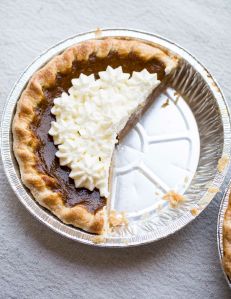 "Try using small-batch preserves in flavors such as Blenheim apricot or plum to pair with your turkey instead of the traditional cranberry sauce," said chocolatier, chef and James Beard award-finalist cookbook author Valerie Gordon.
And don't rely on anything out of a can for pumpkin pie: "Roasting your own pumpkin is definitely worth the extra effort. The pumpkin flavor becomes much richer with caramel undertones that set it apart from canned purée."
Valerie Confections' Thanksgiving catering menu includes desserts like a pumpkin pie, pear and vanilla cream tart, fall fruit galette and salted caramel bread pudding. All orders must be placed by 2 p.m. on Monday, November 23 by e-mailing shop@valerieconfections.com or calling 213-739-8149, and pick-ups are on Wednesday, November 25.
JOHN LECHLEIDNER, WP24 by Wolfgang Puck at The Ritz-Carlton, Los Angeles.
"Thanksgiving is about spending time with friends and family, not pots and pans," says chef John Lechleidner. So do your prep in advance:
"Make the stuffing the day before and cook it on Thanksgiving."
"Cut your vegetables for your sides and leave in Ziploc bags. When you are ready to cook them, season them in the bag, seal the bag and shake them. Easy cleanup."
"Make a seasoned butter (sage, garlic, black pepper, thyme, butter) and stuff it under the skin before you bake it. This will help flavor the meat and keep it juicy."
"Cook as much as you can in disposable/recyclable pans.This way, you will only need to wash your serving plates."
"Use Yukon Gold or Red Bliss potatoes to make mashed potatoes.You don't need to peel them before you cook them."
"If you can, deep-fry your turkey, but once you have a deep-fried turkey, there is no going back to a roasted turkey.
ZOE NATHAN, Rustic Canyon, Huckleberry, Milo & Olive, Sweet Rose Creamery, Cassia, Esters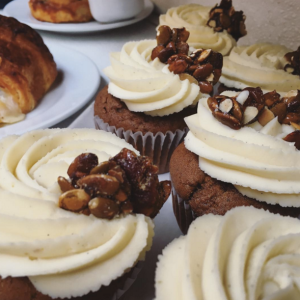 "For our family, so much of the fun is about cooking the meal together all day, not just the meal itself," said restaurateur and baker extraordinaire Zoe Nathan, who was generous enough to share the recipe for her Comfort Food Biscuits below. "We eat so much while we're cooking that I'm surprised we ever have any room left over for dinner. One of the biggest culprits are these biscuits. I'll make them the day before and put them in the freezer (unbaked) to hold shape. We'll bake some off during the day while we're cooking and eat them with butter and honey. Sometimes, we bake some more off and they don't make it to the dinner table, but they do look beautiful on the dinner table in a big bowl when they do."
And one secret ingredient: "Tarragon: This comes from my dad, but when he's doing a lot of the cooking, tarragon makes its way into many dishes. Most important, he makes this delicious tarragon butter and rubs it all over the turkey as he preps it to roast it. Whenever I see tarragon at any point in the year, I think of Thanksgiving."
Comfort Food Biscuits (from the Huckleberry cookbook)
"These are your chicken pot pie biscuits, your 'please pass the biscuits' biscuits, your tea sandwich biscuits, your fried chicken biscuits, and, of course, your go-to simple breakfast biscuits with butter and jam. When I gave this recipe to a friend, she told me she always cuts the scraps into irregular shapes and sprinkles them with cinnamon-sugar, something she said her grandma would always do. Ever since she told me that I always make sure I do that, too."
MAKES 13 2-IN/5-CM BISCUITS
3 cups/380 g all-purpose flour
1 tbsp + 21⁄4 tsp baking powder
1 tbsp sugar, plus more for sprinkling
1 tsp kosher salt
3⁄4 cup/170 g cold unsalted butter, cubed
3⁄4 cup/180 g cold cream cheese
6 tbsp/90 ml cold heavy cream
1 batch egg wash
Fleur de sel for sprinkling
1. In a very large bowl, combine the flour, baking powder, sugar, and salt and toss well. Throw in the cold butter and work it with your fingertips until the pieces are pea- and lima bean-size. Then do the same with the cream cheese. Add the cream. Lightly toss to distribute.
2. Immediately dump everything onto a clean surface with more than enough space to work the dough. Using only the heel of your palm, quickly flatten out the dough. Gather the dough back together in a mound and repeat. After two or three repetitions, the dough should begin holding together. Be sure to avoid overworking. You should still see some pea-size bits of butter running through it.
3. Flatten the dough to a 1-in/2.5-cm thickness and cut out the biscuits. Transfer them to an ungreased sheet pan. Very gently push the scraps back together and cut once more. Freeze for at least two hours before baking, or up to one month, tightly wrapped.
4. Preheat your oven to 350°F/180°C. Remove the biscuits from the freezer. Space them with plenty of breathing room on two ungreased sheet pans, brush with the egg wash, and sprinkle with both sugar and fleur de sel. Bake from frozen until cooked through, nicely browned, and easily lifted off the pan, about 30 minutes.
These are best eaten the day they're made.
Huckleberry's Thanksgiving carry-out menu includes braised organic turkey thighs with white wine, mushrooms and thyme; Bartell Ranch beef brisket; and savory cornbread pudding with butternut squash, kale, caramelized onions, and sage. Also available are Zoe Nathan's desserts, like maple walnut pie, gluten-free orange cranberry cake and take-and-bake items. The full menu and ordering info can be viewed here. Sweet Rose Creamery has seasonal ice cream cakes and pies and to-go pints featuring November flavors like brown sugar with butter pecan. The marketplace section of Esters Wine Shop & Bar will be open on Thanksgiving from 10 a.m. to 2 p.m. for last-minute purchases of wine, champagne, craft beer, Milo & Olive breads, Sqirl jams and spiced nuts from chef Jeremy Fox.