It's that time of year again when we need as much motivation to work out as possible. From following inspirational Instagram accounts to signing up for as many SoulCycle classes as your bank account can handle, there are a number of ways to persuade yourself to squeeze in at least a few sweat sessions each week.
For the fashion minded gym goer, there's nothing quite like a new outfit that will make a grueling SLT class bearable. Luckily, there are a spate of pop-up shops timed around the holiday season, stuffed to the brim with leggings and sports bras that are far from basic. Following the opening of Outdoor Voices, we are delighted to hear that Alala is (temporarily) opening up shop in New York.
Located on Soho's Lafayette Street, Alala will be sharing their pop-up space with men's athletic line Rhone, making this an apt shopping spot for him and her. Offering a full range of workout gear, Alala will also be offering up their limited edition capsule silver collection, which is sure to make any work out far more festive than usual.
Alala's founder, Denise Lee worked under the tutelage of fashion entrepreneur Chris Burch before starting her own brand in the spring of 2014. With a strategic launch at the dawn of the athleisure boom, Ms. Lee has watched the market turn into a bona fide sea of leggings. So what allows her product to stand out? "Our mix of fitness and fashion," she confidently told the Observer. She pointed out that they offer lifestyle and performance pieces side by side, but neglected to mention that her range is far edgier that most out there.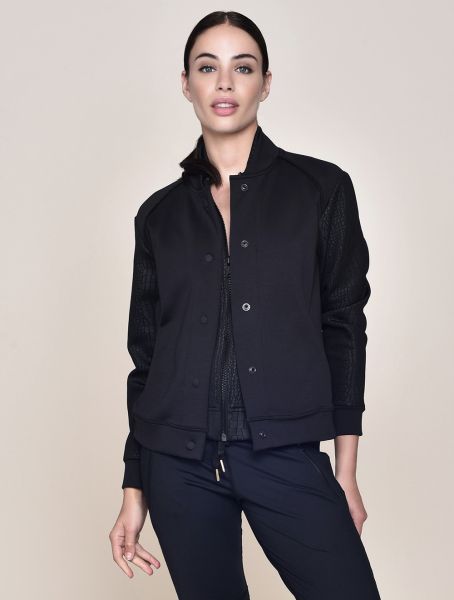 Take, for example, Ms. Lee's favorite piece: The Signature Bomber. Delivering form alongside function, the neoprene jacket has a croc detail stamped on both sleeves and a double closure in the front, with both zippered and snapped layers. "It's an awesome Italian fabric that we found, and it's just adds a whole other sophistication level to your normal bomber jacket," said Ms. Lee, adding further intrigue to the topper.
True New Yorkers will appreciate Alala's reliance on black throughout the collection. But that doesn't translate into boring: leggings feature mesh panels and color block details, while tank tops are offered in a multitude of colors, also with a mesh detail.
Those who are looking to do more than just consume this holiday season will be pleased to find that Alala will be hosting a clothing drive throughout the month of December. The gently used donations of just workout clothes will be collected by the Bowery Mission. For each item donated, a $10 credit towards a piece of Alala will be offered, which certainly sounds like a better deal than doing 10 squats.