While Democratic presidential front-runner Hillary Clinton may give hope for women in positions of leadership, there's still a long way to go toward gender equality. One clear example of that is the number of women chief executive officers of major corporations. There are only 22 women CEOs leading companies listed on the S&P 500, according to a recent study by catalyst.org. And the area's best-compensated woman CEO, based on data compiled by salary.com, ranks 82nd on the AFL-CIO's corporate pay watch list of the country's top 100 best-paid. The combined 2014 total compensation of the six women on this list, about $90 million, pales in comparison to the $156 million received by David M. Zaslav, CEO of Discovery Communications Inc., who was the country's best-paid CEO in 2014.
Indra K. Nooyi, CEO and Chairman of the Board at PepsiCo Inc., Purchase, N.Y.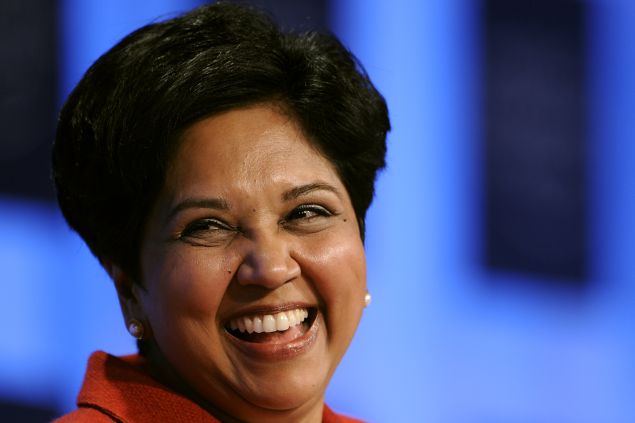 Total compensation: $19,087,832
With the market for soft drinks cratering, Indra K. Nooyi has positioned PepsiCo well. The company's CEO since 2006 rolled out healthier beverages, including SoBe Lifewater and Naked Juice, with plans, according to Nasdaq, to expand its nutritional business from $10 to $30 billion by 2020. In reaction to the growing health-conscious consumer backlash against artificial sweeteners, the company announced in April that it was removing the controversial chemical Aspartame from its diet soda products. (According to the American Cancer Society, a recent study "found a link between consumption of aspartame sweetened soda and the risk of leukemia, lymphoma, and multiple myeloma in men.") And even though its sales of carbonated soft drinks continues to slide, in 2014 Pepsi did manage to make it back to the No. 2 slot, behind Coke, according to Beverage Digest, thanks in large measure to the diminishing sales of former No. 2 Diet Coke. Even more encouraging for PepsiCo, and its investors, soda represents just a quarter of the company's U.S. sales, compared to Coke, which counts on soda for 60 percent of its domestic sales. "Pepsi has taken a different and smarter track. The change within Pepsi started back in 2006 with the hiring of Indra Nooyi as CEO," the market blog Street Authority wrote.
Ursula M. Burns, Chairman and CEO of Xerox Corp., Norwalk, Conn.
Total compensation: $18,767,308
Ms. Burns, who started out as an intern at Xerox in 1980, is now facing a challenge in the C-Suite. With the company disclosing a $34 million Q3 loss, a swing of $300 million in a year, according to CRN.com, Ms. Burns announced in an October investor call that her company's board of directors "authorized a comprehensive review of structural options for the company's business portfolio and capital allocation with the goal of enhancing shareholder value." It's just the latest in a string of bad news for Xerox under Ms. Burns. Over the past five years, the company's shares have dropped 8 percent. But there have been successes. Shortly after being named CEO in 2009, she spearheaded the largest acquisition in Xerox history, the $6.4 billion purchase of Affiliated Computer Services. "Xerox is the leader in diversified business process services with its Services business representing over 50 percent of the company's total revenues," noted Xerox's website.
Virginia M. Rometty, Chairman, President and CEO of I.B.M., Armonk, N.Y.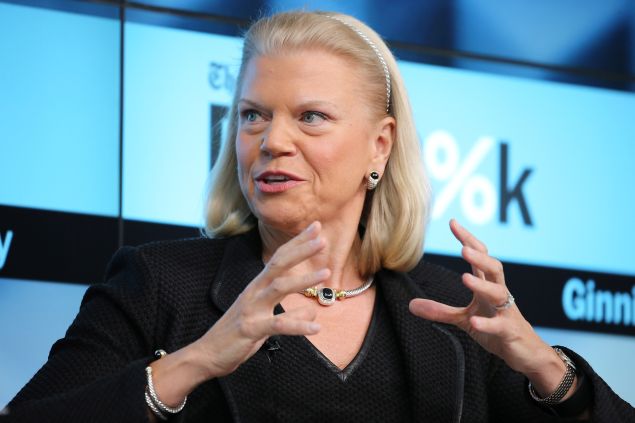 Total compensation: $17,942,400
Where the cloud has been a cloud over Xerox, IBM is betting heavily on the storage technology. During an investor call earlier this year, Ms. Rometty said the company would spend $4 billion on its cloud services, data analytics and mobile businesses, which she said will result in a $40-billion-a-year-in-revenue business by 2018, according to recode.net. But it might take some time before that happens. In October, IBM's  stock hit a new five-year low, representing the 14th quarter in a row. But Ms. Rometty seems unruffled. "We are continuing to make significant investments to build platforms around analytics, cloud, mobility and security that lay the foundation for a new era of cognitive business," Ms. Rometty said in a statement.
Irene Rosenfeld, Chairman and CEO of Mondelez International Inc., East Hanover, N.J.
Total compensation: $15,919,544
Ms. Rosenfeld, CEO since 2007, has been on a mission to build a better Oreo. Or at least a more cost-effective one. The company, which also makes Nabisco biscuits, Cadbury chocolate, Trident gum and Tang, among other products, saw better than anticipated earnings for the third quarter. Ms. Rosenfeld chalks that up to efficiency. "We're continuing to aggressively reduce costs to expand margins and provide the fuel for incremental investments behind our power brands and route-to-market capabilities to drive sustainable revenue growth and improve market shares," she said in a statement on her company's website.
Sheri McCoy, CEO Avon Products, Suffern, N.Y.
Total compensation: $9,890,190
Avon often touts the fact that it sells four lipsticks per second, but all the gloss in the world can't cover over the warts on the company's bottom line. In Q3 2015, total revenue for Avon Products, Inc. took a powder, declining 22 percent to $1.7 billion from the same period in 2014, according to the company. A contributing factor is that Avon, once the global leader in direct sales, saw a 1 percent drop in the number of people knocking on doors. The problem has been particularly vexing in North America and parts of South America. Ms. McCoy, under fire for the flagging sales, was stoic in her response: "This was a difficult quarter impacted by currency and other macro pressures, and our financial results were not where we would like them to be," said Ms. McCoy in the company's filing. Despite the blemishes, Avon credits Ms. McCoy as being "responsible for driving new long term growth initiatives, developing earnings opportunities for women and advancing Avon as the world's premier direct seller of quality beauty products."
Denise M. Morrison, President and CEO of Campbell Soup Co., Camden, N.J.
Total compensation: $7,740,527
From a TV spot featuring gay dads serving soup, to a gutsy bet on Bolthouse Farms, which sells baby carrots, fruit smoothies and other healthier snacks, Campbell has been able to avoid the malaise plaguing the packaged food industry. While soup is the company's mainstay, diversity is helping the bottom line, said Ms. Morrison in a statement on Campbell's website. "We see seismic shifts and health and wellness is a major consumer shift…These shifts inspired us to acquire Bolthouse Farms, Plum Organics and Garden Fresh Gourmet." 
GIRL POWER: THE BEST COMPENSATED WOMEN CEOs
THE FATTEST OF THE FAT CAT POLITICAL DONORS