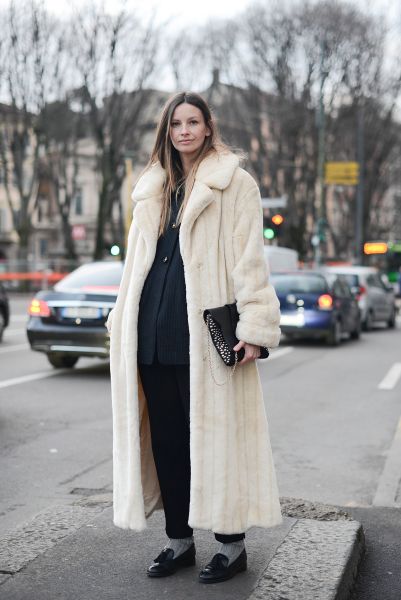 Drama: It's a feature that is terrible in relationships, but ideal for sartorial choices. And as fall inches into winter, we've got our sights set on coats that are so long, they introduce an air of drama to each outfit.
Whether that be a fur, wool, or brocade iteration, the allure of a long coat can't be denied. That fact remains true even if the coat is double breasted, or collarless; this silhouette works in nearly every cut. And this is certainly an investment piece, something to grab from the closet year after year, so don't hesitation on dropping a pretty penny on a coat with a lengthy hem. As I've come to find, during even the most grim of cold spells, there's nothing that feels quite as powerful as stomping through the city in an ankle-grazing coat.
In order for this style to look as flattering as possible, go for a version which fits snugly in the shoulders and hangs close to the body. Underneath, a pair of wide-leg pants will amp up the drama, but some sharp skinny trousers are just as effective. Certainly play up the long hem by finishing off the outfit with a killer pair of shoes; some graphic Loewe boots or cheeky Brian Atwood pumps should do the trick, just know that the higher the heel, the better.
Below are 10 of our favorite picks, so shop 'em now!