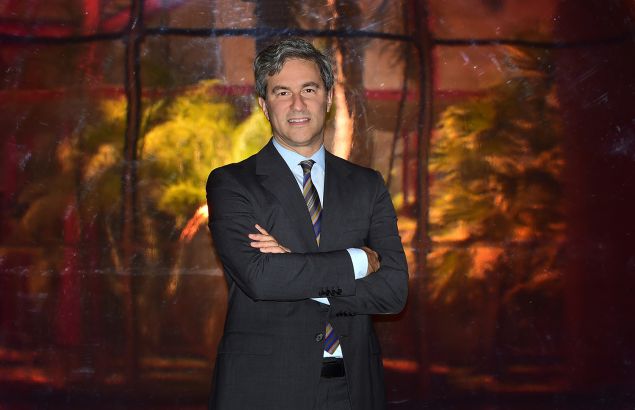 At 52 years old, and after a generation in the museum industry, Michael Govan has amassed an impressive resume. He spent much of his career in New York, serving as deputy director of the Solomon R. Guggenheim Museum, and in his time as director of the Dia Art Foundation he pushed the building of the institution's Beacon, N.Y., satellite. Needless to say, he's left his mark on the town.
When Mr. Govan got the call to run the Los Angeles County Museum of Art in 2006, an encyclopedic institution—American art, design, Pre-Columbian antiquities, Korean ceramics, etc.—no one expected he'd transform the regional institution so completely. Under his guidance, the museum has mounted major permanent public installations by Chris Burden and Michael Heizer, widely expanded the collection, nearly doubled the size of the board and is pushing an expansion that will bring its mid-century modern campus into the 21st century. The museum built two contemporary exhibition spaces, the Broad Contemporary Art Museum and Resnick Pavilion, in the early aughts, and has recently put forth several designs for an entirely new east campus.
At a French bakery in Bryant Park, the Observer spoke with Mr. Govan about the art world's growing love affair with Los Angeles, how running an art museum today isn't so different than being an urban planner and the pressures of fundraising.
The job of museum director, even the idea of a museum itself, has changed radically in the years you've been doing it. It used to be that religious buildings were town squares, even more than offices or governments. In the U.S., you don't think about hanging out at a café near a government building, or having your family events there…I think we do associate that quality of "centering" around museums more than any other facility. There are also performing arts facilities, but the doors aren't always open, there's not always a performance.
I think that museums have very much taken that place. That's why governments in Europe and the Middle East are spending billions building museums. I was involved very much in the Guggenheim Bilbao, and that's what they wanted, for it to be a cultural centerpiece in the city in the same way; in another century, you would have built a cathedral.
So you see the job as part urban planner? By default, because of the demand, for museums to be centerpieces of urban life, yes, you end up doing that, because you have to think about that. You can't just think, "What show am I going to hang next year." You have to think about: we're negotiating with the city to make sure the subway stop is there, and that we have open space, and that a city street is closed to create a park area. So the answer is 100 percent yes.
And I found that even in the Dia Beacon, because that museum was a centerpiece, there's music venues, and a hotel, and a ton of artists. Museums play this larger role, in cities, communities and urban life. And Beacon has an urban life, too, in a suburban environment. You have to be thinking that way. It's not sufficient anymore to just be thinking within your walls.
'Galleries are moving to L.A. now because there's so many artists and if they don't have a gallery then those artists will connect with galleries who do. A lot of it is a defensive move.'
About those museum walls…what's your feeling about all those baroque facades that people are fighting to preserve? Neoclassical stone architecture that was prevalent in the late 19th early 20th century for museums, libraries, banks, those three categories. Almost every bank has abandoned its stone buildings. There are now other things in those buildings, like restaurants…Yet, our museums and libraries, because they're historical buildings, tend to stay the same. Yes, of course a museum should be glass. You should be able to see in, and you should be able to see out. Because so many people, the largest potential audience for museums is people who have never been to museums and they don't know what's inside. So just like any retail store, if you want people to come in, you have to be transparent.
New buildings are expensive. As a director/CEO, is fundraising an annoying constant in your job? It's never-ending, it's why you don't have a life, you're on 24/7, but I wouldn't see it as a negative. One of the greatest things about raising money all the time is that you have to be listening. You don't have to do everything you hear, you don't have to pander, or fragment your organization into everyone else's wishes, but you really have to listen. You're not going to receive support if you don't spend time thinking about what people want from their organization…It makes you much less isolated.
[Mr. Govan was honored by Independent Curator's International on November 18. On the special occasion, he discussed the future of curating. For more, see: "LACMA's Michael Govan, in NY for Coveted Leo Award, Talks Future of Curatorial Field"]
I feel like N.Y. is in love with L.A. right now. For the moment. I don't think there's any reason not to be. What do you lack in L.A. other than a little bit of street life? It has everything else. There's also the cult now of exercise and the outdoors that didn't exist 20 years ago. I never exercise ever…I pace when I'm on the phone.
A lot of artists moved in the '90s because of all the editing facilities that were available. Now you can do it on a Mac, or a computer, but there's still a lot of professional facilities for artists who like to work in film or photography. It's a good place to work for that perspective.
And it's not as if N.Y. is not hip to L.A. art history. I've worked on a few shows, Philippe de Montebello took the John Baldessari show to the Met when I asked, the Ken Price show went to the Met, James Turrell we organized with the Guggenheim.
'I think the era of art fairs is a little bit over. Dealers can go to Miami and print money, but there's so many art fairs now.'
Is it a good time to work in museums in L.A.? For museums, L.A. is still behind. I think museums are always behind artists. So the artists are there, there's an art history there, and the art schools are fantastic. I was talking to somebody last night about how, in L.A., an artist isn't a lesser artist because they teach. In fact, the best artists teach. Whereas in N.Y. there's a little bit of a "you teach, or you're an artist."
In L.A., John Baldessari is teaching, Diana Thater, Chris Burden was teaching…Barbara Kruger. I teach in the UCLA department every quarter, it's amazing the people who are there. Catherine Opie, James Welling…I think that whole nice back and forth between academia and the arts in California and L.A. is really strong.
[Mr. Govan also shared his thoughts on curatorial programs with the Observer. For more, see: "LACMA's Michael Govan Says 'Curatorial Studies' Degrees Are a Waste of Time"]
Is L.A. blowing up? It's pretty clear that L.A. has always been a place where there have been artists working who wanted to be a little outside the center and now I think for a young artist it seems to be the city of choice right now. Who knows how long that will be if rents keep going up—maybe Detroit will be the next city of choice.
Is it purely real estate or is it because there's already a tradition for being there? In some ways New York and L.A. are both expensive. The difference is, I think, L.A. just has so many artists, and it has changed in 10 years, since Disney Hall was built—finally there's a piece of architecture [in L.A.] like Frank Gehry's Disney Hall that's so beautiful and recognizable. Even the food scene has exploded, and now galleries are moving. So, yes, I think it's the overall picture.
It's not the cheap real estate; I don't think that's the case. Although it is true that you can get something less expensive and feel less far out of the city. L.A. is a decentered city, here there's a hierarchy: Manhattan, Brooklyn, the Bronx, New Jersey. Whereas in L.A. you live in Silver Lake or Pasadena or Santa Monica, it doesn't really matter. So that overall-ness makes it easier so that wherever you are it doesn't really matter or feel like you aren't part of the metropolis because by nature it's decentered.
What about galleries moving out to L.A.? That's because of the artists. Mostly, if you interrogate gallerists, I think they're moving now not to make money…but because there's so many artists there and if they don't have a gallery then those artists will connect with galleries who do. A lot of it is a defensive move.
'That hierarchy [of painting and sculpture] is a tiny moment in art history. Furniture used to be more expensive than painting.'
Is it a younger collector community? I think it's small overall. The collector community is still tiny, it's teeny-tiny, it's like a corner of lower Manhattan or something. There is a little bit of some youth in…a little collecting that's gone in Hollywood as you know. But usually people refer to the same few people.
Do you think there needs to be a bigger art fair scene in L.A.? I think the era of art fairs is a little bit over. Dealers can go to Miami and print money but there's so many art fairs now. I don't know what that would do for L.A. and I don't think people would come to L.A. to buy art. Geographically, it's not a good place for that. Miami has a concentrated scene: there's hotels, there's a convention center. L.A. doesn't have that. It's just really not a natural place for that.
As Downtown evolves, if another 15 hotels renovate Downtown, and the convention center, which is a little ugly, becomes a venue with good hotels and artistic scene and galleries, then it could happen. But right now, the structure would really have to change.
What were some of the challenges or surprises to you of working at such an encyclopedic museum? When I [travel], you come to feel how important the totality of art history is to understanding that world. The encyclopedic museum for me, at some point, has become not a dusty library but a place of living culture. That's what's so great about LACMA, that it's such a new museum for an encyclopedic museum. It's 120 years younger than the Met. It doesn't have that same deep, fixed history, yet it has the many cultures in all time.
Is there one acquisition that stands out to you for the direction the museum is going in? There wouldn't be one thing…I've invested a huge amount of time in acquisitions of design, posters, costumes, textiles, works on paper, works with film and media, to disrupt that hierarchy that's crept in of painting and sculpture. That hierarchy, it's a tiny moment in art history. Furniture used to be more expensive than painting. And as Tom Campbell's show at the Met showed us very clearly about tapestries, a painting is like a sketch for a tapestry. So there's constantly shifting values in art history.
We just bought a beautiful Damascus room, 18th century, a beautifully painted room. The Met has one. It's an archetype of architecture, hand-painted, especially important now that Syria seems to be being decimated. It's engineered with aluminum to be able to travel, a piece of it or all of it. The room will go to Saudi Arabia next, where they don't have a room like that. It's not exemplary, but it was also the approach to the work of art that for me was really important.
We have a great mid-century California design collection that now travels. [It goes from cars and posters] to record album covers to surf boards.
Steve Tisch, one of our trustees, has been collecting work around the theme of art and film, so we've gone from almost zero in works of media to having some of the great works like Christian Marclay's The Clock to Pierre Huyghe, Ryan Trecartin and Lizzie Fitch, to this collection of media. It makes sense in L.A.
Your name is often mentioned as a likely successor to some of N.Y.'s top museum directors. Would you ever come back? Thats not even a question. Theres no more significant or important museum that's being constructed right now than in Los Angeles…what we are doing could change the methodology of museum exhibitions.