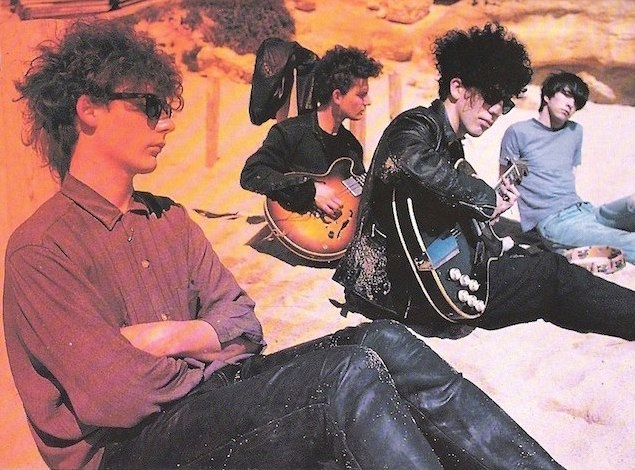 From the second the drums hit on opening track "Just Like Honey," Psychocandy challenges the idea of a classic pop song. It's a straight "Be My Baby" beat—galloping, regal and teasing an immanent pronouncement of cinematic sound. But instead of sweeping strings, horns and a female-sung chorus, we meet the reverb-drenched drone of William Reid's guitar. Mr. Reid's riff cuts through all that noise and then some.
Thirty years have passed since The Jesus and Mary Chain's Psychocandy first enveloped and challenged adventurous ears, and the album still sounds just as fresh and vital, equal parts of mercurial grandeur and danger. A new generation of millennials first heard "Just Like Honey" high in the mix at the poignant climax to Sofia Coppola's 2003 existential dramedy Lost In Translation, soundtracking the moment when Bill Murray and Scarlett Johansson reunite in Tokyo to realize that they love each other. It's the perfect love song for a film about strangers out of place, both warm and alien.
[youtube https://www.youtube.com/watch?v=gOpXt30kZCw]
But the Jesus and Mary Chain's true contribution to our cultural landscape is tied to their ascension, and a small London label called Creation Records. A give'em'hell misanthrope named Alan McGee started Creaton in 1983, fed-up with the synthesized nonsense dominating radio at the time, eager to capture some of the crust and grit of the "instant scene" he had inadvertently created after putting on some shows. JAMC's sojourn from East Kilbride, Scotland, to London was just the beginning—their first single "Upside Down" took off, and the band's future success was assured. Creation didn't release Psychocandy, but they sure as hell brought JAMC to the masses.
At the time, Mr. McGee called JAMC's juxtaposition between guitar-tone, noise and pure pop "indie," but given the constant focus on reverb, noise and effects pedals, the British press dubbed the sound "shoegazing," and the term stuck. This genre was later shortened to "shoegaze," typified by a whole new "wall of sound." Eat your heart out, Phil Spector. My Bloody Valentine could pull it right out of your body.
'It was noise, heralding change. A great slab of sex, violence, beauty and longing.'—Loz Colbert, Ride
"We had the blueprint for Psychocandy long before we'd written any of the songs," JAMC front man Jim Reid says in the Creation Records documentary Upside Down. "We used to listen to back-to-back stuff, like Einstürzende Neubauten and the Shangri Las. We'd go from one extreme to the other."
These extremes are audible in "Some Candy Talking," slowly swaggering to a waltzy drone that conjures the Velvet Underground. Thematically, it's pure Lou Reed, alluding to one of Warhol's factory girls, Candy Darling, who counted herself among Mr. Reed's muses. It's also a classic VU drug ballad, in which Mr. Reid sings, "And I need/All that stuff/Give me some/Of that stuff/I want your candy."
"Everything we'd wear and everything we had we got from rock'n'roll," he says, "and it was totally heartfelt."
[youtube https://www.youtube.com/watch?v=oIIdLAQ3nvc&w=560&h=315]
By inadvertently creating shoegaze, Psychocandy taught a future generation of bands that mixing sounds together was not only possible, but cool. Dynamics, tone and texture were powerful tools in any band's sonic arsenal, genre classifications be damned.
"They were a punk band that was not necessarily making punk music," said Jasamine White-Gluz of No Joy, a righteously riffy band from Montreal that carries the shoegaze sound onto a fresh, modern stage. "Psychocandy was important because it subverted pop; songs had simple pop structure and melody, but their execution was abrasive and challenging."
'The pop charts had become so dire…you wanted some aggression and attitude—which the Mary Chain provided in buckets. But they didn't want to deny their poppier, rock'n'roll roots either…it was the perfect aural marriage.'—Adam Franklin, Swervedriver
In the five years following Psychocandy's release, shoegaze became a legitimate genre; a term originally penned to dismiss the JAMC's lack of stage presence was subverted, reclaimed and flaunted as as a virtuous signifier of edginess and noise.
"Psychocandy itself is really more of an attitude," Adam Franklin, the front man for seminal shoegaze band Swervedriver, told the Observer. "The pop charts had become so dire at that time that you wanted some aggression and attitude—which the Mary Chain provided in buckets. But they didn't want to deny their poppier, rock'n'roll roots either, so it was the perfect aural marriage."
Swervedriver's debut EP was released on Creation in 1990, but way before then that aural marriage was important to Mr. Franklin and his mates as they were developing a musical identity, crate-digging and searching for contemporaries who listened to the same things that they did.
[youtube https://www.youtube.com/watch?v=b2bzrCCKDwc]
"My brother came home with 'Never Understand' and my bandmate Amelia had been to London to see some of those early JAMC shows," he remembered. "We were into psychedelic punk from the '60s and digging things like "It's Shocking What They Call Us" by Game and "You're Too Much" by the Eyes, which were like proto-Mary Chain tunes. But it was really cool to hear this new band that also covered Syd Barrett's 'Vegetable Man.' "
Phil King remembers opening for the JAMC, playing bass in The Servants on the London date to promote Psychocandy. It was JAMC's first London show since the band inadvertently caused a riot at North London Polytechnic in March of 1985, and Mr. King was nervous. "Jeff Barrett managed us, released our first single and did press for Creation," said Mr. King, "so he managed to shoehorn us onto the bottom of the bill. We literally went as the doors opened and watched the fans rush across the sprung dance floor of the Hammersmith Palais to get plum positions down the front. The not very helpful stage manager said, 'You've got 30 minutes. If you play any longer we'll pull the fuckin' plugs on you.' "
Mr. King went on to join Lush, a universally lauded shoegaze act that reunited early this year. And little did he know that he would one day be in JAMC, playing bass on the 30th Anniversary Psychocandy tour. "I even get to operate the fabled Shin-ei fuzz pedal," he says. "Lucky me!"
[youtube https://www.youtube.com/watch?v=iFp7W3PoNPI&w=420&h=315]
Which is to say, as the Psychocandy legacy grew, JAMC embarked on the obligatory tour to play the album in full. It's also testament to the communal sense of solid output from Creation that Mr. King joined the band, continuing to hold down the bass and travel around to preform sounds he loved so dearly.
But Mr. King wasn't the first Creation alum to join the ranks of JAMC. When the band reunited in 2007, the band enlisted Loz Colbert, of fellow Creation brethren Ride, to play drums. The brothers Reid had organized a rhythm section of storied shoegaze MVPs, playing the very music that inspired their sounds and careers.
"The songs were delivered in red and black with brooding anarchy," Mr. Colbert says. "It was noise, heralding change. A great slab of sex, violence, beauty and longing."
***
The Best Music Books of 2015
The Best Hip-Hop Albums of 2015