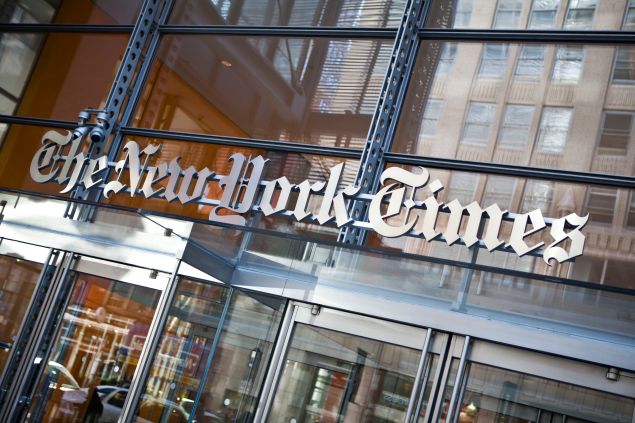 This past weekend, the gender neutral honorific "Mx." was used in a story in The New York Times. Perhaps fittingly for the relatively recent alternative to the gender identifying pronouns "Mr." and "Ms.," "Mx." was used in a story about Bluestockings, the collectively owned and volunteer-run radical bookstore and café.
"Are we anarchist?" Senia Hardwick asked. "Technically, yes." Mx. Hardwick, 27, who prefers not to be assigned a gender — and also insists on the gender-neutral Mx. in place of Ms. or Mr. — is a staff member at Bluestockings, a bookshop and activist center at 172 Allen Street on the Lower East Side.
Like the idea of non-binary gender identification itself, the pronoun has been gaining cultural acceptance. Last June, the Times noted the increasingly popular pronoun, which had been used in a Times story about Barnard's decision to join the ranks of women's colleges that accept transgender applicants.
Asked about the use of Mx. (pronounced "mix") in theTimes back in June, standards editor Philip B. Corbett seemed to be taking a wait and see approach to the word. "I don't think we're likely to adopt Mx. in the near future," Mr. Corbett told the Times. "It remains too unfamiliar to most people, and it's not clear when or if it will emerge as a widely adopted term."
While still unfamiliar to many, the honorific has made even bigger strides since June. Earlier this month, it was added to Dictionary.com and is being considered for addition to the Oxford English Dictionary. Using non gender-specific identifiers presents a notable challenge to journalists who rely on pronouns for clarity and to break up the monotony of proper names.
"In my view, it's too soon to set down any clear-cut 'style guidelines' in this area. Our approach on style decisions is generally to follow accepted, settled usage, not to make the rules. But in referring to people who don't identify as male or female, I think usage is still evolving and there's not one settled or widely recognized set of guidelines," Mr. Corbett told the Observer in an email this morning. "In the meantime, we just have to discuss situations case by case. The two main goals are to be respectful to those we write about, and to be clear to our readers."
Mx. may have a way to go until it is seamlessly added to the general usage. But it is worth remembering that it wasn't long ago that newspapers defaulted to generic male pronouns and women were identified by marital status.