Donald Sutherland's career exploded in 1970 when he became the face of anarchy as the sexy army surgeon Hawkeye Pierce in Robert Altman's M*A*S*H. The classic anti-war movie captured the contemporary Age of Aquarius like a Polaroid snap, propelling the actor, over the next few years, into counterculture touchstones or groundbreaking films like Klute, Don't Look Now, 1900, Fellini's Casanova and The Day of the Locust. 
So it's perhaps a surprise that Mr. Sutherland has achieved superstardom among a new generation of moviegoers as the totalitarian leader of a repressive regime in that triumphant global juggernaut, the Hunger Games franchise. He plays the white-rose-sniffing, blood-spitting President Coriolanus Snow, the Darth Vader of the dystopian tale.
In Mockingjay, Part 2, opening in the U.S. November 20, Mr. Sutherland's tyrannical Snow recognizes genius and danger in Jennifer Lawrence's heroine, Katniss Everdeen. Hawkeye Pierce and his ilk would have loved the defiant filly and handed her a martini. But Snow aims to destroy her and the revolutionary movement she has come to symbolize.
Mr. Sutherland's talent, charisma and passion for the most political of projects—whichever side he's on—appear to have have remained undiminished over six decades.
In person, at Mr. Sutherland's 17th-floor suite overlooking Fifth Avenue in the posh old-world St. Regis Hotel, the almost impossibly dapper actor apologizes for wearing a brown belt—the TSA somehow absconded with the appropriate black one when he went through airport security, he explained. The apology, and the concern behind it, is instantly endearing in a society where grown men carry backpacks and wear Bermuda shorts and flip-flops well into their AARP years.
Mr. Sutherland's Hawkeye Pierce would have loved Katniss Everdeen, and handed her a martini. His President Snow sees in her what he might have been, and needs her destroyed.
Mr. Sutherland, towering at 6-foot-4, pulls up a chair. It is his direct blue eyes one notices first before the redness of the whites. He caught a rough flight—and a mid-air cold. But here he is, the madcap doctor of the Korean War, the hip, pot-puffing professor bedding Karen Allen's coed in Animal House, the man Federico Fellini chose to play the great lover Casanova. He is Oddball opposite Clint Eastwood in Kelly's Heroes, the title character in Klute opposite the prostitute played by Jane Fonda (and, yes, they had an affair). And he appears in so many more great films: Invasion of the Body Snatchers, The Italian Job, Backdraft, Six Degrees of Separation. The list goes on and on until more recent starring roles on television: Commander in Chief, Dirty Sexy Money, Crossing Lines. He has, whether in fashion or out of fashion, whether in forgettable films or blockbusters, almost always worked.
The actor was born 80 years ago in Saint John, Canada. He has been married three times—and the last one stuck. In 1972, he wed the French-Canadian actress Francine Racette; they have three sons together. Much has been made about his prickly relationship with son, Kiefer Sutherland, and the 24 star's twin sister, Rossif, from their father's four-year marriage to Shirley Douglas. The father-and-son stars have since reconciled.
And now Mr. Sutherland is doing his victory lap as Everdeen's nemesis Snow, a ruthless yet erudite ruler, in the fourth of four insanely popular movies—the first three films grossed well over $2 billion worldwide. (Lionsgate Entertainment recently announced plans to build theme-park attractions related to the films.) In the series, adapted from Suzanne Collins' best-selling young adult trilogy The Hunger Games, citizens stay focused on a brutal reality television show in which teens battle each other to the death instead of revolting against Snow's regime. The role is something of a political bookend to M*A*S*H; it was Ms. Collins' intention to create a political parable that teens could relate to, a call to action against apathy—and Mr. Sutherland is the villain that must be tumbled like a statue of Stalin.
It was exactly that quality that first attracted Mr. Sutherland to the role. "For me, politically, it seemed the most important piece of work that I had read that would go into cinema to stimulate, to catalyze, to activate young people to get off their butts and engage in some kind of political activity."
In the final film, President Snow is a self-aware oligarch in the twilight of his reign who justifies achieving the peace of many by sacrificing the few, the young and the disenfranchised. Yet the actor refuses to twirl his gray mustache: "For me, my point of view, Snow was never, ever the villain. It's a matter of perception, you know. As a leader, he was doing what is expedient and he explains that to Katniss. Do you think Lyndon Johnson felt he was the villain, destroying a million Vietnamese? You think George W. Bush or Dick Cheney, do you think—they don't think of themselves as villains, you know. Do you think those people on the Benghazi committee think that they're villains? They sure look like it. Snow thinks it is expedient. He's trying to control an empire."
For Mr. Sutherland, "The metaphor of the Hunger Games themselves is that we send all those young people to die. There's a poem by [the Canadian physician and Communist] Norman Bethune called 'Wounds.' At the end it is just about gentlemen, the men who start wars, who give to museums and who are very generous, except when you threaten their profit, they turn into gentle gunmen."
As for the actress that emerged from the series a superstar, Mr. Sutherland, who had seen the latest movie with his wife the previous night in Los Angeles, has nothing but praise. "She channels the truth is what she does. That's all." Mr. Sutherland continued: "Just so succinct and self-controlled. But to understand that you don't give any indication, to never play the quality, to never anticipate what you think the audience might want to see and give them that: never, nothing. It's so clean, her performance. And then that [explosion of emotion], it knocks you back in your seat. It breaks your heart. It makes you weep. Breathtaking. To watch that breakdown—the snot and the tears and the…Jesus, I love her to death."
The relationship between Snow and Everdeen evolves over the course of the saga. "Katniss Everdeen is the first person who has excited Snow, who has stimulated him. By the time you get into the, maybe the end of the second one, he's in love with her. Not sexually. No, my God, no, no, no, no: he recognizes in her everything that he could have been. And so he takes it upon himself, he has to defeat her if he's going to survive."
Death almost cancelled Mr. Sutherland's film career before it really started. In 1968, while shooting Kelly's Heroes in Yugoslavia opposite Clint Eastwood, he "contracted spinal meningitis. They didn't have the antibiotics and I died. I saw the blue tunnel and, like, crap, if you're ever with anyone who is in a coma, talk to them. They can hear you. I could hear everything. I heard them making my funeral arrangements."
Robert Altman, Nicolas Roeg, Bernardo Bertolucci and Federico Fellini: Behind the name of each of his directors exists a treasure trove of anecdotes like the images behind the windows on an advent calendar.
He climbed out of the coma to become a go-to leading man in the '70s, one of American cinema's most fertile decades. It was a period of exploration and reinvention, not sequels and reboots. Off-screen, too, as European and American directors tested the limits of cinema there was still a sense that change was possible and could emerge from the era's chaos and confusion and troubles, from the Black Panthers and the anti-war marches.
The best kind of trouble defined Mr. Sutherland's career in that decade. He worked with Robert Altman, Nicolas Roeg, Bernardo Bertolucci and Federico Fellini. Behind the name of each director exists a treasure trove of anecdotes like the images behind the windows on an advent calendar. After asking "Have you seen La Strada?" Mr. Sutherland smiles broadly at the interviewer's affirmative answer. "And La Dolce Vita? Oh, can I tell you about La Dolce Vita!"
And so he does.
There was the day Fellini told him this story: "Marcello Mastroianni's agent phoned Fellini and said, 'Federico, you have to have a script to him this afternoon. If you don't have a script to him, he's not going to do the film. We are going to do a film in France.' And at 4:00 in the afternoon, the doorbell rang at Marcello's apartment. He opened it. There were two Italian workers standing there with a box, big like that. And Marcello said, 'What is this?' They said, 'I think it's a script.'
"So Marcello opened the box and in it was a cartoon. It's the ocean and sitting on top of it, naked in a lotus position with a black fedora, is Marcello Mastroianni. It's a perfect cartoon of him. Hanging down, feet after feet after feet, to the very bottom of the ocean, is his penis. And swimming around his penis are three mermaids. [He said] 'Federico, yeah, I'll do the picture.' That was Fellini's script. Oh, golly. I loved him."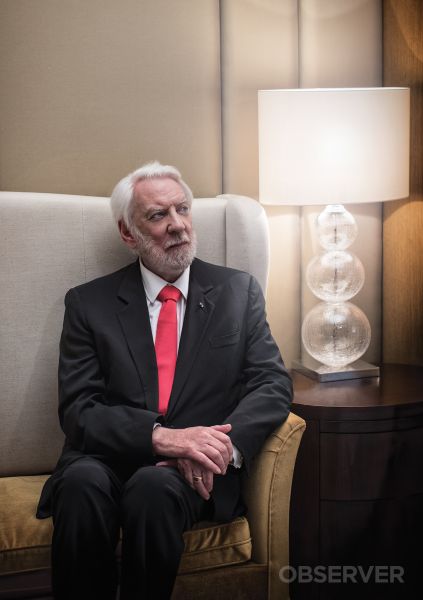 The feeling was mutual. For a chunk of time, Mr. Sutherland was the sought-after actor for directors who wanted to telegraph that the old age of Hollywood movies was over, that society itself was in flux. But the promise of change in the 1970s proved illusory. Mr. Sutherland said: "You have to remember that the people who thought the change was going to happen were not the majority. They appeared like they were the majority, but the people who were really active in provoking that change were overwhelmed by the yuppies. They were participants in it, but when the ice cream came along, they had an ice cream."
'When I made Ordinary People, when it was released, I could not get an audition, I couldn't get a job, I couldn't get a meeting, you know, for one year. One year.'
And with the rise of the yuppies, Mr. Sutherland's career stalled. The actor still remembers—and holds onto—the moment that he faltered. In 1980, he had a heartbreaking role as the benevolent patriarch opposite Mary Tyler Moore's shrewish, almost monstrous, spouse in Robert Redford's Academy Award-winning Ordinary People. He was spurned for an Oscar nomination, though his three co-stars—Ms. Moore, Timothy Hutton and Judd Hirsch, in showier performances—all received them, and Mr. Hutton won. After that film, the auditions dried up. So did the offers. It was a hungry time.
"1980 was a definite valley." Mr. Sutherland shook that leonine head and said, "When I made Ordinary People, when it was released, I could not get an audition, I couldn't get a job, I couldn't get a meeting, you know, for one year. One year. Thank you." Why is that? "I don't know." He shakes his head again. "I have no idea."
The actor nurses his slights, even a generation later. There was that Pauline Kael review where the influential New Yorker critic chewed up and spat out John Schlesinger's 1975 Day of the Locust, based on Nathanael West's dark Hollywood novel. Mr. Sutherland takes a folded sheet of paper and mimes reading her review, which decimated the director ("She just killed John Schlesinger") and co-star Karen Black. Kael saved Mr. Sutherland for last: "She was not a fan of mine. And so she said at the bottom of the fourth page or the bottom of the third page, 'There is nothing specifically wrong with Donald Sutherland's performance… It's just awful.' "
Awful is not a word that remotely springs to mind in characterizing the actor now—authentic is. He confesses one fear he has, even sixty years into a exceptional career, with a story: "John Gielgud was well into his nineties and he had just done a play in London that had been terrific and a friend came to visit him and said, 'John, you were wonderful.' And Gielgud said, 'Yes, but I don't have another job.' True."
This will likely not be Mr. Sutherland's dilemma.